Description
Step inside Bloomsbury Publishing as we discover the secrets to creating, producing and propelling a fashion show to its highest success.
On July 12th, fashion designer, author and professor Gill Stark will talk with two highly-influential fashion insiders on what it takes, on and off the runway, to create an unforgettable fashion show for any collection.

Her guests Julia Robson, an acclaimed fashion journalist and commentator, and John Walford - a veteran producer of fashion shows for the likes of Vivienne Westwood and Julien Macdonald - will join Gill on stage to share their favourite strategies on how to create a seamless fashion show, stand out from the crowd and, most importantly, to answer your questions.

Whether its an intimate evening for a debut collection, or a lavish occasion for London Fashion Week, this unique discussion, followed by Q&A, is perfect for future fashion designers and promoters planning to succeed. We hope you can make it. Please do forward this invite to interested friends and family too.
This session at the Bloomsbury Institute will be ideal for fashion students, followers and designers at all levels of the fashion industry. We invite you to come along and hear their advice but also be there to ask your own questions about the secrets of a successful fashion show!
"Fashion is very important. It is life-enhancing and, like everything that gives pleasure, it is worth doing well." —Dame Vivienne Westwood
Bloomsbury Visual Arts are thrilled to be the publisher of Gill's incredible book and we look forward to hosting this special Bloomsbury Institute event to celebrate its official launch on July 27th. The Fashion Show will be available to buy at this event exclusively for advanced signing before publication.
Date: Thursday, July 12th
Timing: 6:30pm to 8pm (doors and complimentary drinks reception from 6pm)
Venue: Bloomsbury Publishing, 50 Bedford Square, WC1B 3DP
Nearest station: Tottenham Court Road
Tickets: £10 for adults / £7 students and concessions.
If you would like to bring a group of five or more together, please email institute@bloomsbury.com for a significant discount on your tickets.
Buy a copy of Gill Stark's The Fashion Show (for only £15, normally £28.99) with your event ticket and we'll keep it safe for you to collect on the night.
This event is hosted by Bloomsbury Institute, a division of Bloomsbury Publishing. Please read our Event Terms and Conditions carefully as by buying a ticket to this event, you confirm that you accept these terms and condition and that you agree to comply with them, alongside the Eventbrite terms and conditions.
***
Gill Stark is Assistant Dean and Head of the School of Creative and Liberal Arts at Regent's University London. She worked for some years as a fashion designer before moving full-time into management roles in academia. She has held academic posts at AIU London and the London College of Fashion as well as teaching roles at other UK universities. Gill has produced fashion shows in industry and for universities and for many years taught fashion show production to international students. She is the author or the forthcoming book The Fashion Show which is published by Bloomsbury and she is now working on a further publication about fashion in London in the 1950s and 1960s.
Julia Robson is a British fashion journalist and broadcaster who works across global publications. She has worked for The National (UAE), Grazia, In-Style, Elle magazine, the Daily Telegraph, The Financial Times, The Daily Mail and one of the UK's largest e-magazines, Handbag.com. The former Deputy Fashion Editor of The Daily Telegraph, and Fashion Editor of The Sunday Mirror, Julia graduated from Central St Martins with a first class honours degree in fashion journalism. Julia worked on the concept and launch of the Next online site (2005/6), guest writes for several high street websites and works with major fashion and other brands as a consultant. She is a regular 'frock watching' guest on Sky News and BBC Radio 4 (Woman's Hour). As a freelance writer, Julia can cover everything from the French haute couture season (July 2011) for The Daily Telegraph to editorship of a magazine (August 2012) written by women prisoners in collaboration with journalism students. Published fashion features in 2012 include The Sunday Telegraph's Stella magazine, Telegraph Saturday magazine, The Financial Times, The Daily Telegraph (Luxury Supplement); The Daily Mail; Country and Town House magazine; British Airways First Life (interview with Tom Ford) and The LFW Daily, the in-house newspaper of London Fashion Week.
John Walford has been producing fashion shows for many years. Notable clients have included Vivienne Westwood ( for whom he has produced over 50 shows), Julien MacDonald, Hussein Chalayan, Ally Capellino and Romeo Gigli. A regular producer in London Fashion Week since its inception. He started Graduate Fashion Week and produced shows for the British Council promoting British Design and British Design Education abroad, including China where he became Creative Director for Shanghai Fashion Week. John has produced many notable events and has been Director of Nigeria Fashion Week, Director of Bath in Fashion Festival and the producer for the Dublin Fashion Show for the Queen. As a result of his work he was awarded a Lifetime Achievement Award by Graduate Fashion Week. Through work with students, John co-founded The Fashion Scout to help promote and sustain young designers.
****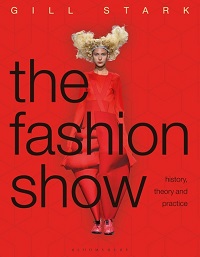 Take up your all-access pass to one of the most dynamic areas of the international fashion industry. Lavishly illustrated and packed with industry insights, The Fashion Show is the must-have guide to showing off a collection.
You will learn about:
The context of the fashion show and its significance for brands, designers, journalists and others working in the fashion industry;
How a fashion show is produced, everything from agreeing a vision to casting the models to setting up backstage;
What happens on show day, and how to use the impact of your show.
Future fashion designers, fashion marketers, fashion managers, fashion PRs – and creative practitioners looking to learn more about this fascinating part of the industry, you are cordially invited to join Gill Stark in the front row of The Fashion Show.
***
Event Timings
6:00pm: Arrival and drinks reception
6:30pm (prompt): Guests in conversation, followed by Q&A
7:45pm: Book buying and signing with Gill Stark
8:00pm: Ends