The Self-Isolation Orchestra plays Rachmaninoff's Symphony No 2 (3rd Movement) and Richard Strauss's Also sprach Zarathustra (1st Movement).
About this event
After a resounding success with its performances of NIMROD from Elgar's Enigma Variations and pieces by William Lloyd Webber, The Self-Isolation Orchestra has turned its attention to two contrasting pieces:
Rachmaninoff's Symphony No: 2 (Third Movement only)
Also sprach Zarathustra by Richard Strauss (Opening Movement only)
The Orchestra attended online rehearsals and learned their parts at home over April and May 2021, before recording their individual performances in isolation. These have now been professionally mixed in the studio to produce an impressive orchestral sound and will be premiered at this special live-streamed concert, conducted by course director and conductor, John Warner.
Strauss - Also sprach Zarathustra
Also sprach Zarathustra, is a tone poem by Richard Strauss, composed in 1896 and inspired by Friedrich Nietzsche's philosophical 1883-1885 novel Thus Spoke Zarathustra. The composer conducted its first performance on 27 November 1896 in Frankfurt. It is a short piece - not even 2 minutes long - yet no music better paint the sunrise than this. There is something for everyone to enjoy in this short blast of sound.
Rachmaninoff - Symphony No. 2
The Symphony No. 2 in E minor, Op. 27, was written in 1906–07. The score is dedicated to Sergei Taneyev, a Russian composer, teacher, theorist, author, and pupil of Pyotr Ilyich Tchaikovsky. The premiere was conducted by the composer himself in Saint Petersburg on 8 February 1908.
Rachmaninoff was a master at melody. Often composers create a melody which fades and then returns towards the end of a pice or movement. We can think of piano concertos (including Rachmaninoff's own) where the "Big Tune" returns to end the work. Here, in this wonderful Third Movement, the composer keeps the melody going for almost 15 minutes without let up. It is an astonishing achievement.
The movement is in a broad three-part form, and is often remembered for its opening theme, which is played by the first violins and restated both as a melody and as an accompanying figure later on in the movement. This opening theme, however, is really an introduction to the main melody of the movement, which is presented by a lengthy clarinet solo, and is a typical Rachmaninoff creation, circling around single notes and accompanied by rich harmony. A chromatic buildup leads to an impassioned climax in C major. The intensity subsides, and the central melody of the third movement is restated, this time played by the first violins, while fragments of the opening theme are heard in the accompaniment.
Course Director / Conductor
John Warner is Founder and Artistic Director of Orchestra for the Earth, Chief Conductor of Central London Orchestra, and regularly assists world-class conductors such as Daniel Harding and Thomas Søndergård. His pioneering work with Orchestra for the Earth takes him across Europe for a wide variety of nature-inspired concerts, collaborating with leading environmental artists, scientists, and charities. He is a Britten-Pears Young Artist 2020.
John has previously worked with The Self-Isolation Orchestra on Elgar's NIMROD and pieces by William Lloyd Webber. He has also worked with The Self-Isolation Choir on its Mahler 2 and Mahler 8 projects.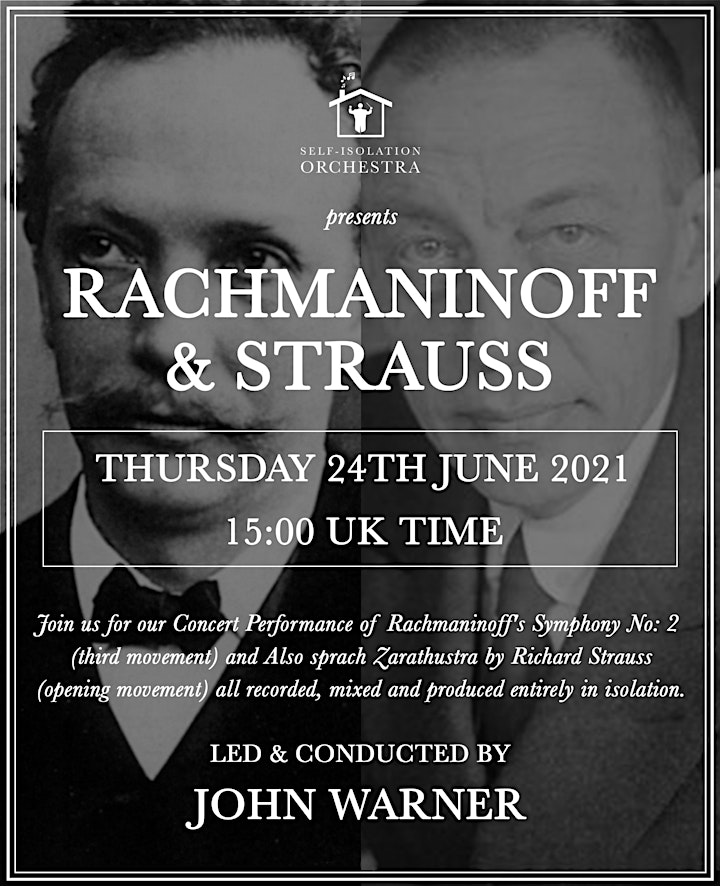 Organizer of The Self-Isolation Orchestra presents Rachmaninoff & Strauss