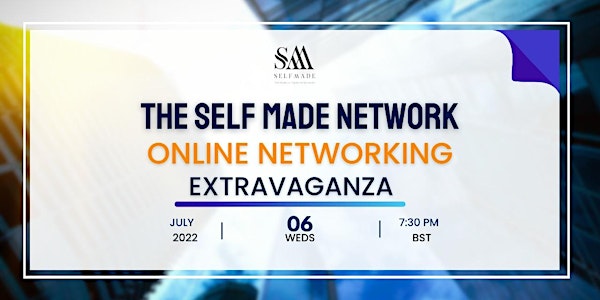 The Self Made Network - Online Networking Extravaganza
Register your interest today! The Self Made Network - Online Networking Extravaganza | Weds 6th July @ 7.30pm BST
About this event
Do you want to expand you network?
Do you believe your network is your net worth?
Are you looking for more business connections?
Are you looking for more customers?
Do you want to connect with like minded individuals?
Have you missed networking & developing new relationships?
Ready to start networking again and improve your circle of contacts?
Would you like the opportunity to meet new people and build more meaningful relationships?
Do you want to pitch your business to an engaged audience?
Are you an entrepreneur, aspiring entrepreneur, intrigued by entrepreneurship, working on a project within your organisation, looking to network with movers and shakers, or do your simply have a great idea but you are not sure what to do with it? If your answer is YES to any of these questions then you are invited to the Self Made Networking extravaganza for an evening of online networking!
Date: Wed 6th July 2022
Time: 19:30pm BST
The Networking Extravaganza will feature live on The Self Made Network! Here is what you get as a member of The Self Made Network:
1) MONTHLY LIVE MASTERCLASSES - These will be LIVE 60 minute sessions during the middle of each month from industry expert guest speakers (see a list of our upcoming masterclasses below)! Additionally you will also have Q&A sessions with Byron and Bianca to answer all of your business related questions.
2) MONTHLY NETWORKING EVENT - These will be LIVE online sessions held once a month, giving you access to our whole network where you can personally meet, and cross promote your own business to give you bigger exposure.
3) NETWORKING COMMUNITY - You will get instant access to our private Facebook AND Telegra community where you can connect with our network immediately and meet a wider audience more quickly.
If you are ready to step up your network and start to connect with people who can really help you take your business to the next level, join us on The Self Made Network.
We want to tell you right now that the fastest path to your success is to grow your network and learn from other experts who have a wealth of experience and who can truly help you fix any challenge you have right now in your business.
All of our Masterclasses are uploaded to the members area, of The Self Made Network website, meaning you can always refer back to classes for extra learning and can even watch the previous masterclasses we have had!
Register your interest today!