The SEN Jigsaw Conference 2017. Helping to solve the puzzle for your child.

Saturday, May 13, 2017 from 9:30 AM to 4:00 PM (BST)
Event Details
Staffordshire's yearly Special Educational Needs conference provides a holistic resource to supporting those with SEN such as dyslexia, dyspraxia, autism, speech and language, auditory processing and visual processing.  
Whilst there is a focus on children, the content will equally be appropriate to SEN in adult education too.
Join us to listen to our two plenary speakers and choose from a range of six afternoon workshops that are all focused on aspects of Special Educational Needs. 
Teachers, parents, adults in education/ training, SENCOS, Dyslexia tutors,and speech and language therapists are all welcome.
The day will include two morning plenary talks from SEN thought leaders and in the afternoon there will be a number of workshops that will cover different aspects of SEN.  These include:
Assistive Technology For Literacy

Education, Health and Care Planning.

Sensory activities

and many more.
The cost of the tickets includes a two course hot lunch.  
Please contact the organisers if you have special dietary requirements.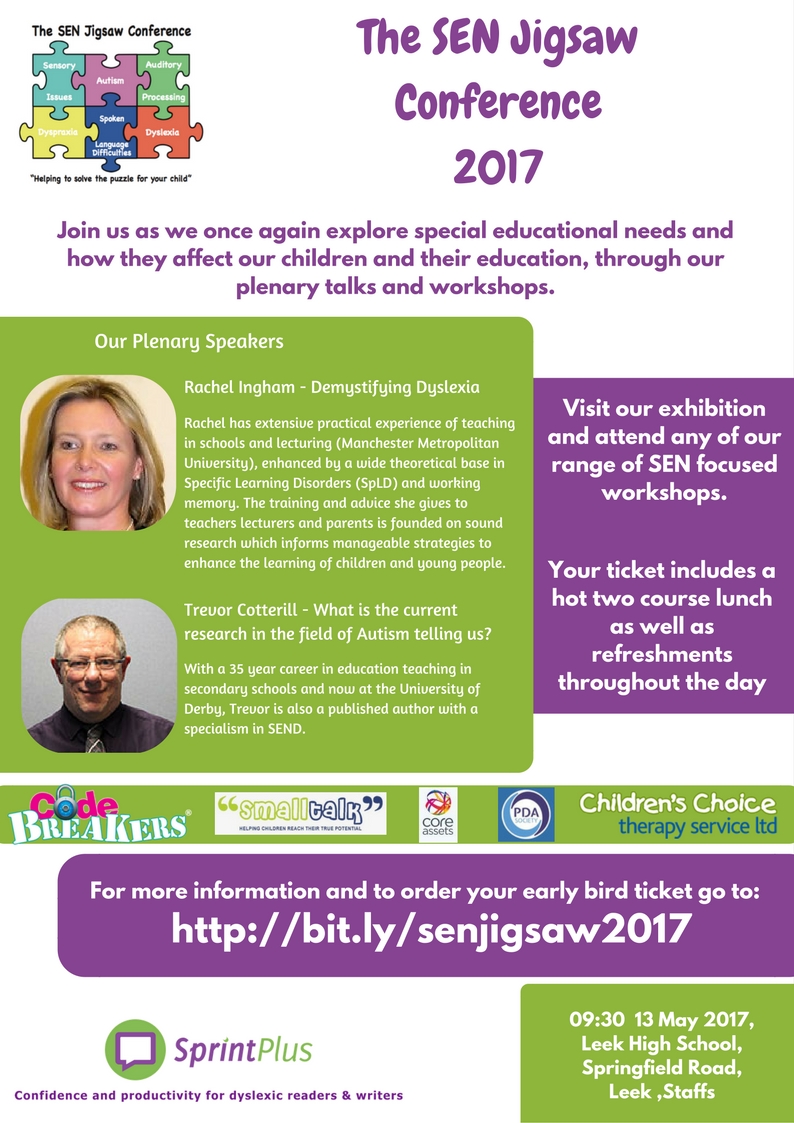 Confirmed Plenary Speakers.
 Rachel Ingham BA, PGCE, AMBDA, MA SpLD 

Rachel has extensive practical experience of teaching in schools and lecturing (Manchester Metropolitan University), enhanced by a wide theoretical base in Specific Learning Disorders (SpLD) and working memory. The training and advice she gives to teachers lecturers and parents is founded on sound research which informs manageable strategies to enhance the learning of children and young people. 
Rachel's Plenary is entitled:
'Demystifying Dyslexia'. 
Dyslexia has been a long-debated syndrome among teachers, parents and researchers resulting in mixed messages about how we identify and meet the learning needs of children and young prole with dyslexia. This presentation will dispel the common myths and highlight recent research building on understanding of developmental dyslexia. 
Trevor Cotterill Cert Ed (Nottingham Trent) MA Ed (Nottingham Trent)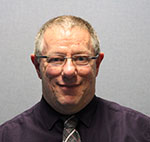 With 35 years of professional teaching and research experience in the field of SEND, Trevor will be talking about Autism.  This will be a great opportunity for parents, teachers and anyone within the support network of an autistic child to find out more about the condition.
Trevor's Plenary is entitled:
'What is the current research in the field of autism, telling us?'
This talk gives an overview of what current research  is telling us about the aetiology of autism and how this might impact on the practice of supporting individuals who are identified as being on the autistic spectrum.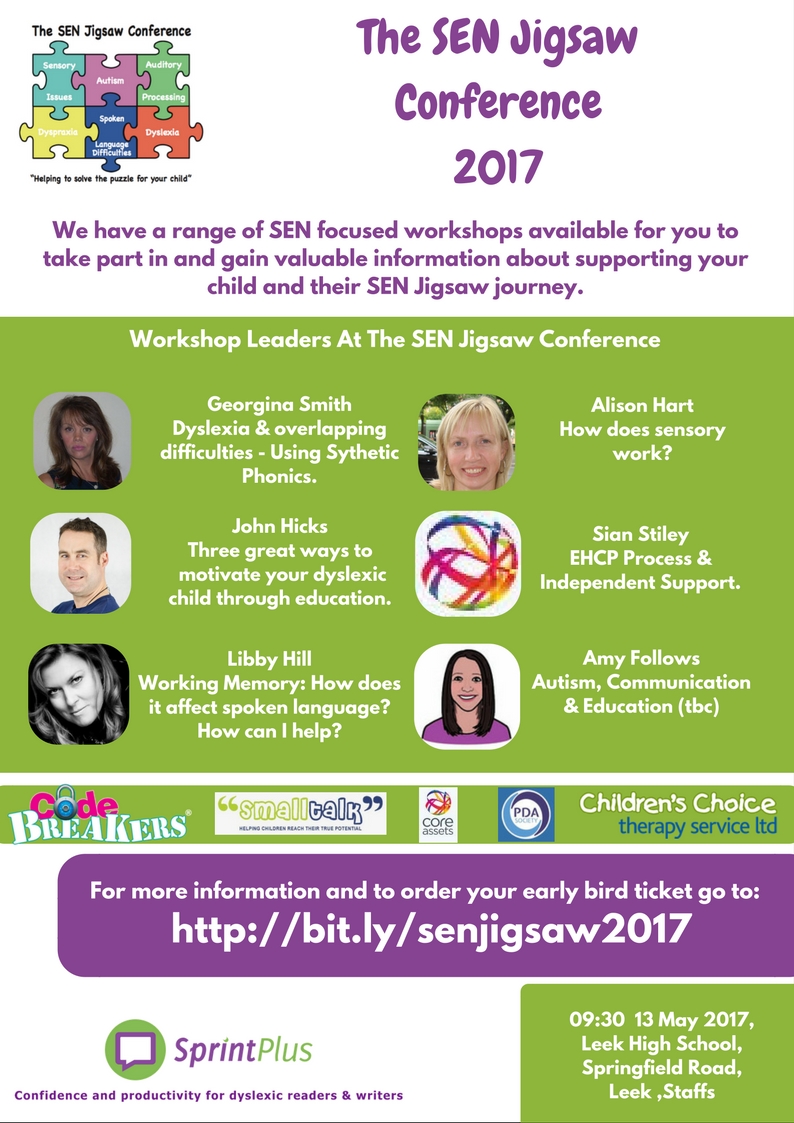 This event is sponsored by Jabbla, the developers of 

When & Where

Leek High School
Springfield Road
ST13 6EU Leek
United Kingdom


Saturday, May 13, 2017 from 9:30 AM to 4:00 PM (BST)
Add to my calendar
Organizer
John Hicks and Georgina Smith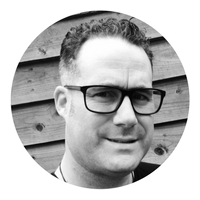 A parent of daughters with SEN, a Parenting Coach, blogger and assistive tech marketeer, John Hicks is passionate about supporting families touched by dyslexia.  John is supporting more than 400 families that are looking for ways to support their own dyslexic children using his resources.  John manages the Studying With Dyslexia Blog, the Parenting Dyslexia Blog and can often be found demonstrating SprintPlus to dyslexic students in school and college.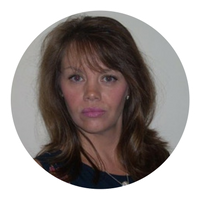 Georgina Smith is a Leek based Dyslexia tutor and assessor and author of Dyslexia Codebreakers, a step by step synthetic phonics and multisensory programme.
The SEN Jigsaw Conference 2017. Helping to solve the puzzle for your child.