Event Information
Location
Sunningdale Golf Club
Ridgemount Road
Sunningdale
SL5 9RR
United Kingdom
Tickets purchased for The Senior Open in 2020 are valid for the same day of The Senior Open in 2021.
About this event
Accessibility Personal Assistants
If you need a personal assistant to attend an event with you, the European Tour offers a complimentary carer ticket to disabled customers who have purchased a ticket. To request a carers ticket please contact customerservice@europeantour.com. Proof of eligibility is required.
There will be disabled viewing areas in operation. These will be unreserved and cannot be pre-booked. Locations will be confirmed closer to the event start date.
Event Mobility provides electric scooters and manual wheelchairs at events nationwide for use by the disabled, elderly and mobility impaired. The Event Mobility Trailer & Tent will be located at the entrance gate. 
Website:http://www.eventmobility.org.uk
What are my parking / transport options getting to the event
There will be no on-site parking available for this event.There will however be a free Park and Ride in operation. Location plan in the picture.
Disabled parking / transportation 
Blue badge holders will be directed to the front of the free Park & Ride car park to allow easy use of the accessible shuttle busses to site.
Should assistance be required please contact the nearest volunteer.
What happens if the event is cancelled or goes behind closed doors?
Ticket buyers will receive a refund if their ticket is cancelled by the PGA European Tour due to COVID-19. Full details can be found within our Ticket T&Cs
What happens if capacity for the event is limited due to COVID-19 restrictions?
Ticket buyers will receive a refund if their ticket is cancelled by the PGA European Tour due to COVID-19.
Will tickets be available on the door?
At present we do not anticipate tickets being available to purchase on the door
Will there be Social Distancing in place at the event?
The Health & Safety of fans, players & staff will be at the centre of all planning for the event, and government guidance at the time of the event will be followed in this respect. If there is a requirement for social distancing or contact tracing during the event, we will contact ticket purchasers directly to advise on next steps.
What happens if local COVID-19 restrictions where I live impact my ability to travel to the event?
If the Ticket Purchaser is unable to attend The 2021 Senior Open Presented by Rolex with spectators because they live in an area which is subject to a local lockdown, restricting them from being able to come to the venue, a full refund will be issued (Subject to conditions outlined within the Full Ticketing T&Cs).
Can Juniors come to The 2021 Senior Open Presented by Rolex?
Juniors aged 15 years and under are are admitted for free. A maximum of 3 juniors per Ault is allowed onsite.
Do you offer concession tickets at a reduced rate?
Concession tickets are available for attendees between 16 and 24 years old.
How do I sign up for event news & announcements etc?
Fans can sign up to be the first to hear Senior Open event news at the following link . You can also follow The 2021 Senior Open Presented by Rolex by following the Legends Tour on Facebook, Instagram and Twitter, where player, Pro-Am, and entertainment announcements will be made over the next few months.
All sales are final. Tickets cannot be exchanged.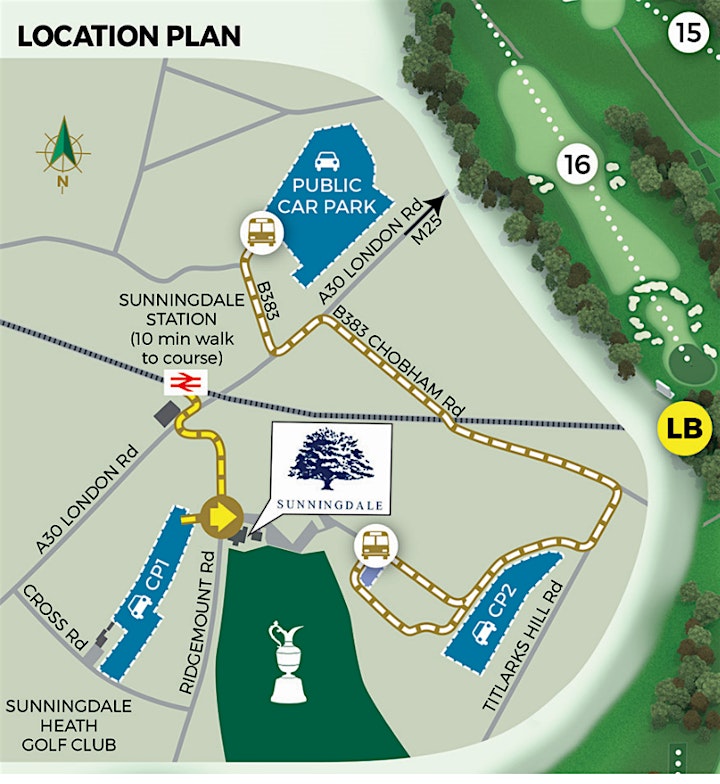 Date and time
Location
Sunningdale Golf Club
Ridgemount Road
Sunningdale
SL5 9RR
United Kingdom