Autumn brings three new exciting exhibitions to the Clubhouse.
About this event
In the Club Room (main gallery): Our September exhibitor is artist, and Club member, Philip Hutton - who has exhibited since the seventies, mostly one-man shows in Peebles or the Borders. Philip Hutton hails from Peebles, and is a 1972 graduate of Grays School of Art, Aberdeen, where his more helpful tutors were David Fowkes, Sylvia Wishart, Frances Walker and Colin Thoms. Hutton taught art in Selkirk High School and many Borders primary schools, and taught adult evening classes in art and art history, freelance and at Borders College.
In the Dining Room: we will showcase a Retrospective and a browser /drawings sale, of portraits done by Lindsay Brydon. All proceeds from these sales go to the Club.
In Geddes Garden Gallery: Michael Hamish Glen – Printer and Poet, Polychrome Letterpress Monoprints. This exhibition will showcase an exclusive printing technique which Michael – a Club member since 1967 – has developed to create multi-coloured images in a single impression. The prints are produced on a simple, hand-operated letterpress machine that normally prints only a single-colour image. Each polychrome monoprint is a unique work that can never be replicated precisely – totally contradicting conventional letterpress printing practice! Many of the works feature stanzas in the Doric dialect of Scots which Michael composed for a cycle trail in Kirkhill Forest near Aberdeen. A part of one example is included below.
Exhibitions are open Tuesday to Saturday, and are free to visit. But registration via Eventbrite necessary. Please keep in mind that we still require masks to be worn when moving around our galleries. We look forward to welcome you to the Scottish Arts Club.
Cover Image: 'Roseburn' by Philip Hutton. Below: 'Paper hats' by Lindsay Brydon and Polychrome Letterpress Monoprint by Michael Hamish Glen.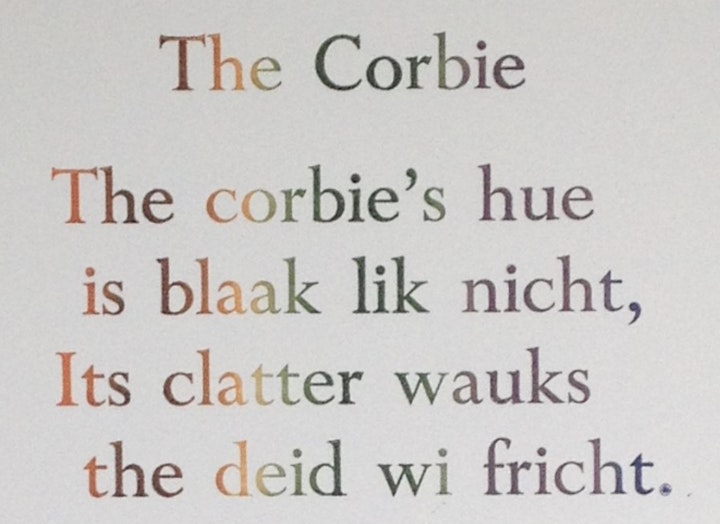 Organiser of The September Exhibitions
Due to the current situation caused by the Coronavirus outbreak, the Scottish Arts Club were forced to cancel all live Club events. Instead we have been offering online events to keep supporting the arts in these difficult times.
Every week since the start of lockdown we launched a new instalment of "Virtual Fridays - arts happenings that people could enjoy from the comfort of their home. Every Friday at 6.30pm we provided both our membership as well as the public with either a musical event or an online art exhibition in the shape of either a photo-film or in a more traditional gallery style. Links to the all the events can be found on our website.
Our online events are free to watch. However, the Covid-19 lockdown has left many artists without any income due to closed venues and cancelled performances. To make a donation to help the performers participating in our 'Virtual Fridays', please click Performers' Fund via PayPal button on our website.