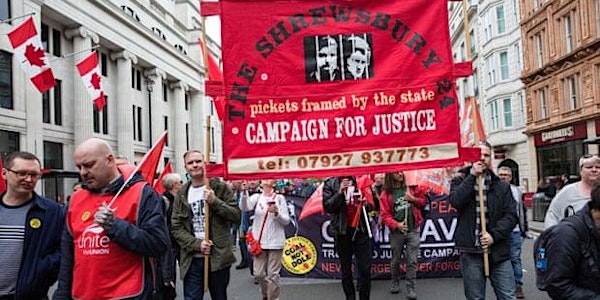 The Shrewsbury pickets and the struggle for justice, 1972-2021
The Shrewsbury pickets and the struggle for justice, 1972-2021
About this event
Dear all
We are holding a Manchester Industrial Relations Society meeting on 6 May. On Tuesday 23 March, the Court of Appeal overturned the criminal convictions of the Shrewsbury 24, a group of trade unionists in the construction industry who were convicted and in some cases imprisoned on charges of unlawful assembly, conspiracy to intimidate, and affray following the 1972 national building workers strike. A 47 year campaign for justice has resulted in the judgements being overturned, and on 6 May MIRS will be holding a meeting to mark this historic result. Ralph Darlington, Professor Emeritus in Employment Relations, University of Salford (and the author of a chapter on the 1972 building workers strike in his co-authored book with Dave Lyddon, Glorious Summer), Eileen Turnbull (the researcher for the Shrewsbury 24 campaign who discovered all of the crucial evidence that saw the convictions overturned), and Terry Renshaw (one of the 24 pickets, who was convicted of unlawful assembly in 1973) will be speaking at the event. The meeting will be held over Zoom at 6pm-7.30pm on 6 May – the link is available on booking through the following Eventbrite link.
We look forward to seeing you then
Stephen Mustchin
Secretary, Manchester Industrial Relations Society.