Description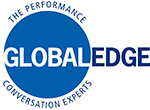 Do YOU find it challenging to engage, motivate and develop others?
Do YOU want to be more dynamic in how you manage people you interact with everyday - your team, peers, leaders, stakeholders and customers?
---
This highly practical and challenging, one day workshop will enable you to become skilled in using our 5 styles and develop the confidence to have productive performance conversations, everyday...whatever the situation.
You will be able to:
1. Benchmark and assess your behaviours as a performance manager identifying key strengths and development gaps.
2. Prepare a clear approach to achieve your desired outcome in each performance conversation.
3. Utilise a practical framework to flex your style as appropriate in each situation.
4. Employ a range of tools and techniques to have open and honest conversations, and build a strong connection with others.
Further information on the Global Edge website
---
Delegate Fee: £675 +VAT
Includes:
Off-site workshop place (limited to 12 delegates)

180 degree on-line feedback for delegate and one rater

Colour bound personal profile

Lunch and all refreshments for the day
REGISTER your interest in attending, with no financial commitment. You will receive a short booking form (with our T&C's), within the next 24 hours. Please complete and return to book your place.
---