Description
Welcome to The Small Graduate Recruiters' Club - a series of events throughout the year to support businesses looking to take on, or improve, how they hire small numbers of graduates. We're starting with a small but perfectly formed conference to lift the lid on all things 'graduate recruitment and retention' in the Yorkshire region. In usual GC style, there will be plenty of helpful takeaways you can use in your business the very next day - from salary benchmarking to recruitment and retention tips/templates.
The conference will be particularly useful if your business – large or small - is looking to recruit between 1 and 40 graduates per year (either into a job or onto a more structured graduate scheme) and you want to 'DIY' your graduate recruitment rather than pay agency fees.
From an overview of the graduate labour market to learning and development activities you can run with all staff in your business, the sessions will be based around the broad themes of graduate attraction, selection and retention, with a sprinkling of useful legal/HR information and a guide to working directly with Universities.
The full schedule of workshops is as follows: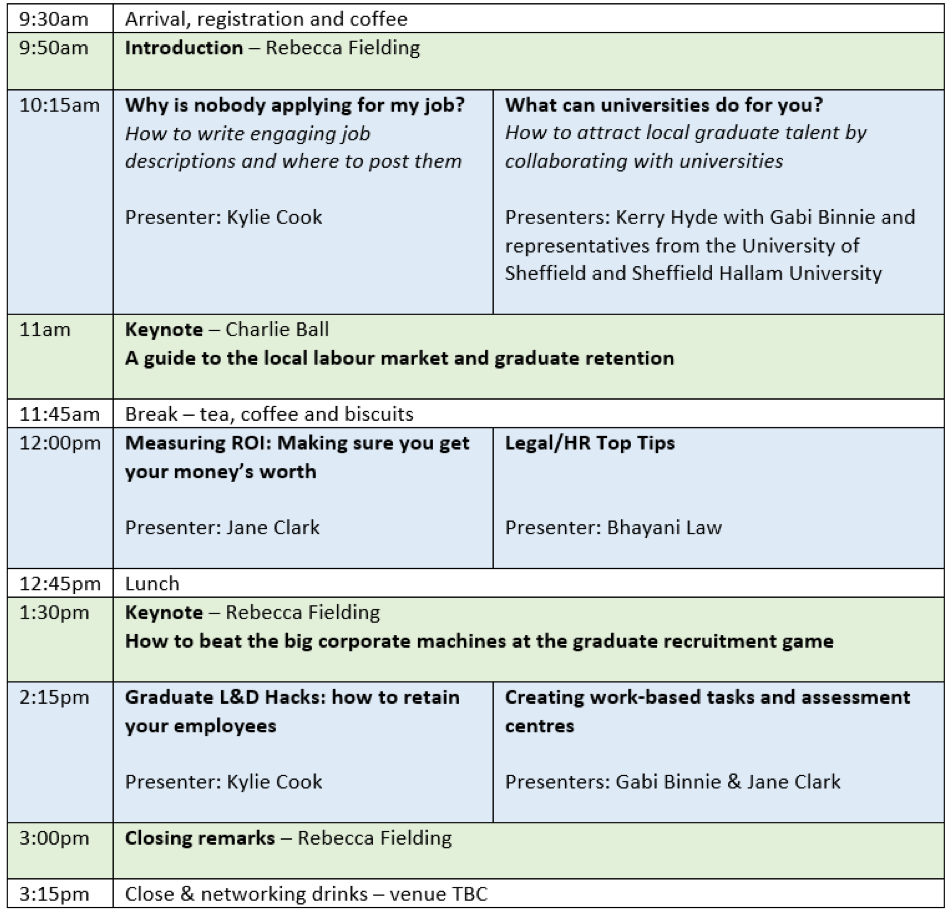 About the keynote speakers:
Rebecca Fielding
Rebecca has recruited and developed thousands of people for some of the UKs biggest names (including Aon, the Co-operative Group and Sheffield Hallam University) since 2001. Her most recent corporate roles were as Talent Manager for the UK&I with HJ Heinz and as the Head of Leadership and Culture with Asda. Rebecca was a Director with the Association of Graduate Recruiters (AGR) for six years, sat on the Association of Graduate Careers Advisory Services (AGCAS) board, has won national awards for her work, judged industry awards and sat on several careers advisory bodies. Since establishing Gradconsult in 2012 the business has worked with over 40% of the UK's Universities, over 300 SMEs and corporate employers across a variety of sectors. Rebecca is also an appointed Associate/Trainer for both AGCAS and AGR – find out a bit more and read some of her articles via her LinkedIn page.
Charlie Ball
Charlie is an experienced labour market analyst (aka 'The Data Guru'), specialising in outcomes data for graduates and postgraduates. He is currently the Head of Higher Education Intelligence at Graduate Prospects as well as a member of HEFCE's Strategic Advisory Board and a Fellow of the National Institute of Career Education and Counselling (NICEC). He writes on graduate job issues for mainstream and specialist press, and delivers workshops to educate professionals on the graduate jobs market. Charlie also developed and chairs HECSU's Research Fund for researchers in higher education careers services. Find out more about Charlie on his LinkedIn page.
Feedback from our most recent training courses:
"An immensely helpful and informative session"
"It has been great working with such a wonderful, positive, hardworking and fun team."
"The programme really packed a punch!"
"You guys have delivered some amazing content and facilitation and we love working with you!"
"You responded to the participants' questions with such valuable and insightful answers and delivered really helpful information - thank you."
If this event is now showing as full, please express your interest by emailing events@gradconsult.co.uk as, subject to demand, we may upgrade to a larger venue.
Updated refund policy: If you are no longer able to attend, please contact events@gradconsult.co.uk. We will provide a full refund if you cancel up to 14 days before the event, and a partial refund (50% of ticket price) if you cancel 8-14 days before the event. There will be no refunds provided for cancellations made on or after Wednesday 20th September 2017.