Description
The Smart Upstart Club: forum for aspiring entrepreneurs launches in London this June #SmartUpstart2015
Millennials with plans to start or grow their own business can learn from successful entrepreneurs at the inaugural Smart Upstart Club, staged on Friday 5 June in London.
The Smart Upstart Club aims to provide relevant, realistic and honest advice to Gen Y and above on starting their own business (commercial or social enterprise) and what it takes to be an entrepreneur or intrapreneur (acting entrepreneurially in an established company).
The afternoon workshop, hosted by the Institute of Directors at their HQ, 116 Pall Mall, London, will see 12 entrepreneurs presenting brief TED-style two-minute slots followed by conversations in the crowd to hone questions and the opportunity to quiz the panel.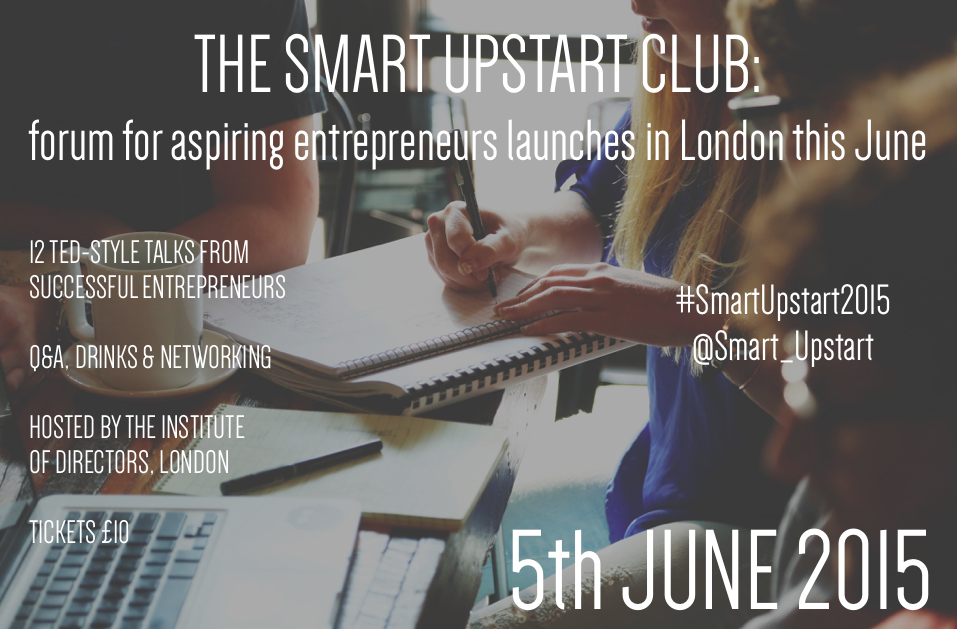 Those divulging their experience on the day include:
Ben Hart, strategist and thought leader who founded business transformation agency Atmosphere in 2012.
Jacqueline Biggs, business strategist, international best-selling author of Marketing to Win and co-founder of Brand Camp; an exclusive camp designed to help brands think differently via creative sessions.
Amali de Alwis, CEO of Code First Girls – an organisation encouraging women in to tech careers via courses, events and hackathons.
Phoebe Lebrecht, young female entrepreneur who founded her own agency Glass Digital Media straight out of University.
Vicki Willden-Lebrecht, MD and founder of Bright, the global illustration and literary agency.
Marc Wright, founder of Simply Communicate, the community for internal communications professionals.
Dave Wallace, founder of digital agency Heath Wallace with offices in the UK, Asia, the USA, South Africa and Australia.
Paddy Hood, founder of real-time ideas engine Co-Digital and artificial intelligence engineer.
Di Burton, PR expert with 30 years' experience and director at Di Burton Limited.
Craig Massey, founder of three technology companies across 20 years and now mentoring and investing in tech startups.
Mark Richardson, accountant at Shipleys managing portfolio of SMEs, start-ups and entrepreneurs across diverse business sectors
Nils Bucknell, programme director of the Next Big Thing– a 'Dragon's Den' style business mentor programme for London schools
Maria Kempinska, award-winning businesswoman and founder of the Jongleurs Comedy Clubs
Melina Jacovou, founder and CEO of Propel London – the UK's largest independent digital recruitment business
Vicente Eduardo Garcés Ferrer, Spanish communications guru
Michael Nagle, CEO of Mhub – helping enteprises communicate more effectively and efficiently and facilitate change