Event Information
Location
Eden Christian Centre
Connaught Road
Ilford
IG1 1RN
United Kingdom
Prayer Summit 2021: The Smoke Of His Glory Part 2. You are invited to join us Saturday 23rd October 2021
About this event
THE SMOKE OF HIS GLORY AND POWER
Demolishing the stronghold of addictions Part 2
It's with great joy that we welcome you to our Prayer Summit in October. As promised during our last conference, this will be the concluding part of what was started in March.
Firstly, we are indebted to God who has made this possible and extremely grateful to all our ministers, who despite their very hectic schedules, have agreed yet again to bring powerful ministries that will bless God's people.
The impact of the pandemic, coupled with an intense experience of isolation for many, has had devastating consequences in relation to addictions. We are not of the school of thought that we should pretend, hide, or cover the negative impact of addictions on our lives. Rather, we are confident in a great God who is able to demolish strongholds of addiction when we present ourselves to Him.
We invite you and those in your contact group to join with the team as we ask the smoke of God's glory and power to deal with every violating and debilitating spirit. That which has mocked for years will be rendered powerless.
Strongholds will be broken, and captives set free because there is power in the name of Jesus.
(Message from the host Mrs. Helen Mbakwe)
FAQ's
~~~~~~~~~~~~~~~~~~~~~~~~~~~~~~~~~
When is it?
SATURDAY 23rd October 10am - 2pm (GMT)
Will it cost me?
This Conference is totally FREE!
Where will it be?
The Prayer Summit will be held both PHYSICALLY & ONLINE:
Details for Physical venue are below:
___________________________________________
We will adhere to COVID rules, with hand washing , social distancing and masks. Please make sure you arrive at least 20 mins before so that we can check tickets promptly. Please note you MUST have a ticket to enter .
Eden Christian Centre, Connaught Rd, Ilford IG1 1RN
Can I park there?
Yes, there are parking bays on Connaught Rd which are free for the first hour and then you need to pay every 2 hours. Also on Gordon Rd ( 1 min away) there is more free parking. We advise you arrive early to avoid disappointment.
Public Transport
Nearest train station is Ilford train station. Buses 145 ( Dagenham) or 86 ( Romford) stop a short distance from the church.
Details for Online viewing below:
____________________________________
We will be live streaming from our YouTube channel. We advise you to subscribe before hand and hit the notification bell so that you are always alerted.
OTHER INFORMATION
~~~~~~~~~~~~~~~~~~~~~
Who else will we hear from?
We will be joined by Eddie Martin (Founder of ipraise 24 & Music producer), Apostle Dr. Aaron (President TAC-Ghana) & Mrs. Josephine Ami-Narh, Rev. Les Isaac OBE & Mrs. Louise Isaac (Ascension Trust) and Apostle Emmanuel Mbakwe (Former President TAC UK). The Praise & Worship sessions will be led by Priscilla Jones-Campbell. We will also have a question & answer session by Kezia Jones - Murray ( we will be asking for contributions during the day).
FINALLY.....
We are looking forward to fellowshipping with you in person or online. We would love it if you support us by praying for the team, the musicians and the ministers involved. We also ask that you invite as many people as you possibly can to watch online.
Blessings,
Team HMM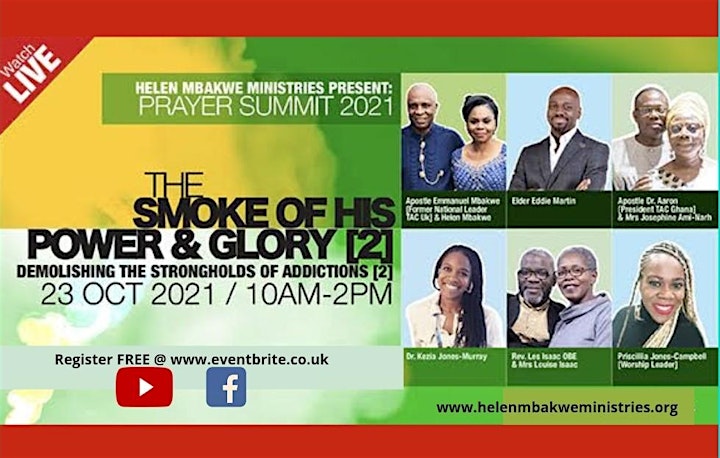 Date and time
Location
Eden Christian Centre
Connaught Road
Ilford
IG1 1RN
United Kingdom