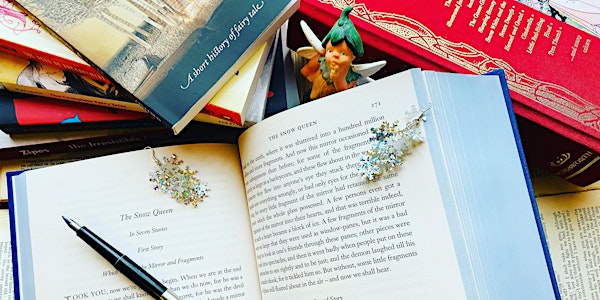 The Snow Queen: Retell The Fairy Tale (A Guided Creative Writing Workshop)
Event Information
Refund policy
Refunds up to 1 day before event
Eventbrite's fee is nonrefundable.
A guided creative writing workshop in which you will devise your own retelling of The Snow Queen.
About this event
Note: These sessions are for adults 18+. Mature themes may arise.
Trigger warning: we may explore outdated beliefs and violence which may be triggering.
About this workshop:
In this session you will be provided with creative writing exercises to help you approach The Snow Queen, as written by Hans Christian Andersen, in a different way. This is intended to be a fun workshop and is open to anyone (aged 18 or over) who would like to explore their creativity.
It is recommended that you read The Snow Queen, as written by Hans Christian Andersen, before the workshop. However, if you are unable to do that do not worry, a summary of the story will be provided at the beginning of the session.
The session will help you create material which you can develop into a short story, novella or novel.
Cost:
Snow Ticket: £8.14 (£7 + Eventbrite fee of £1.14). Snow Ticket holders will receive an additional pack of creative writing exercises on the The Snow Queen fairy tale, as a pdf, by email, after the session.
General Admission: £5.98 (£5 + Eventbrite fee of £0.98).
Refunds will not be issued once the workshop starts (but, should you be unable to attend, you will be emailed a copy of the presentation). For any refunds requested before this time, please note that Eventbrite's fee is non-refundable.
Note for social anxiety sufferers: You do not have to have your camera on nor do you have to speak unless you want to. The chat box will be enabled should you wish to communicate via that.
Please note that the workshop starts at 3pm UK time (GMT). The booking form and the booking confirmation email that is sent afterwards might show you both the 3pm time as well as the time in your country, which can be a bit confusing. Just to confirm, the workshop definitely starts at 3pm UK time. If you are based in a different country, please check what time that will be in your country. I look forward to seeing you all at the workshop.
About me:
The fairy tale sessions are run by me, Saraswathi. I am a writer with a BA(Hons) in English. Whilst working on my own fantasy and fairy tale inspired novels, I run a writers group for writers who write in other genres, and I also run fairy tale retelling workshops and courses online.
Date and time
Location
Refund policy
Refunds up to 1 day before event
Eventbrite's fee is nonrefundable.
Organizer of The Snow Queen: Retell The Fairy Tale (A Guided Creative Writing Workshop)