The #Soceat Breakfast Club

Monthly Event - Third Friday of every month: 09:00 to 10:00 (BST)
Event Details
Make the most important meal of the day the most inspiring moment of the day too. Every month Eugenie Teasley, founder and Chief Executive of Spark+Mettle, gathers a small number of whipsmart social entrepreneur peers (entrepreneers?) together to reflect on a theme, eat breakfast, share good news and discuss any issues that have arisen. One hour, one table, a whole host of new ideas.
There is a very light structure to each breakfast: we each reflect on a good thing that has happened in the last week, and we gently talk about a particular theme—one of the nine character strengths we look at through Spark+Mettle. 
We chat about it, and other issues that arise when trying to do what we are doing, and we eat and drink and eventually leave, I hope, feeling energised and inspired at the end of the week. It's always a small group, eight people tops. And it's always friendly and open.
We also all pay in advance (hence the Eventbrite) so there's no money faff at the end and it kinda feels as though it is free.* Which is nice. Deceptive, but nice.
Join us for one, come occasionally, or be there every time. It's up to you! 
If you've got any questions, get in touch via the buttons to the right, or tweet me @eugenieee :)
Thanks!
Eugenie
*£5 includes your choice of hot drink and food (sandwiches/porridge/pastries etc) plus tip—but if you are hankering for a full English you might have to put down and extra couple of quid.. 
These breakfasts are being designed by Spark+Mettle as part of UnLtd and Santander's national campaign to support peer-to-peer learning among social entrepreneurs. Find out more about the campaign here: http://www.pioneerspost.com/news/20130812/peer-ing-the-future-of-support-social-entrepreneurs.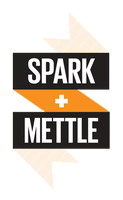 Where

Loaf
93 Tottenham Court Road
W1T London
United Kingdom


Monthly Event - Third Friday of every month: 09:00 to 10:00 (BST)
Add to my calendar
Organiser
Spark+Mettle
Spark+Mettle is an aspirations agency that likes to help people flourish. We run a number of programmes that enable marginalised young people to meet awesome professionals, get fab experience and develop the soft skills needed to fulfil their potential. For more information visit www.sparkandmettle.org.uk
The #Soceat Breakfast Club