Description
THE SOCIAL ENTERPRISE CONFERENCE
Exploring new business ideas that maximise social impact. A conference you can't afford to miss!
When?
8th April 2019, 9.00am registration, 9.15 start -1.30pm finish.
Includes lunch.
Where?
Aston Business School, Aston University, Aston Triangle, Birmingham, B4 7ET
Who's it for?
This is a conference for social entrepreneurs and changemakers, for investors, leaders, new-start-ups and those serious about using enterprise to achieve social impact.
What's it about?
We will explore how social enterprises can create value through new approaches, models and ways of working to develop change mindsets and encourage the sector to think differently about how impact can be achieved. You'll hear from panels of social entrepreneurs who have disrupted the market and scaled up their enterprises to create big ventures for maximum social change. There will also be opportunities to focus on practical action to creating change, with BUILDINGBLOCK sessions with a focus on idea generation, collaboration and social impact for scale.
Programme
9.00 Registration and Coffee
9.15 Welcome and Introductions Sarah Crawley CEO iSE
9.25 Key note speech – Prof Mark Hart Aston Business School
9.45 -10.30 First panel discussion – chaired by Paula Whitehouse Aston University Business School
Panel Title: Non-traditional approaches for Social Enterprise
This panel provides the opportunity to meet the innovators and disruptors. All of our panel members are creating 'High Impact' through their trading activities. We will have the opportunity to hear about their experiences, get their take on the future of social enterprise and learn how they have built their ventures to scale.
Dave Linton, Award winning Social Entrepreneur and experienced Founding Director of Madlug, a make-a-difference lifestyle luggage brand.
Karen Lynch CEO Belu CEO of ethical business and pioneering social enterprise Belu Water. In just six years, the former Barclays Executive has transformed Belu into a thriving company with a sustainable model that is 100% funded through trading revenue, debt free, and fast approaching £6m turnover.
Louisa Ziane, Global Brand Director Toast Ale – turning food waste into beer
Rosie Ginday, managing director of Miss Macaroon, Rosie combines together her skills in the kitchen, her management prowess and her passion for helping young people
Richard Thinkpenny Deputy CEO Ashley Community Housing – A story of community organisation to Housing Association
10.30 – 11.15 Panel Two Markets and Enablers
Chaired by Heidi Fisher
Grace England Resonance (Social Investor)
Rachel Wooliscroft Baynel (Built Environment)
Osaf Ahmed Commissioner Health and Social Care
Final speaker to be confirmed
11.15 coffee break
11.30 – 12.30 Building Blocks (workshops):
1] Trading and Impact
A workshop which provides more detailed information from our panel one speakers. Come and learn how they did it!
2] Go Social or Go Broke
Heidi Fisher consultant from Heidifisher.com
Not all business models are created equal, but you can future proof your social enterprise by being aware of these 5 key trends around social value and social impact:
Your business model and how it links to SV
SV Act Changes
Supply chains
Standardisation of outcomes and benchmarking
Management not measurement
3] Partner for Impact
Ben Howells (Aquarius and Evolve), Graham Beaumont (Living Well Consortium), Simon Fenton (Forward Carers)
This workshop will cover successful partnerships that have increased social impact and supported social enterprises to grow and provide useful hints and tips .
12.40 Henry Kippin - West Midlands Combined Authority
1.00pm Lunch and finish
Cost
This conference is £25 per ticket, including VAT.
Booking
Please book via Eventbrite.
This conference is brought to you by social enterprise development organisation iSE as part of CITYDRIVE 2019 with kind sponsortship from ASTON UNIVERSITY and GBSLEP.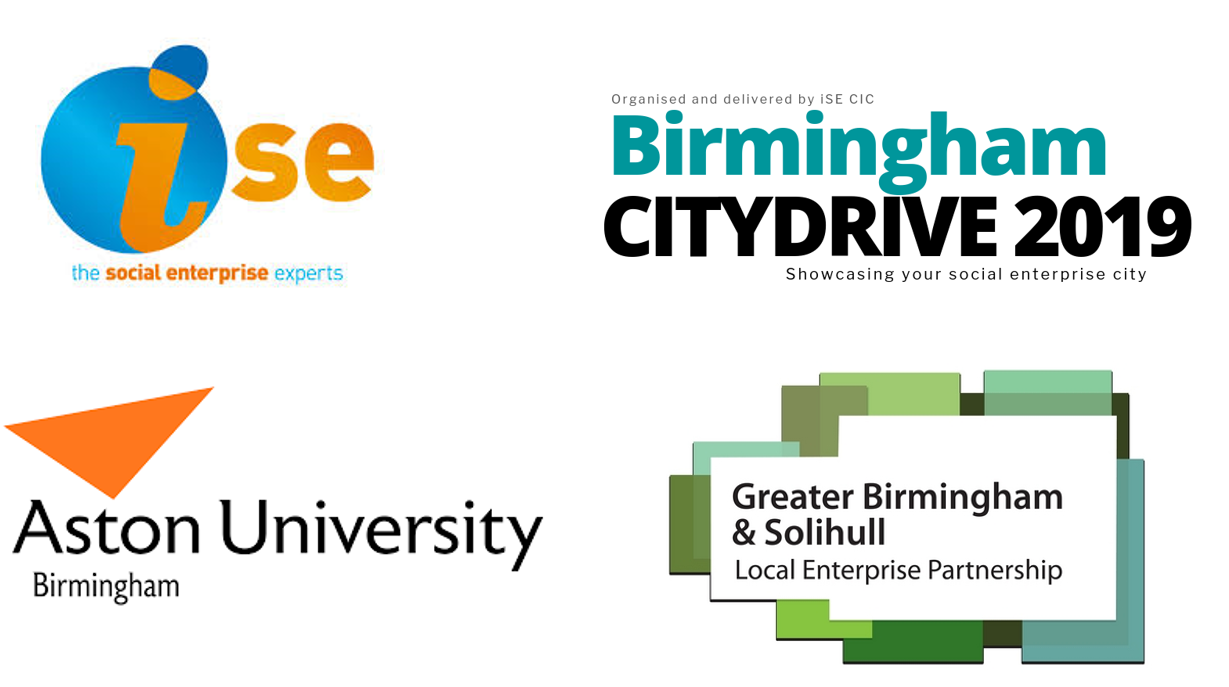 Organiser of The Social Enterprise Conference