How To Academy presents... The Social Instinct – How Cooperation Shaped the World | Nichola Raihani In Conversation With Robin Ince
About this event
Drawing on decades of research in the field, evolutionary biologist Nichola Raihani joins us to reveal how and why cooperation has shaped humankind – and what happens when it goes wrong.
Why cooperate? This may be the most important scientific question we have ever, and will ever, face.
The science of cooperation tells us not only how we got here, but also where we might end up. Cooperation explains how strands of DNA gave rise to modern-day nation states. It defines our extraordinary ecological success as well as many of the most surprising features of what make us human: not only why we live in families, why we have grandmothers and why women experience the menopause, but also why we become paranoid and jealous, and why we cheat.
At a time of global pandemic, when the challenges and importance of cooperation have never been greater, evolutionary biologist Nichola Raihani joins us is an exhilarating, far-reaching and thought-provoking journey through all life on Earth, with profound insights into what makes us human and how our societies work.
Praise for Nichola Raihani's The Social Instinct:
'A phenomenally important book. The story of why we humans evolved to become such a wonderfully cooperative, social species, and what that means for the world today. Nichola Raihani will change the way you think about ourselves' - Lewis Dartnell, author of Origins: How the Earth Shaped Human History
'Cooperation is at the heart of our bodies, our societies and our ecosystem. Nichola Raihani's stunning book flips the selfish gene on its head, showing us not only how to better understand the world, but also how to change it' - Matthew Cobb, author of The Idea of the Brain
'In this captivating book, Nichola Raihani ... provides a compelling argument that cooperation is the secret of human success and yet has never been as crucial as it is now, during a global pandemic and with the threat of the climate crisis. I found this intriguing and beautifully written book hard to put down' - Sarah-Jayne Blakemore, author of Inventing Ourselves: The Secret Life of the Teenage Brain
'This is a glorious book, with an insight on every page. Above all it taught me that while our individual bodies and brains might reward comparison with our primate relatives, in understanding our social relations we would be much better off comparing the meerkat. And the naked mole-rat. And the bower bird. And the cleaner-fish' - Rory Sutherland, author of Alchemy: The Surprising Power of Ideas that Don't Make Sense
Nichola Raihani is a Royal Society University Research Fellow and Professor in Evolution and Behaviour at UCL. Her group's research focuses on the evolution of social behaviour in humans and non-human species. She has been widely published in scientific journals, won the 2018 Philip Leverhulme Prize in Psychology for her research achievements, and was elected Fellow of the Royal Society of Biology in 2018. She has also worked in the BBC Science Development Team, and appeared on several podcasts and radio shows, including BBC Radio 4's 'Hacking the Unconscious' and 'Thought Cages'.
Robin Ince is the co-presenter of Radio 4's multiple award winning The Infinite Monkey Cage. He spent 2019 appearing across the world in the Universal tour with Brian Cox – travelling from LA to Oslo, Wellington to Aberdeen and ending up in Reyjavik after shows at the 02 and Wembley Arena. Robin co-wrote How to Build a Universe (part 1) with Brian Cox and his most recent book is I'm a Joke and So Are You, a book about why we become who we become and how we deal with it.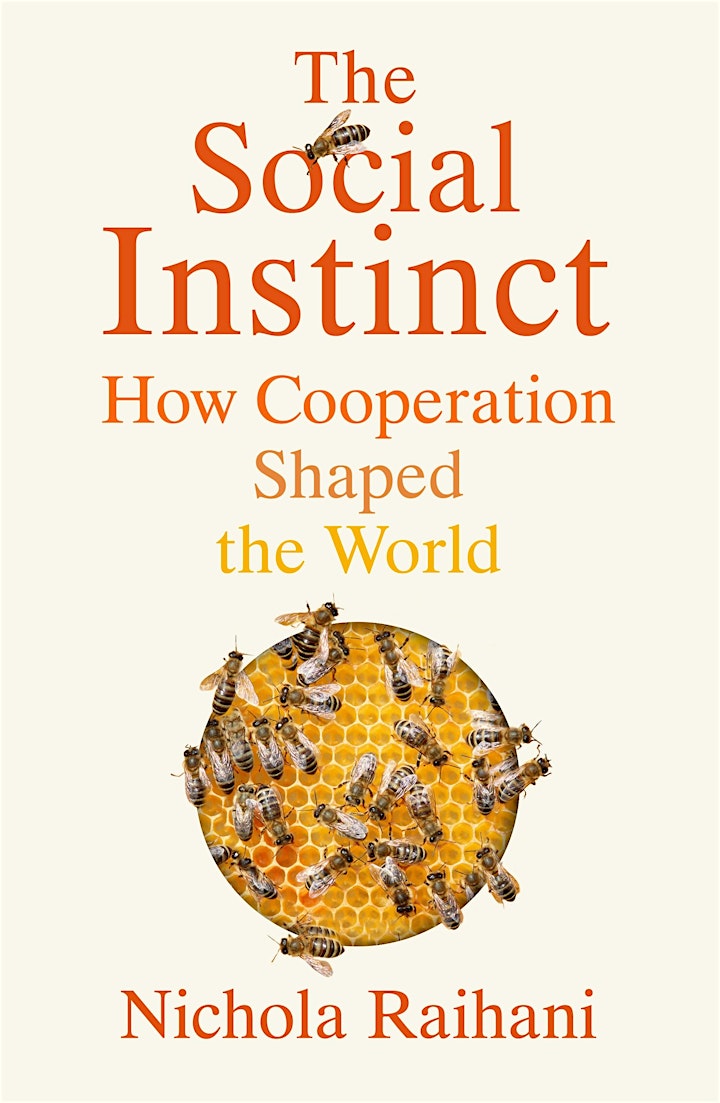 Organizer of The Social Instinct – How Cooperation Shaped the World
How To Academy is an organisation for people who think big. From Nobel laureates to Pulitzer Prize winners, we invite the world's most influential voices to London to share new ideas for changing ourselves, our communities, and the world. 
We host leading artists and thinkers in an unrivalled programme of public talks, debates and conferences – from Yuval Noah Harari to Natalie Portman, Emma Watson to Eric Schmidt.
We help businesses discover transformative new strategies, anticipate the future, and inspire their staff with keynotes and workshops by internationally-acclaimed economists, psychologists, politicians, and thought leaders. 
We offer masterclasses live and online with experts in essential twenty-first century skills, like leadership, public-speaking, decision-making and resilience. And we make books, podcasts and films to share insight and innovation around the world.