Description



You are warmly invited to attend a special two-day conference: The Sociology of Sociology in Long-term Perspective: A conference in honour of Richard Kilminster, to be held at the University of Leeds, where Richard has worked since the 1970s.


Richard Kilminster has made a profound and unique contribution to the field of sociology on a number of levels, but particularly through his extensive research and writings on the sociology of knowledge. In a period of interdisciplinary and fragmentation within the broader social sciences as well as in sociology, Richard has contributed to a synoptic understanding of the development of sociology, to maintaining its grounding as a 'post-philosophical' discipline and to an awareness of the importance of a historical perspective in understanding the developmental nature of knowledge. Central here is Richard's long-standing engagement with figurational or process sociology and his consistent promotion and dissemination of Norbert Elias's "workable synthesis". In this regard, Richard has been a key figure in securing a broader understanding of Elias's legacy. For example, through his Editorship of The Symbol Theory and his role as Chair of the Editorial Advisory Group in the production of the English edition of the Collected Works of Norbert Elias in 18 volumes, published by University College Dublin Press in conjunction with the Norbert Elias Foundation in Amsterdam. There are few scholars remaining globally who are pursuing similar important lines of inquiry or who have the breadth and depth of theoretical knowledge to do so. This makes his distinctive contribution all the more important in ensuring a bridge from classical to contemporary sociology for a younger generation of sociologists.
Yet Richard's body of work has not received the recognition it warrants. This conference will mark his unique contribution and will be held at the University of Leeds, where Richard has worked since the 1970s. As well as a celebration of Richard's unique contribution, secondary aims of the conference include: ensuring Richard's legacy in terms of reaffirming the centrality of the sociology of knowledge to the future of the discipline; and the continued dissemination of Elias's ideas on the relationship between knowledge, social process and power.
The conference is funded by the Norbert Elias foundation. We are very grateful for their generous support. We would also like to thank the Department of Sociology and Social Policy at The University of Leeds and The Department of Urban Studies and Planning at The University of Sheffield for their contributions to the event.
The conference will take place over over two days in April 2018:
When: April 5-6, 2018 (commencing at 12pm on April 5th and ending at 4pm on April 6th)
Where: Great Woodhouse Room, University House, University of Leeds, UK.
Confirmed speakers include: Richard Kilminster - Alan Scott, Andrew Linklater, Marc Joly, Stephen Mennell and Steven Loyal.
The conference is free to attend but places are limited, so please book your place.
The conference will run as follows:
Thursday April 5th
12.00-13.00 Lunch on arrival

13.00-13.15 Introduction to the conference - Ryan Powell & Jason Hughes

13.15-14.00 Laudatio Richard Kilminster - Stephen Mennell

14.00-15.30 Plenary: On the process of becoming a sociologist: autobiographical reflections - Richard Kilminster
15.30-16.00 Tea/Coffee break
16.00-17.30 Paper Session 1

Against fashion. Against philosophy – Alan Scott

Involvement and detachment: Critical theory, cosmopolitanism and process sociology - Andrew Linklater
The unfinished sociological revolution. Progress and regression in sociological theorizing – Nico Wilterdink

17.30 Drinks reception

19.30 Conference Dinner - Brown's, The Light, 70–72 The Headrow, Leeds.
Friday April 6th
09.00-9.45 Reflections from Richard's students and peers
09.45-11.00 Paper session 2 (2 papers)
"Problems of involvement and detachment": Norbert Elias and the investigation of contemporary social processes - John Lever and Ryan Powell
Perceived state legitimacy and figurational sociology: Emotional responses to Irish hunger strikes - John Connolly, Paddy Dolan and Stephen Vertigans
11.00-11.30 Tea/Coffee Break
11.30-13.00 Plenary: The threefold calling of sociology - Marc Joly
13.00-14.00 Lunch
14.00-15.15 Paper Session 3 (3 papers)
Sociology of knowledge and the knowledge of sociology: A textbook presentation – Phil Sutton

TITLE TBC – Cath Morgan
From praxis to process: the sociology of Richard Kilminster – Steven Loyal
15.15-16.00 Closing Remarks
CONFERENCE CLOSES.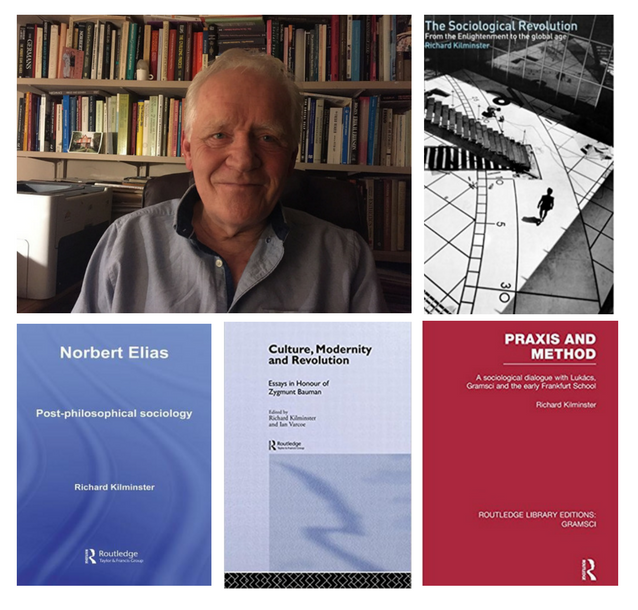 Organiser of The Sociology of Sociology in Long-term Perspective: Richard Kilminster
Address: Department of Urban Studies and Planning, University of Sheffield, Western Bank, Sheffield, S10 2TN
Telephone: 0114 222 6901