Description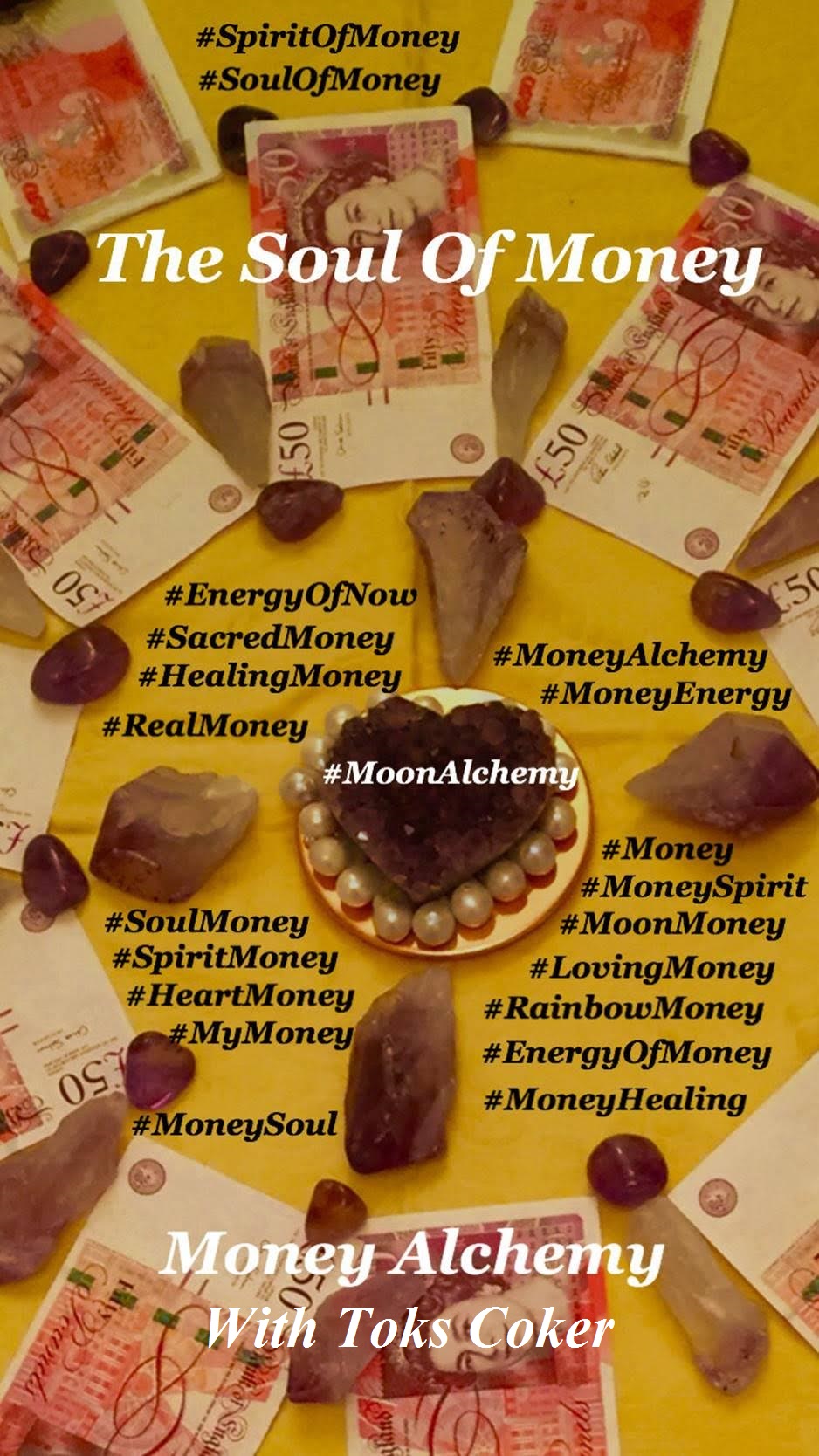 CHRISTMAS SPECIAL OFFER: SAVE £44!
So many things to think about and it's never only about Money. Money is love. Money is spiritual. Money is a Vortex of .....
If you attend the Soul of Money Alchemy with Toks Coker, you can come to the

New Moon in Capricorn Alchemy Gathering

for free.
The New Moon in Capricorn Alchemy Gathering is on the same day as the Soul of Money Alchemy (10-5pm) though it is in the evening, from 7-10pm. Normally, the spiritual exchange for a Moon Alchemy Gathering is £44 - you can attend for free if you come to the Soul of Money Alchemy workshop during the day.


If you would like to read more about the New Moon in Capricorn Alchemy Gathering, please click here: http://bit.ly/2he0YZm


If you have any queries, please feel free to call Yanni on 07961044895.
*This special offer is specifically for 29/12/16 i.e. you cannot carry forward the free Moon attendance to another date.
TESTIMONIALS


"The vortex was incredibly powerful and intense, it allowed me to open to the maximum, as it was safe, and let my wildest dreams surface and manifest energetically. I can feel my new life. I am it. And I look forward to all the hard evidence. I'll be back. Lots of love." Evgenia Fossett


"I have been to many workshops, but this one was very different and highly energetically charged. Toks has a very powerful voice and a great spirit. I truly enjoyed every moment of this workshop." Inga Kavoluinaite


"These meditations are simply the best gift you can give to yourself. I love you Toks." Genevieve Capovilla


"I found this gathering mind blowing. I'm taking away strength and power and inner magic. Toks is incredibly powerful." Kathryn Drysdale




THE SOUL OF MONEY ALCHEMY


SOUL OF MONEY ALCHEMY 2016
So how was your Money Alchemy for 2016?


PATTERNS: What were the patterns that hindered you, blocked you and slowed you down?
PAINS: What are your pains with money? Your struggles and strife? Have you ever thought about them? Have you thought too much about them?
PROGRESS: Have you made progress but still feel like the underlying issue is still there somewhere, deep within you, tugging at you as you try to take a step forward in your life and bring in more money?
PRACTICAL: How practical are you with money? Do you manage your money well? Are you money smart? Do you save and invest? Do you have a diverse portfolio of investments? Would you like to?
SAVE: Do you struggle to save? Does your money come in and whoosh! It's gone again?
CASHFLOW: Do you struggle with cash flow within your business and within your personal life?
KARMA: Are you aware that your business and life is a reflection of you and your Money values and your Money Karma? That if you transform yourself, you will transform your business and your personal relationship with Money?





RELATIONSHIPS: How is the topic of money within your relationships? Do you argue about money? Do you feel inadequate about money? Have relationships ended over money?
FEELINGS: How do you feel about money? Do you feel scared about money - that you don't have enough, that you will never have enough? Are you apprehensive towards money? Do you feel constrained by money - that it restricts you and doesn't allow you to fully live life?
FAMILY: Have you noticed how some apsects of the way you handle your money are shared with your parents? That they have certain habits and patterns and so do you?
FOOD: Do you feel that money stops you from living healthily and eating healthily? Do you feel that it's too expensive to eat the right foods and the right quality of foods?





BLOCKS
What is your block to money? Are you aware of it? Have you thought about it? Would you like to shift it?
Your block could be spiritual, emotional or psychosomatic. It could be what's stopping you from feeling fulfilled and expressing your unique gift to the world. It could be what's stopping you from feeling worthy and loved. It could be what's curtailing your happiness and your sense of self worth.


If, like most people, you resonate with most of what you just read then you are definitely in the right place as this Soul of Money Alchemy workshop is designed to deal with and transform the very depths of these types of problems.


The Soul of Money Alchemy workshop will help guide you to powerfully transform your relationship with Money.





WHAT WILL WE COVER?
During this workshop YOU will:
1. Reflect on what you achieved in 2016.
2. Appreciate where you are right now and the resources you currently have.
3. Transform your Relationship with Money: calling forth a New Sense of Freedom, Joy and Capability.
4. Clear your Path to Money so that it Flows to You and You are Capable of managing it Responsibly.
5. Invoke your Financial Abundance which is yours by Divine Right.
6. Call Forth a New Sense of Self Worth, Self Esteem and Wholesome Confidence.
7. Clear your Path to Happiness and Fulfillment.
8. Transform your Relationship with Yourself.
9. Transform your Relationship with Your Dreams.
10. Clear your Path for 2017 and Beyond.
11. Learn how to Live a Healthy and Satisfying Money-filled Life: improving your Relationships, Vitality and your ability to Contribute.
12. Design measurable Results so that you Increase your Income and your Net Worth.
13. Make sure that 2017 is Filled Full with the Magic of More Money, More Financial Abundance and all the Blessings this brings.


WHAT TO BRING WITH YOU:
1. An open mind.
2. A crisp £50 note if you have one, for yourself.
FOOD & REFRESHMENTS
1. Please bring your own lunch (There is a Tesco's nearby).
2. Refreshments will be provided.



A RICH DAY
This will be a day rich with great insights, practical tips, strategies and amazing potential. Gathering all the forces of money, we will activate your Money Force, that will enable you to make 2017 the best year ever for you.
Reflecting on the year/s gone, you will empower yourself with newness and freshness. There is so much packed into this day so please save this date now and book your ticket via the top of this page.
This workshop is a great opportunity to become aware of your block(s) to money. It will assist you to release upsets, dissolve barriers and uncover blind spots so that you have a powerful relationship with money as you move into 2017 and beyond. Remember, it is never onlhy about Money!
Anxiety and confused feelings about Money are obstacles to our careers and our relationships. A dysfunctional relationship with Money can hold us back from achieving our highest potential and realizing our greatest goals and can be a cause for strife in our relationships and our self worth and self esteem.
You will be looking closely at YOUR OWN STORY WITH MONEY and the ways your beliefs around Money have limited and constricted your life. We will also look at how our consumer culture's constant anxiety and quest for Money can be a real block to happiness in the here and now.





Here are some more Powerful Exercises that YOU will complete in this workshop:
1. You will look at the Magical Dimensions within you; by Clearly, Re-Defining and Identifying your True Goals, Vision and Mission for 2017.
2. You will identify ways of Achieving your Goals based on your Truth and not someone else's limiting truth of you.
3. You will create a 2017 Dream/Vision Board for yourself based on an Energetic Transmission.
4. You will Co-Create your Future in a Healing Space by Empowering your Resonance and Essence; so that You can Tap Into your Future Where ever You Are in the World.
5. You will look at All your Options and Who and Where you are Now.
6. You will Anchor in Spiritual Power to Manifest your Goals, Vision and Mission.
7. You will Energetically and Practically Clear stuck limiting beliefs, fears, emotions and patterns that are holding you back or you are 'entertaining' out of habit.
8. You will explore Preserving Relationships that honour you in 2017: work, career, family, mother, father, daughter, son, sister, brother, in-laws, step children, step parents, lover, partner, wife, husband, colleague, etc.
9. You will look to understanding an emotional pattern from the past and seek to transform that poison to medicine. You will look at your Spiritual Psychology of Yourself: Transforming the dilemma in your Life Right Now.




10. You will burn a bridge that no longer serves you; so you do not go back to that pattern of blame, confusion, irritation, annoyance, bitterness or victim.
11. You will do a Simple Practical Exercise to Clear Time Lines and Create Power Lines to Journey through Past, Present and Future.
12. You will call in the Energy of the 4 elements (Earth, Air, Fire & Water) Mother Earth, Gaia, Father Sky, YOU will call in a Practical Action to take in 4 areas of your Life to Manifest your Dreams and Hopes.
13. You will Receive 13 Creative Practical Steps to Move Forward with your Energy Matrix of Now.
14. You will privately write your New Moon wishes for 2017: experiencing Soul Making at Work in your Life.
15. You will Plant a New Seed in your Energetic Body and In Your Physical Body to grow to Love who you are Becoming.
16. You will look at the New YOU that you are now and that you are Becoming. Then you can answer the question: Who Am I? I am ……
17. You will practice the Law of Attraction with Magnetic Healing.
18. You will learn a Psychic Protection exercise to Carry You Forth with the Multi-Dimension of 2017 and Beyond.
19. You will learn how to Communicate your Truth in your Alchemical Resurrection process. You will be able to More Freely Express Yourselves in a Simple and more Holistic Way. You will be able to say: I am who I am meant to be.


WHAT TO BRING WITH YOU:
1. An open mind.
2. A crisp £50 note if you have one, for yourself.
FOOD & REFRESHMENTS
1. Please bring your own lunch (There is a Tesco's nearby).
2. Refreshments will be provided.

THIS IS A DAY OF MAGIC. After all the Christmas Celebrations with family and friends take PRECIOUS TIME out for YOURSELF.


If you have any questions, please call Yanni on 07961044895.
Organiser of The Soul of Money Alchemy
Toks Coker is a Master Healer, Teacher and Coach.
CLIENTS: Over the past 30 years Toks has been seeing her clients privately in St Johns Wood, either in person, over the phone or online via Skype or Zoom. Her sessions have enabled a lot of powerful personal transformations in the lives of her clients. 
STUDENTS: Toks is always teaching, even a conversation with her can reveal a teaching or insight that you needed to hear. Her work has changed thousands of lives. 
TEACHING: Toks is a Certified PGCE Teacher, Crystal Healing Teacher, Universal Healing Tao Certified Instructor and Energy Trainer. Over the years, she has taught many healing and empowering classes, such as: 8-Weeks of Forgiveness, Intensive 8-Days Spiritual Practice, Numerology Workshops and Full Moon and New Moon Meditations. She has taught  Indian Head Massage and Face Rejuvenation.
SERVICES: Toks offers a variety of services, which enables her to tailor a package or session, specifically for your need. As a Universal Healing Tao Instructor, she offers Taoist Microcosmic Orbit, Inner Smile and Healing Sound. She is a Crystal Healer, a Theta Healer Advanced DNA an Arcturus Quantum Healer, a Quantum Alchemy Crystal Bowl Practitioner, a Spiritual Healer, a Tao Hands Practitioner, an Angel Card Reader, an Energy EFT Master Practitioner, a Positive EFT Practitioner, an EMO Master Practitioner, an EMO Practitioner, a Pranic Healer, Reiki Healer and more. She is a certified Life Coach: Time Line Therapy Practitioner, Certified Practitioner of Neuro-Linguistic Programming; Certified NLP Coach Practitioner and Practitioner of Hypnosis.
ADVISOR: Toks is a Senior Practitioner and an Advisor for the BRCP. 
SPEAKER: Please contact her if you would like her to speak at your event.
"If you Light a Lantern for another it will also Brighten Your Way." Gosho Zenshu, p.1598