The SoulFam Smokeout - I AMsterdam Weekend

Saturday, 8 July 2017 at 12:00

-

Sunday, 9 July 2017 at 12:00 (CEST)
Event Details
We have organised a weekend mixed with informative and engaging activities like talks, workshops & bike rides revolving around the local culture delivered by our speakers & guests.
The main focus for the weekend is to bring people together in a relaxed environment to enjoy good food and good vibes to meet other like-minded people. Over the course of the weekend you will have the option to participate in psychedelic ceremonies for healing and reflective benefits under the guidance of an experienced shaman.
There is no obligation to involve yourself in anything that you're not comfortable with. We will be providing complimentary cannabis and mushrooms inclusive with the ticket. For those that would prefer not to involve themselves in the psychedelics there is the option to partake in a gentle cacoa ceremoney (which is organic natural chocolate) that stimulates the heart chakra.
Due to the nature of the event we must insist that all those interested in purchasing a ticket are over 18 years of age. We have laid out a rough itinerary of the weekend below.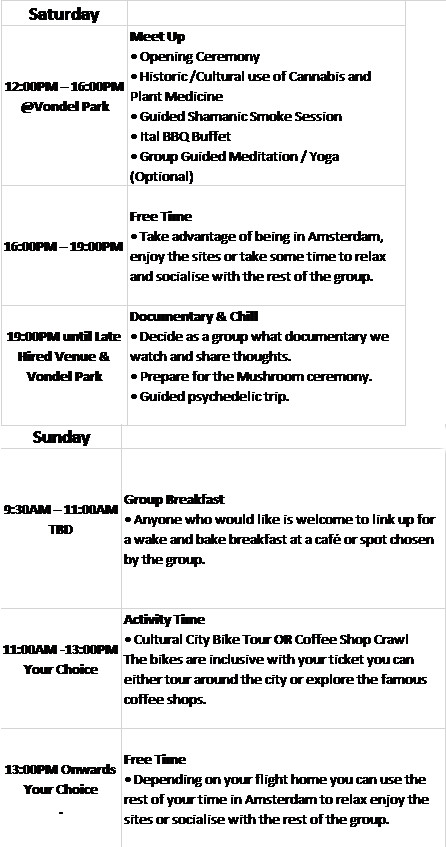 Ticket cost £55.00 & includes access to all the talks, workshops and ceremonies, complimentary cannabis & mushrooms will be provided but be advised that there will be a limited supply will be distributed equally. Your ticket also includes your food at the Ital BBQ buffet in Vondel park, the team will be preparing fresh vegan food to be served in the park to combat the munchies.
Your ticket also covers the evening activities, we have secured a smoker friendly venue so we can documentary and chill in comfort. The next day, whether you choose to tour the city or explore the coffee shops your bike costs will be covered.
Accommodation is not included in the ticket and we are recommending that anyone interested in coming use AirBnb to find accommodation an average price per night is around £60.00 per night. We are able to offer anyone staying in an AirBnb £30.00 of their booking.
Payments are to be made via Paypal to:
Thesoulfam1@gmail.com Ref – Smokeout
In order to keep costs down, when you send payment, please ensure to select the 'send to friends' option.
Accompanied by an email to –TheSoulFam1@gmail.com with: Subject – The SoulFam Smokeout. Name(s) Telephone number
You will then receive a confirmation email and we will be emailing out all the information including directions, meeting points and contact details. If you are unable to attend after booking, tickets will be refundable up until the 1st of July.
Additional Information
We are able to provide any assistance necessary with flights, in our research organising this we found that the average flight price from London, Birmingham, Manchester or Liverpool to Schiphol (Amsterdam) was between £85.00 & £106.00.
Amsterdam is a very popular weekend break and we recommend you look at flights ASAP. It is possible to fly from the UK Saturday morning and leave Amsterdam Sunday evening. The longer you wait to book your flight, the likelihood of securing ideal flights fades.
It wold be more advantageous for you to seek accommodation near Vondel park
It will be summer in Amsterdam and the average weather is around 22°

but the weather in Amsterdam is unpredictable so please dress suitably just in case mother nature switches on us.
All in all, this weekend trip should cost around £275-£300 depending on the amount of spending money you take. (£100 flight, £30 accommodation (with AirBnb discount) and £100
Contact Details
If you would like any further information you can contact us via Instagram @TheSoulFam or alternatively you can email TheSoulFam1@gmail.com. 
Alternatively, you can send a direct message on Instagram to any of the following members of the team who will be happy to answer any questions. @TheSoulFam, @TheEmpressWearsTheCrown or @Omega_Axsal.
SoulFam - "Socials with Substance"
When & Where

Vondelpark

1071 Amsterdam
Netherlands


Saturday, 8 July 2017 at 12:00

-

Sunday, 9 July 2017 at 12:00 (CEST)
Add to my calendar
Organiser
Living within modern society as an 'awakened' individual, having an interest in spirituality, meditation, crystals and conspiracies can feel alienating at times, even amongst your closest and longest serving circle of friends.
If you've ever attended an event within the conscious community then you'll no doubt agree that the best part is the feeling you get from being surrounded by such beautiful energy. However, it always seems to come to an end before actually getting to know any of the great people you've met.
Sound Familiar?
Well The SoulFam has been designed with the solution in mind. Instead of events based around speakers and vendors, our foremost objective is to create platforms for the conscious community to build on, by spending quality time with other like-minded piers. We aim to bring you socials with substance, including food, discussions and activities to stimulate the mind, body and soul.
www.instagram.com/TheSoulFam
www.instagram.com/YUSALIFE