Description

After the summer slow down, September will be upon us and a gold rush of opportunity.
As businesses ride back into town for the last four months of 2017, everyone starts looking for that elusive answer to success. Many are ready to buy new products and services and they really go for it in the lead up to Christmas, especially in September.
It's a no brainer to be ready to take advantage of that wave of buying behaviour, so you need to make sure you have all your marketing ready to make some money!
We're always ready to do that, with all our marketing polished up and ready to go so we can make September one of our best months of the year.

Are you ready? Really ready? As in you have marketing that actually delivers the results you want?
Would you love to be fully ready and make September the best month yet?
We want to help you be ready to make that happen...



This summer, after your young cow folk have gone to sleep, we'll be training around the campfire LIVE on Facebook - and you're invited.
You'll be able to join us and learn from our intense seven years on the ground, using social media for small businesses.
We'll give you a simple plan that you can work on right away and roll out in September, in time for the gold rush.
The best thing is, you can do this right from the comfort of your own ranch... on your phone, tablet or laptop! So you can easily work it around your busy summer life with or without cow folk and in between those adhoc BBQs and events
Watch and hear the story behind the #SSMSC...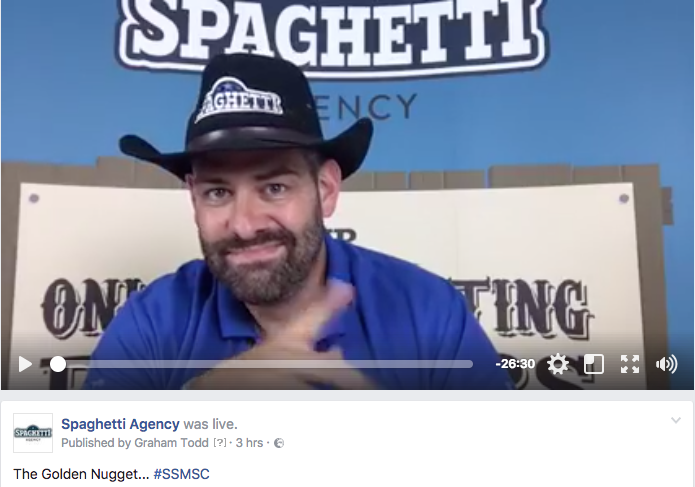 The Spaghetti Social Media Summer Camp will be streamed at 8pm on the following dates:
July 18th - Why You? Your story, using emotion for your brand, and why you need to start with 'why?'.

July 25th - Is Twitter Dead? Searching for people who need you, hashtags, lists, automation, linking it all up and finding new business.

Aug 1st - Stop Faffing With Facebook: Beat the system. Video, images, replying, engagement, adverts, events, Facebook Live.

Aug 8th - Blogging for Business. Why you should blog, SEO tricks, content ideas, and how blogging can gain you leads and business.

Aug 15th - You Got Mail. Email titles, first lines, systems to use, content ideas, measuring it, and using the data to find new business.

Aug 22nd - Should I be Automating? Being there when you're not really there. Using simple automation techniques to show you how to create your essential digital skeleton.

Aug 29th - Round it Up! Tying it all up and linking your new knowledge together. We'll put it all into one system so it's simple, easy to implement, and quick to measure.


You'll finish the seven week programme with a proven system that works and generates leads. We know this because it's the EXACT SYSTEM we use here at Spaghetti Agency.
---
This very system recently gained Claire McTernan over £4k in business in a few weeks.
Ray Jackman said: "If you're looking to capture an understanding of how social media can change your way of doing business I would thoroughly recommend Spaghetti Agency - Yeehaa!"
Tony Herbert gaves us a glowing testimonial: "We came away feeling empowered and enthused, suddenly believing that this old dog (me that is) is after all capable of learning new tricks. I strongly recommend this course and I look forward to continuing to work with Todd and Jo"
Adam Stevens was impressed how we walk the walk: "With Spaghetti Agency, things are very, very different. In any business I always look to see if the people behind the business are a product of their product. Todd is the absolute definition of this. If you want reassurance, proof, and evidence of this then just look at his social media footprint; now imagine your business had this."
"Todd's expertise has been invaluable in helping us understand social media in the context of our business and form a social media strategy" - Ben Day. Former Director of Opporations at Quidem Midlands (owners of Touch FM).
---
...But there's more!
Here's the golden nugget in all this...
During the summer you'll have access to our private and brand new Summer Camp Facebook Group, where we'll stream the Live sessions.
But we'll also:
Take questions throughout the Summer Camp season (for seven weeks).

Share all the documents and systems so you can keep them and use them.

Run mid-week bonus sessions.

Give you homework to make sure you're listening and implementing.

Give you access to Q&A sessions with Todd and Jo.
This isn't just a few sessions on your laptop - this is a fully accessible and sociable summer camp. We'll be around for questions before, during, and after the Live sessions - and you'll get the documents and content too.
---
BONUS LIVE SHOWS WITH EXPERTS
We've also added some brilliant Q&A sessions with experts who will join us LIVE around the campfire on Friday nights throughout the summer. We've grafted in all types of experts from accounts to coaches, marketing experts and video pros.
Tune in live or catch up on the replay!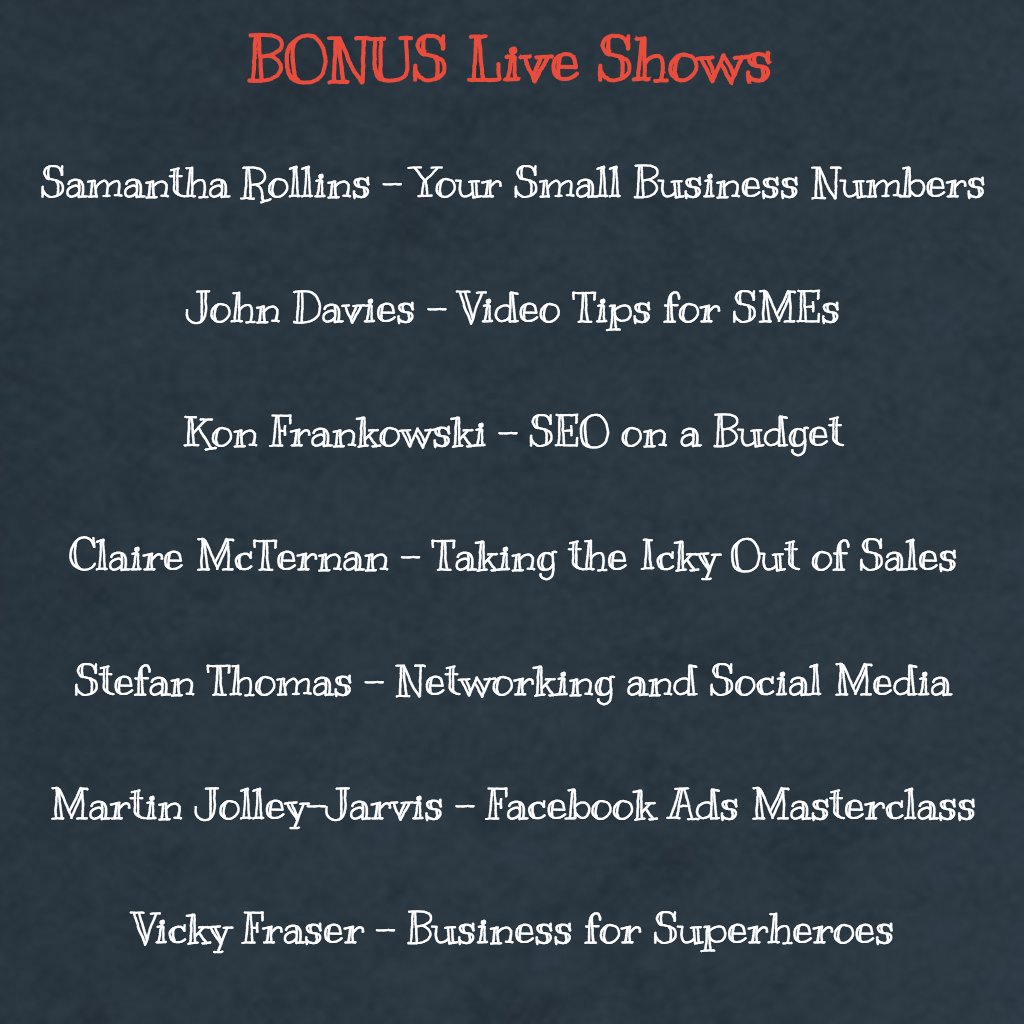 ---
All you have to do is buy your ticket and we'll give you access to the lot!
Questions you might have...
Q: Does the price cover all the sessions?
A: Yup, one price gets you access to everything!
Q: What if I can't make the Live events?
A: All the content will live on the Facebook group as a replay for the entire summer.
Q: Do I have to do the homework?
A: No, but it'll help you get it all in place so we'd recommend it.
Q: How will I access everything?
A: All the content will be on a closed Facebook Group that'll we'll give you access to.
Q: I don't know how to use Facebook Live, does that matter?
A: No, as all you need to do is press play on the videos (Live or on replay). We'll help you if you're not sure.
The Spaghetti Social Media Summer Camp is your chance to make a real go of the September gold rush.
Get all your content in place and show them what you've got this Autumn.
Spend the summer with us, picking and choosing when you access the content, and we promise you'll have a way better chance of getting noticed, gaining leads, and grabbing more business when everyone heads back to the office.
Grab your seat around the campfire now by clicking the green button above.
It's going to be a WILD WEST summer! Make sure you join us.