About this Event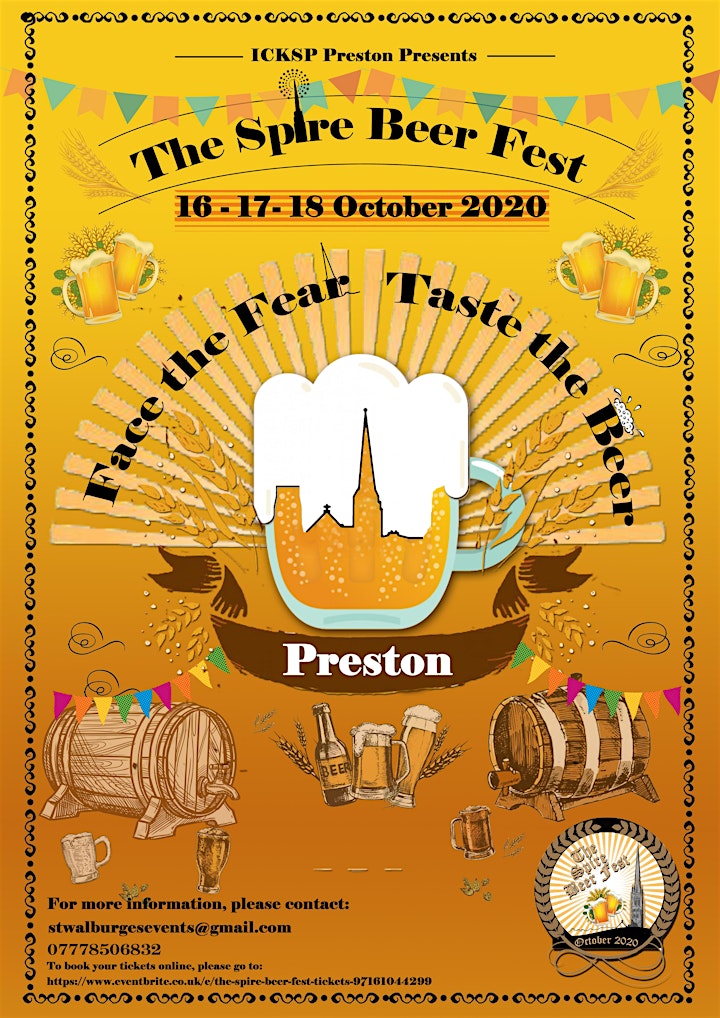 Face the Fear- Taste the Beer
We are delighted to announce that The Spire Beer Fest is back!
Enjoy the huge variety of beer, cider, gin and prosecco.
The Spire Beer Fest is inviting people of Preston and beyond to come and join this festival which is designed for the purpose of both the on-going restoration work to St. Walburge's Shrine Church and to support a multitude of projects which will enhance the use of this magnificent grade I listed building that is also known as Gem of Preston.
The church was built in the mid 19th century by the Gothic revival architect Joseph Hansom , designer of the Hansom Cab , and is famous for having the tallest spire of any parish church in England. St Walburge's was made to be noticed . The Jesuits commissioned it in 1847, at a time of supreme religious confidence, not long after the Catholic Emancipation of the early 19th century had seen many of the legal restrictions on Catholic observances lifted.
St. Walburge's is recorded in the national heritage list for England as a designated Grade I listed building and is currently under the care of the Institute of Christ the King Sovereign Priest, which is a society of apostolic life whose mission is the honour of God and the sanctification of priests. The Institute of Christ the King celebrates the classical Roman Liturgy, the "Latin Mass," in its traditional form.
The challenge 25 scheme will be in operation so please ensure that you have appropriate identification n you are under 25.
For more information and sponsorship please contact:
stwalburgesevents@gmail.com
07778506832
To donate please go to: https://www.justgiving.com/crowdfunding/st-walburges