Description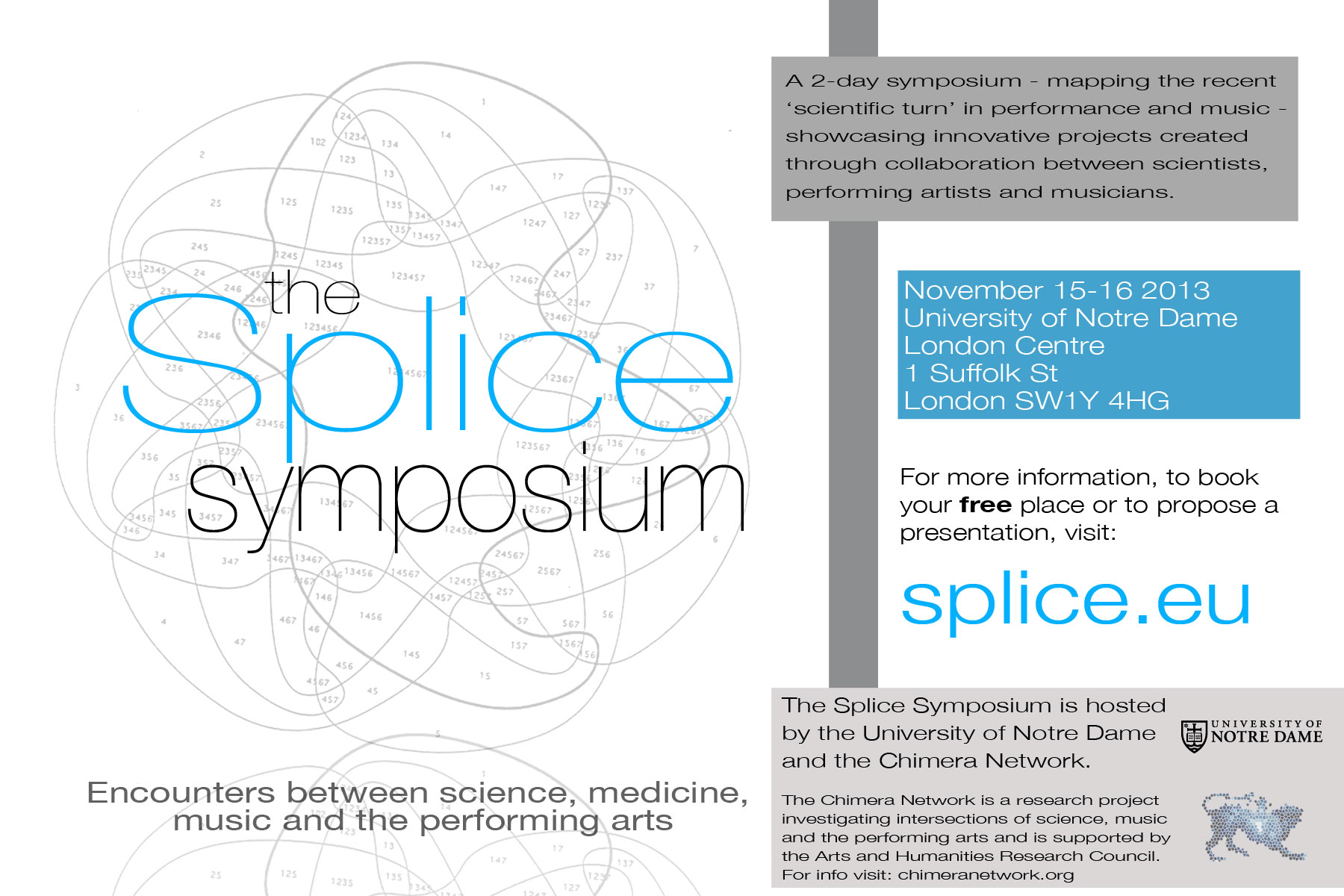 The Splice Symposium is an opportunity for performance, music, science and medical practitioners and scholars to celebrate and debate the recent 'scientific turn' in contemporary performance and music practice. It presents a range of artworks and projects that variously test the boundaries between performance, music, science and medicine. It explores the practical and philosophical aspects of collaboration and intersections between and across these disciplines.
Science has been a perennial subject for theatrical performance and there is a long history of 'science plays' that stretches from Marlowe's Doctor Faustus to Frayne's Copenhagen. Likewise some canonical music pieces, including Holtz' The Planets, have taken scientific understanding as their subject matter. However, the premise of this symposium is that the impact of postmodernist tendencies in both the arts and the sciences, has paved the way for other forms of engagement between sciences, and music and performance. Thus, it considers the value of performance and music as more than a form of 'science communication' (a way of disseminating scientific understanding to non-expert audiences) or a pedagogical tool. And it regards science as more than subject matter. Seminal works such as Murail's Gondwana, Reich's Three Tales, the algorithmic composition of Xenakis, Robert Wilson's Einstein on the Beach (with a score by Philip Glass), Complicite's Mnemonic and Bjork's Biophilia exemplify a range of compositional and collaborative strategies available to the contemporary sci-arts practitioner.
The Splice Symposium draws attention to performance, music (and forms that cross these two disciplines) as practices that have yet to receive the same attention as the visual arts in terms of their engagement with science. Through discussion with contemporary artists and scientists, it asks how performance and music might be distinct – from each other and from other art-forms – in their engagement with science and medicine. And it identifies confluences between these disciplines, particularly in projects that combine the two forms.
A detailed programme will be published shortly. Confirmed participants include:
Friday
Jenny Paton (Wellcome Trust), Nicola Triscot (Arts Catalyst), Alex Kelly (Third Angel), David Rosenberg (Shunt), Brian Lobel, Mark Espiner (Sound and Fury), Tony Myatt (University of Surrey) and Simon Park (University of Surrey)
Saturday
Dr Kirsten Shepherd-Barr (Science on Stage, 2006), Suzy Willson (Clod Ensemble), Melanie Wilson, David Bermen (physicist/Flow Motion) and Jean Dibble (University of Notre Dame).
The Splice Symposium is a product of Chimera Network, a research network exploring collaborations between science, medicine, performance and music. It is presented in collaboration with the University of Notre Dame London Centre.