The Stakeholder Conversations of Leadership - South Yorkshire Branch
This facilitated workshop will use a metaphoric project story to provoke and carry the learning.
About this Event
SPEAKERS
Andy Taylor - People Deliver Projects - Facilitator
AGENDA
17:30 - Webinar starts
19:30 - Webinar ends
SYNOPSIS
The Learning Goal
Getting underneath how stakeholder conversations can build engagement, ownership, and so transform delivery performance. How courage builds respect and vulnerability opens up trust, in the moment. Applying Emotional Intelligence to the real conversations of projects, and specifically when landing projects with stakeholders in 'the business'.
The Experiential Format
Replacing live theatre with interactive video, this facilitated workshop will use a metaphoric project story to provoke and carry the learning. Around the story episodes, there will be audience interaction: In breakouts, polls and experimentation, where the audience can choose how they want the behaviour of the characters, and so the story, to change. No one will be bored, we promise.
Introducing
OPAQUE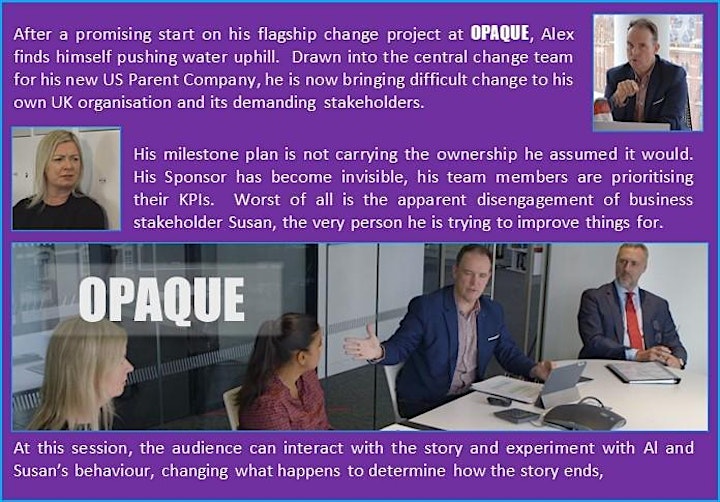 SPEAKER BIOGRAPHIES
People Deliver Projects has worked with over 100 organisations who they help to deliver projects and change. They can do process, but their real work focuses on behaviour: The conversations and relationships which help teams to deliver.
Andy Taylor will be our facilitator. Managing Director of People Deliver Projects and a former project manager and sponsor in the Aerospace industry. He has worked in 'change' in different capacities for 36 years, and has long campaigned for people to be put back at the heart of projects and for consultants to prescribe less and trust their clients to own more.
People Deliver Projects is renowned for bringing learning to life, by replacing traditional training formats with live, creative learning experiences.
Our events are for adults aged 16 years and over.