Starting a Business. It's in your DNA. | Dechrau Busnes. Mae yn eich DNA.
About this event
(Please scroll down for English)
Esblygiad Busnesau Newydd
Dechrau Busnes. Mae yn eich DNA.
Mae esblygiad yn berthnasol i lawer o bethau mewn bywyd, ond beth am weld busnes eich breuddwydion yn esblygu'n realiti?
Gyda rhai o fentoriaid, siaradwyr a pherchnogion busnes mwyaf talentog a chydnabyddedig y DU y tu ôl i ni, gallwch fod yn dawel eich meddwl eich bod yn y dwylo iawn i adael i'ch entrepreneur mewnol esblygu drwy gydol y dydd!
O syniad cychwynnol, hyd at fusnes wedi'u ffurfio'n llawn, yn barod i'w gyflwyno, mae gennym yr adnoddau i'ch helpu chi. A ydych chi'n ddigon gwydn?
Fel y dywedodd Charles Darwin unwaith: " Nid y rhywogaethau cryfaf sy'n goroesi, nid y mwyaf deallus sy'n goroesi. Ond y rhywogaeth sydd fwyaf hyblyg i newid."
Felly, beth amdani? A ydych yn barod i gamu allan o'ch cylch cysur a chymryd naid o ffydd i hunangyflogaeth?
Beth fydd dan sylw yn y digwyddiad?
Diwrnod 1 - 30/09/2021
Gweithdy dwys drwy'r dydd
09:30 – Croeso a chyflwyniadau gyda Holly Jones a Lucie Andrews o'r Hwb
10:00 – Cael ysbrydoliaeth gyda Chyfrinachau Twf Busnes Llwyddiannus Scott Flear
11:00 – Meddwl am syniadau busnes
12:00 – Egwyl hamddenol
12:15 – Adeiladu brand rydych chi'n ei garu gyda Nick Christoforou, Cyd-sylfaenydd Neo
13:15 – Egwyl ginio
14:15 – Diffinio eich cynulleidfa a dod o hyd i fylchau yn y farchnad gyda'r siaradwr TEDx, mentor a hyfforddwr rhyngwladol, Teresa Heath-Wareing
15:15 – Symleiddio cyllid yn eich busnes bach gyda'r Ymgynghorydd Bancio ac Ariannol, Nigel Roberts
17:00 – Cau a nos dau
Diwrnod 2 - 01/10/2021
Cyflwyno eich Syniad | 09:00 – 14:00
09:00 – Ymarfer a pherffeithio'r cyflwyniad hollbwysig gyda George Savva
11:00 – Cyflwyno i'r Panel
Erbyn hyn, byddwch yn barod i wneud cyflwyniad busnes, pum munud o hyd, i'n panel beirniadu elît. Nid ydynt yn union fel y Dreigiau ar Dragons' Den, ond maent yn rhai o'r ffigyrau busnes mwyaf adnabyddus Cymru, felly ni fydd ein beirniaid yn gwneud pethau'n rhy hawdd i chi, ond byddant yn gofyn y cwestiynau cywir a'ch rhoi ar ben ffordd i lwyddo.
Gyda'r cysylltiadau busnes cywir, blynyddoedd o brofiad rhyngddynt a phob un gyda'i arbenigedd ei hun yn y byd busnes, mae gennym y criw perffaith o arbenigwyr i wrando ar eich syniadau!
Bydd gennych bum munud i fachu sylw ein beirniaid, gwerthu eich syniad iddynt a'u hargyhoeddi ei fod yn werth yr amser a'r buddsoddiad. Bydd gan y beirniaid wedyn 10 munud i roi adborth a gofyn cwestiynau pwysig!
Cwrdd â'r Beirniaid
Mark Leverington | Cyfarwyddwr Masnachol yn Hilltop Honey | Llygad am gyfle a gwneud busnes mawr!
Treuliodd Mark dros 13 mlynedd yn gweithio mewn busnes newydd yn gweithio ym mron pob adran, gan adeiladu systemau a gweithdrefnau a recriwtio unigolion talentog nes i'r busnes gael ei werthu am oddeutu £10 miliwn. Treuliodd y tair blynedd nesaf mewn sefydliad corfforaethol mewn swydd gwerthu masnachol cyn dychwelyd i fenter deuluol!
Dechreuodd Hilltop Honey yn 2011 gyda'r Prif Swyddog Gweithredol yn gwerthu jariau unigol o fêl i gymdogion. Heddiw, mae'r busnes yn cyflenwi ei fêl poblogaidd i rai o archfarchnadoedd mwyaf y DU, mae ar safle 26 o'r cwmnïau sy'n tyfu gyflymaf yn y DU ac mae ganddo drosiant o dros £11 miliwn y flwyddyn.
Melanie Owen | Sylfaenydd House 21. Mic'd up Millennial Turning Creativity into Cash
Mel yw sylfaenydd House 21, rhwydwaith blogiwr mwyaf y DU. Fel cyflwynydd a sylwebydd gwleidyddol, bu'n cymryd rhan mewn rhaglenni fel Channel 4 News, BBC News, ITV News, Byd Yn Ei Le a The Hour gan y BBC.
Cafodd ei rhoi ar y rhestr fer ar gyfer Young Entrepreneur of the Year yng ngwobrau'r Great British Entrepreneur, ac ar hyn o bryd mae hi'n golofnydd newyddion ar gyfer Prynhawn Da, yn ysgrifennu a chynhyrchu cynnwys comedi ar gyfer Sesh ar y BBC a'r llwyfan ar-lein Hansh, ac yn cyflwyno ei phodcastiau ei hun.
Tony Orme | Rheolwr Menter ym Mhrifysgol Aberystwyth | Ffanatig Theatr, Drama a Busnes
Yn ystod y dydd, Tony yw'r "dyn Menter" ym Mhrifysgol Aberystwyth, yn helpu myfyrwyr, graddedigion a staff droi eu syniadau da yn fusnesau ac yn fentrau cymdeithasol. Gyda'r nos (nosweithiau, penwythnosau a'r gwyliau), mae Tony'n rhedeg busnes crefft gyda'i wraig Cheryl, yn cynnig cyfle i bobl yng nghanolbarth Cymru baentio crochenwaith; gwneud gemwaith enamlog neu greu campwaith gwydr wedi'i ymdoddi.
Mae Tony'n ymarfer yr hyn mae'n ei bregethu o ran cael swydd yn ystod y dydd, yn ogystal â rhywbeth bach ar yr ochr, ac mae o hyd yn annog eraill i wneud yr un fath!
Lisa Stretch | Ymgynghorydd Busnes yn y Business in Focus | Dynes Bwerus y Cynllun Busnes
Yn berchennog busnes blaenorol, gyda chefndir mewn cyllid a dull cyfeillgar o ddatrys problemau; mae Lisa yn darllen hyd at 20 o gynlluniau busnes yr wythnos ac wrth wneud hynny, mae hi'n sicrhau bod cleientiaid yn deall pob cam ar hyd eu taith fusnes. Mae Lisa'n hoff o gael gwared ar y jargon technegol ac mae wrth ei bodd yn helpu pobl a'u gweld yn llwyddo.
Nid oes llawer o Ymgynghorwyr Busnes benywaidd yng Nghymru, felly drwy ymgymryd â'r rôl hon, mae Lisa'n gobeithio apelio i fwy o ferched ddechrau busnes.
Laura James-Mowbray | Rheolwr Rhanbarthol yn Angels Invest Wales | Brenhines yr Arian
Mae'r Rhwydwaith Angel eisoes wedi cefnogi'r buddsoddiad preifat o dros £25 miliwn mewn 270 o gytundebau yng Nghymru. Cenhadaeth Laura yw paru busnesau o Gymru sy'n chwilio am gyllid i ddechrau neu dyfu gyda buddsoddwyr a all ddod â chyfoeth o brofiad a rhwydweithiau i'w busnesau. Mae hi'n gwybod beth mae buddsoddwyr yn chwilio amdano a gyda dros 15 mlynedd o brofiad yn cynghori busnesau, mae Laura'n aelod hynod gysylltiedig o'r panel!
Ar gyfer pwy mae'r gweithdy hwn?
Mae'r hacathon hwn ar gyfer unrhyw un o gwbl yng nghanolbarth Cymru sydd eisiau gwireddu eu breuddwydion o fod yn berchen ar fusnes.
Os ydych chi angen yr hwb olaf hwnnw i ddechrau arni a throi'r diddordeb bach hwnnw sydd gennych chi ar yr ochr yn fusnes, neu os ydych yn chwilio am ysbrydoliaeth a'r offer iawn i ddod yn hunangyflogedig, mae'r digwyddiad hwn, sy'n ddeuddydd o hyd, yn berffaith i chi.
P'un a oes gennych chi syniad busnes ai peidio, rydym wedi dylunio cyfres o weithdai i'ch cyfarparu gyda'r sgiliau sydd eu hangen arnoch chi i ddechrau arni.
Ynghylch yr Hyfforddwyr
Scott Flear, Rugby Warfare a trtle.com
O wreiddiau syml yn Ne-orllewin Cymru, mae busnesau Scott, 'Rygbi Warfare' a 'trtle.com' bellach yn cystadlu ar raddfa genedlaethol a rhyngwladol. Ar ôl dechrau gwefan ffitrwydd pan oedd ond yn 16 oed, mae stori entrepreneuraidd Scott wedi tyfu o hedyn o syniad i helpu pobl i wella eu sgiliau rygbi.
Gyda chyfoeth anhygoel o ddoethineb fel person busnes ifanc, mae gan Scott angerdd dros helpu entrepreneuriaid Cymreig eraill i wireddu eu gweledigaethau busnes.
Nick Christoforou | Brandiau Neo sy'n Diffinio Pwrpas
Nick yw Cyfarwyddwr Sylfaenol Neo, asiantaeth greadigol sy'n datblygu brandiau trawiadol ar gyfer sefydliadau sydd yn cael eu gyrru gan bwrpas am dros 15 mlynedd. Ymysg cleientiaid Neo mae busnesau rhyngwladol, elusennau, y sector cyhoeddus a mentrau cymdeithasol gan gynnwys Logitech, WWF, Celotex, Llywodraeth y DU a'r GIG.
Mae Nick hefyd yn hyfforddwr cymeradwy ar gyfer Deorydd Cychwyn Busnes Prifysgol Wolverhampton a Llwyfan Twf Gwyrdd Prifysgol Brighton.
Mae Nick hefyd wedi bod yn rhan o nifer o fusnesau newydd ac felly'n deall yr heriau o fynd ati i ddechrau.
Teresa Heath-Wareing | Marketing that Converts
Caiff Teresa ei chydnabod ymysg rhai o'r arweinwyr blaenllaw ym myd y cyfryngau cymdeithasol a marchnata digidol ledled y byd ac mae hi'n adnabyddus fel un o unigolion dylanwadol blaenllaw'r DU o ran marchnata.
Mae Teresa yn gweithio gyda busnesau, entrepreneuriaid a marchnatwyr i'w helpu i wella eu hymdrechion cyfryngau cymdeithasol a marchnata digidol. Mae hi hefyd yn rhedeg yr Academi 'Marketing that Converts' yn ogystal â phodlediad wythnosol poblogaidd.
Nigel Roberts | Clay Shaw Butler
Nigel Roberts ACIB yw cyn-Bennaeth Bancio Masnachol un o'r pedwar banc mawr yng ngorllewin Cymru.
Mae bellach yn Ymgynghorydd Bancio ac Ariannol gyda Clay Shaw Butler, Cyfrifwyr Siartredig, yng Nghaerfyrddin.
CreuSbarc
Bydd y digwyddiad CreuSbarc hwn yn dwyn ynghyd entrepreneuriaid eithriadol, meddyliau busnes blaenllaw a darparwyr gwasanaethau deinamig i gysylltu, dysgu a rhannu arfer gorau.
Ymunwch â ni a chewch weld sut all defnyddio ac ymgysylltu â'r bobl gywir yn ecosystem eich busnes annog arloesedd, agor drysau, a hyrwyddo mentergarwch yng Nghymru.
Partneriaid
Mae'r digwyddiad yma yn dod i chi mewn partneriaeth gyda Phrifysgol Aberystwyth, Syniadau Mawr Cymru, Cyngor Sir Powys, Cyngor Sir Ceredigion, Tyfu Canolbarth Cymru, Canolfan Cydweithredol Cymru, Angel Invest Wales a Bencythiadau Dechrau Busnes
---------------------------------------
The Start-up Evolution
Starting a Business. It's in your DNA.
Evolution applies to many things in life, but how about seeing that dream business evolve into reality?
With some of the UK's most talented and recognised mentors, speakers and business owners behind us, you can rest assured you're in the right hands to let your inner entrepreneur evolve throughout the day!
From initial idea, right through to a fully formed, pitch-ready business, we have the resources to help you. Do you have the resilience?
As Charles Darwin once said: "It is not the strongest of the species that survives, not the most intelligent that survives. It is the one that is the most adaptable to change."
So, what do you think? Are you ready to step out of your comfort zone and take that leap of faith into self-employment?
What will the event cover?
Day 1 – 30/09/2021
Intense all-day workshop
09:30 – Welcomes and introductions with Holly Jones and Lucie Andrews from the Hub
10:00 – Get inspired with Scott Flear's Secrets to Successful Business Growth
11:00 – Come up with business ideas with Victoria Mann Founder and CEO of near me now
12:00 – Comfort break
12:15 – Build a brand you love with Nick Christoforou, Co-founder of Neo
13:15 – Lunch break
14:15 – Define your audience and find places to market with TEDx speaker, mentor and international trainer, Teresa Heath-Wareing
15:15 – Make finance in your small business simple with Banking and Financial Consultant, Nigel Roberts
17:00 – Close and Goodnight
Day 2 – 01/10/2021
Pitching your Idea | 09:00 – 14:00
09:00 – Practising and perfecting that all important pitch with George Savva
11:00 – Pitching to the Panel
By now, you will be ready to deliver a five-minute business pitch to our elite judging panel. Not quite Dragons, but some of the most recognised business figures in Wales; our judges won't be easy on you, but what they will do is ask the right questions and guide you to the road of success.
With the right business connections, years of experience between them and each with their own niche in the business world, we have the perfect line-up of experts to listen to your ideas!
You will have five minutes to grab the attention of our judges, sell your idea to them and convince them it's worth the time and investment. The judges will then have 10 minutes to feedback and ask you some important questions!
Meet the Judges
Mark Leverington | Commercial Director at Hilltop Honey | Eyes for opportunity and making big business!
Mark has spent over 13 years in a start-up business working in pretty much every department along the way, building systems and procedures whilst recruiting talented individuals until the business was sold for circa £10M. He spent the following three years at a corporate in a commercial sales role before happily finding his way back to a family owned venture!
Hilltop Honey started in 2011 with the CEO selling single jars of honey to neighbours. Today, they supply some of the UK's biggest supermarkets with its beloved honey, is ranked the 26th fastest-growing company in the UK and is and turning over £11 million a year.
Melanie Owen | Founder of House 21 | Mic'd up Millennial Turning Creativity into Cash
Mel is the founder of House 21, the UK's biggest blogger network. As a presenter and political commentator, she's featured on news discussion shows such as Channel 4 News, BBC News, ITV News, Byd Yn Ei Le and BBC's The Hour.
Shortlisted for Young Entrepreneur of the Year at the Great British Entrepreneur Awards, Mel is currently a news columnist for Prynhawn Da, writes and produces comedic content for BBC Sesh and online platform Hansh, and hosts two of her own podcasts.
Tony Orme | Enterprise Manager at Aberystwyth University | Theatric, Dramatic and Business Fanatic
By day Tony is "the Enterprise guy" at Aberystwyth University; helping students, graduates and staff turn their good ideas into business and social enterprises. By night (evenings, weekends and holidays), Tony runs a craft business with his wife, Cheryl, offering people in Mid Wales the chance to paint pottery; make enamelled jewellery or create a fused glass masterpiece.
Tony practices what he preaches in terms of having a day job, as well as a side hustle, and is always encouraging others to do the same!
Lisa Stretch | Business Advisor at the Business in Focus | Business Plan Boss Lady
A previous business owner, a background in finance and a friendly, problem solving approach; Lisa reads up to 20 business plans a week and in doing so, she ensures clients understand every stage they're at on their business journey. Lisa likes to cut through the technical jargon and loves helping people and seeing them succeed.
There aren't many women who are Business Advisors in Wales, so by doing this role Lisa aims to appeal to more women to start a business.
Laura James-Mowbray | Regional Manager at Angels Invest Wales | Queen of Cash
The Angel Network has already supported the private investment of over £25 million into 270 deals in Wales. Laura's mission is to match Welsh businesses seeking funding to start-up or grow with investors that can bring a wealth of experience and networks into their businesses. She knows what investors want and with over 15 years' experience in business advice, Laura's an extremely well-connected panellist!
Who is this workshop for?
This hackathon is for absolutely anyone in Mid Wales who wants to turn their dream of owning a business into their everyday reality.
If you're in need of that final nudge to get going and turn that side-hustle into a business, or if you're looking for inspiration and the right tools to make the move into self-employment, this two-day event is for you.
Whether you've got a business idea or not, we've designed a series of workshops to equip you with the skills you need to get going.
About the Trainers
Scott Flear | Rugby Warfare and trtle.com
Starting from humble beginnings in South-West Wales, Scott's Businesses 'Rugby Warfare' and 'trtle.com' are now competing on a national and international scale. Having started a fitness website when he was just 16, Scott's entrepreneurial story skyrocketed from a seed of an idea to help people improve their rugby skills.
With an incredible wealth of wisdom as a young businessperson, Scott has a passion for helping other Welsh entrepreneurs realise their business visions.
Nick Christoforou | Neo brands that Define Purpose
Nick is the Founding Director of Neo, a creative agency developing impact brands for purpose driven organisations for over 15 years. Neo's clients include international businesses, charities, public sector and social enterprises including Logitech, WWF, Celotex, UK Government and the NHS.
Nick is also an approved coach for Wolverhampton University's Business Start-up Incubator and Brighton University's Green Growth Platform.
Nick has also been involved in a number of start-ups so understands the challenges of getting a business off the ground.
Teresa Heath-Wareing | Marketing that Converts
Teresa is recognised alongside some of the world's biggest social media and digital marketing thought leaders and is widely regarded as one of the UK's leading marketing influencers.
Teresa works with businesses, entrepreneurs and marketers to help them enhance their digital marketing and social media efforts. She runs the 'Marketing that Converts Academy' as well as a popular weekly podcast.
Nigel Roberts | Clay Shaw Butler
Nigel Roberts ACIB is the former Head of Commercial Banking for one of the big four banks in West Wales.
He is now Banking and Financial Consultant with Clay Shaw Butler, Chartered Accountants, and Carmarthen.
BeTheSpark
This BeTheSpark event will bring together exceptional innovation driven entrepreneurs, leading business minds, and dynamic service providers to connect, learn and share best practice.
Join us and see how utilising and engaging with the right people in your business ecosystem can encourage innovation, create opportunity, and promote entrepreneurship in Wales.
Partners
This event is brought to you in partnership with Aberystwyth University, Big Ideas Wales, Powys County Council, Ceredigion County Council, Growing Mid Wales, Wales Cooperative Centre, Angel Invest Wales and The Start-up Loans Scheme.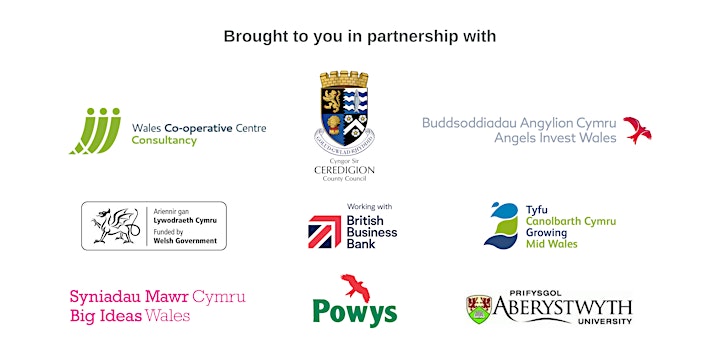 Mae Hwb Menter Ffocws y Drenewydd yn lle arloesol ar gyfer paratoi a chyflymu datblygiad busnesau newydd a busnesau sy'n tyfu, wedi'i leoli yn Warws Brenhinol Cymru, y Drenewydd, Powys. Ariennir Hwb Menter Ffocws y Drenewydd gan Lywodraeth Cymru.
Mae'r digwyddiadau a ddarperir neu a gynhelir gan raglen Hybiau Menter Ffocws Llywodraeth Cymru am ddim ac yn agored i bobl o bob oedran, ond rhaid archebu lle ymlaen llaw. Mae'r niferoedd yn brin a disgwyliwn alw mawr am lefydd, felly archebwch yn gynnar i ddiogelu'ch lle.
The Focus Newtown Enterprise Hub is an innovative space to incubate and accelerate new, and growing businesses based at Royal Welsh Warehouse, Newtown, Powys. Focus Newtown Enterprise Hub is funded by the Welsh Government.
Events delivered or hosted by the Focus Enterprise Hubs programme for the Welsh Government are free and open to all ages but must be booked in advance. Please be advised that numbers are limited and we expect high demand for places, so book early to secure your place.
Organiser of The Start-up Evolution | Esblygiad Busnesau Newydd
Mae Hwb Menter Ffocws y Drenewydd yn lle arloesol ar gyfer paratoi a chyflymu datblygiad busnesau newydd a busnesau sy'n tyfu, wedi'i leoli yn Warws Brenhinol Cymru, y Drenewydd, Powys. Ariennir Hwb Menter Ffocws y Drenewydd gan Lywodraeth Cymru. 
 The Focus Newtown Enterprise Hub is an innovative space to incubate and accelerate new, and growing businesses based at Royal Welsh Warehouse, Newtown, Powys. Focus Newtown Enterprise Hub is funded by the Welsh Government.