Description
As policy makers finalise the Data Protection Bill, stakeholders across the public sector need to understand the change implications of the General Data Protection Regulation (GDPR) and how to meet the new legislation.

But what is the starting point? What is the state of play in how our personal data are used in the public sector, and are we moving in the right direction to be ready for new laws and new technology? What is missing from the Bill, and what are the implications of the key issues that remain for industry, organisations, society and the State?

defenddigitalme extends an open invitation to everyone interested in good data practice, to hear contributions on the global context of data rights and GDPR; the social responsibility of Industry; the state of play in privacy and public space; AI and algorithmic accountability in the public sector; highlights from the report The State of Data 2018; and what the implementation of the GDPR and Data Protection Bill will mean in practice. We want to draw out the open questions and issues that remain to be resolved, and present recommendations for better practice, with particular focus on children's privacy and participation.

Speakers
Patrick Geary, Corporate Social Responsibility Specialist, United Nations UNICEF

Ailidh Callander, Legal Officer at Privacy International
Dr Zeynep Engin, Senior Research Associate, Urban Dynamics Laboratory of UCL

Gracie Mae Bradley, Advocacy and Policy Officer, Liberty

Toks Oladuti, Director of Information Systems at an Independent School Trust in London

Jen Persson, Director, defenddigitalme
Discussion will be chaired by Kevin Courtney, Joint General Secretary, National Education Union (NUT section).
Contributions and participation from all attendees are welcome. Accessible venue.

---
Hosted by Darren Jones MP, the event will be in Committee Room 10, at the House of Commons, 6.15pm-7.45pm on Monday 12 March, 2018.
The room will open at six for a prompt start. Please allow sufficient time to pass through security at the entrance.

There is no charge for the event and it is open to all. Places are limited and will be allocated on a first come first served basis. Email the organiser for a confirmed seat reservation.

Recommended for:
policy and law makers with an interest in the data protection bill across the public sector, policy makers for data, digital services, children or education; teachers, governors, researchers, data-, IT-, and school-practitioners and parents; charities and think tanks involved with young people; local government and the civil service; edTech developers and companies; and union staff. We warmly welcome children and young people of school age.
---
As defenddigialme launches a report, The state of data in 2018: new rights and responsibilities, we will highlight key data issues and how children's data are collected and used in everyday activities in education, and the extent of their hidden digital footprint across time and geographies. What difference will GDPR make if schools don't know where to start? There will be time to question our recommendations, and share your ideas.
Can children understand how their own data are used, and be empowered digital citizens?
How much are AI, biometrics, behavioural analytics, and profiling and automated decisions used today?
Will we ensure children's flourishing and development to their full potential?
What does GDPR mean in practice for the rights and responsibilities of children, parents, schools and researchers?
Easy steps to take now in classrooms, teacher training, for policy makers and government.
The report and event are made possible through an annual grant awarded to defenddigitalme in 2017-18 from the Joseph Rowntree Reform Trust Ltd.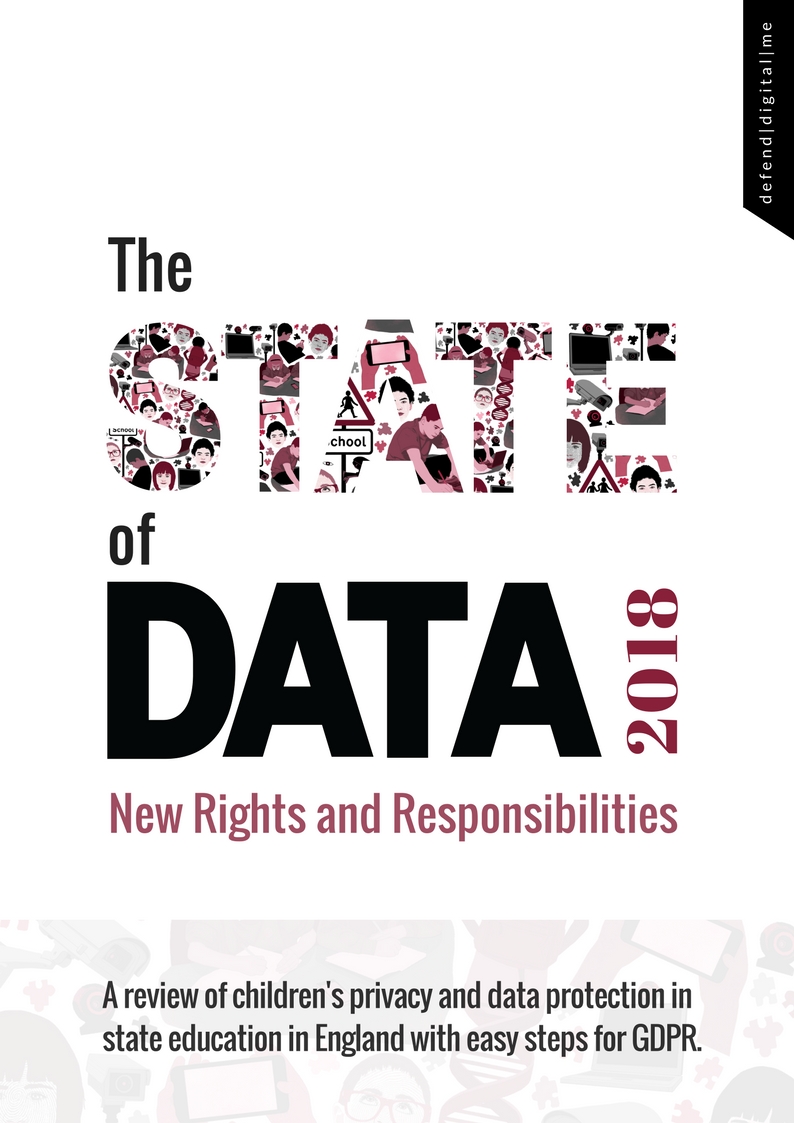 Organiser of The state of data 2018: new rights and responsibilities
defenddigitalme is a non-profit and non-partisan civil society campaign group led by parents, founded in 2015, specialist in data privacy and protection in education in England. The campaign asks the Department for Education (DfE) to change their policies and practices to protect 23+ million children's personal confidential data in the National Pupil Database (NPD):

stop giving out identifiable personal data to commercial third parties and press without consent
start telling school staff, pupils, and guardians what DfE does with Workforce and Pupil personal data
be transparent about policy and practice
We advocate for:
safe, fair, and transparent use of pupil data

better policy and practice in personal confidential data handling at the Department for Education

accountable and transparent national external data sharing

children's privacy, digital and human rights
better practice that brings clarity, consistency, and confidence delivering edTech in the classroom
For questions or to contact the organiser email jen@defenddigitalme.com. Tel 07510 889833. The campaign was awarded an annual grant from the Joseph Rowntree Reform Trust Ltd. in 2017. Follow the link for more information.