Untold Histories and Stories : The Story of Sufism as an Anti-Colonial Movement
About this event
In this themed talk, we will examine the role of Sufism (and Sufi leaders) as they relate to anti-colonial political and military resistance movements.
Sufism is often viewed as a non-violent and non-political branch of Islam. The depiction of Sufis fulfilling a martial role would seem to contradict the image of Sufis as peaceful, introspective mystics of Islam.
In popular imagination, Sufis compose allegorical poetry, sing, and dance in order to achieve mystical knowledge and sometimes are not overly concerned with outward manifestations of religions but rather with the universal truths common to all faiths.
Most importantly, Sufis exemplify the true meaning of jihad as a spiritual struggle against the lower self, which they refer to as the "greater jihad."
How can these popular conceptions of Sufism be reconciled with its historic origins?
There are many historical examples to illustrate the presence of anti-colonialist Sufi military movements throughout the Muslim World.
When Islam was under threat, the Sufis were the trained soldiers, and their close-knit brotherhoods allowed them to form devastatingly effective resistance movements. Sufi orders led anti-colonial movements from Morocco to Indonesia. Many have heard of the stubborn Chechen guerrillas, but few realize how absolutely this movement is rooted in Sufism. When the Russians pushed south into Muslim lands in the 19th century, the heroic Sufi Sheikh Imam Shamil launched a decades-long guerrilla war. Even Stalin's terror campaigns could not root out the Sufi brotherhoods. The fearsome leader of modern-day Chechen resistance, Shamil Basayev, was named for the original imam.
A similar story can be told of other oppressed peoples, in Kurdistan, Kashmir, Albania, Kosovo, and elsewhere, who owed their solidarity and cohesion to the immense power of the Sufi brotherhoods.
We will also look at particular stories of 'Abd al-Qadir of the Qadiriyya movement and his anti-colonialist rebellion against France in Algeria in the 1800s, as well as that of Italian colonialism in Libya and the military response by the Sanussi order. Thus, while Sufism clearly has various teachings and principles that could be interpreted to promote non-violence, Sufi movements have also developed as a response to colonialism and imperialism.
Decolonise your mind by hearing the Untold Histories & Story of Sufism in a rare and special event.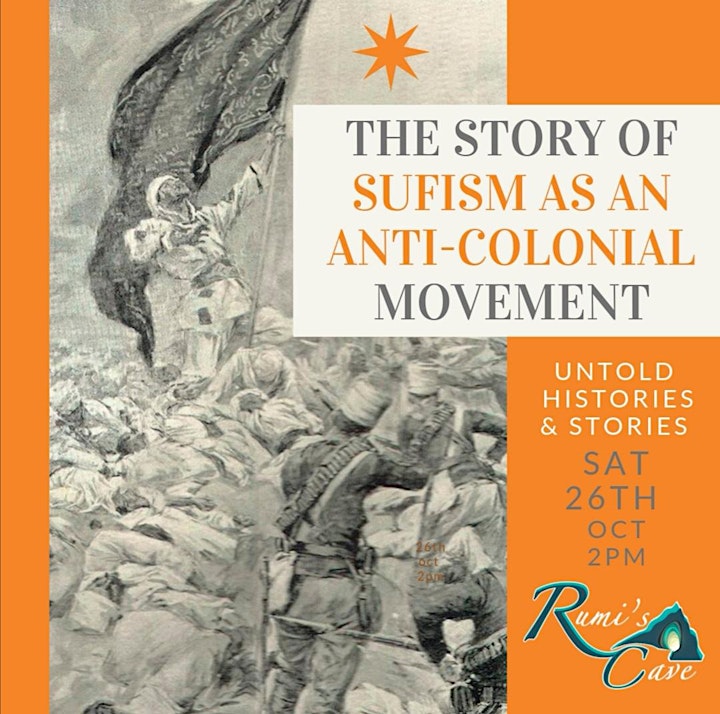 Organiser of The Story of Sufism: An Anti-Colonial Movement
Sohaib El-Nahla is a graduate in Economic and Social Policy as well as a former UK National-level martial arts Athlete and National-level Coach. He is currently an instructor for the next generation of up and coming talent.
His career and interests span many fields including being a teacher, community and youth leader, as well as a lecturer and speaker. He speaks regularly on topics such as practical spirituality in Islam, spiritual, physical and emotional wellbeing, masculinity in the modern world, martial arts, women's self defence, political analysis, literature and film.
He has also been featured on TV, Radio and Magazines such as BBC Radio, TRT, BMTV, Alchemiya, Combat Magazine and The Martial Arts Journal.