Description
DI Costello faces a disturbing child abduction case; a six-week-old has been stolen and replaced with another baby. The swap took cold and meticulous planning, so Costello treads the seedy backstreets for answers. She's convinced that more than one young life is at stake.
Promoted into the Cold Case Unit, Colin Anderson reviews the unsolved rape of a young mother, whose attacker is still out there. Each case pulls Anderson and Costello in the same direction and, as their paths keep crossing, they begin to suspect their separate cases are dangerously entwined.
Longlisted for the Mcllvanney Prize
Join author Caro Ramsay as she talks about her latest novel at Dundee's Central Library.
About the Author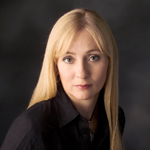 Glaswegian author Caro Ramsay presents The Suffering of Strangers as the ninth book in her critically acclaimed DI Anderson and DS Costello series. Never fearful of facing sensitive or serious issues head on, Caro tackles topics ranging from violent child abuse, sexual assault to child trafficking. Her novels are informed by her diploma in Forensic Medical Science from Glasgow University and from her own involvement in healthcare as a successful osteopath.
Please note access to Central Library is from Victoria Road.

Books will be available for sale and signing.