Description
It's never been so easy to get your business online.
And yet marketing a small business can be tough.
There's social media, sending emails, posting videos and paying to be in the right place at the right time with things like Facebook Ads and Google Adwords…
It's all such a confusing bundle of websites and tools. Most people simply try a few, tinker with others, and get varying results ranging from poor to not much.
With algorithms, privacy notices, reach statistics, cookies for this and pixels for that – most small business owners are simply overwhelmed.
What on earth does it all mean, how does it convert to real sales and money in your pocket, and how the heck are you supposed to keep up, let alone stay ahead of your competition?
Howdy! We're Spaghetti Agency and since 2011 we've been working on making online marketing simple.
It's often been said that our training is "plain English" and that we don't use complicated jargon or abbreviations. We actually help people like you to make it all work AND get results from it.
We train businesses on social media, content writing, video marketing, Facebook ads, email marketing and more…
… and this summer we're inviting an army of small business owners to join us for an entire summer of learning!
Our training sessions are fun, interactive, and totally up-to-date without being technical.
The best bit? You can join us right from the device you're reading this on and you can do it whenever and wherever you are.
Welcome to the Spaghetti Summer Camp
The Summer Camp is an online training camp accessed via Facebook. You'll learn tricks, hacks and skills you need to marketing your small business. There's stuff in here you didn't know you wanted to know, but it'll save you HOURS – not to mention the inspiration you get, too.
For seven weeks we'll be giving you our infamous "no bull, just beef" training in the palm of your hand, on your laptop in your office, or even on your tablet on the beach! (Yes, this has happened.)
We're going to run a seven-week programme focusing on the bits that make a huge difference to your business.
If:
you use social media and know you need to get more from it

you have a website that needs more traffic

you go networking but don't always follow up thoroughly

you've dabbled with Facebook ads

you know you should be making videos

you sometimes send email marketing and no one replies

you write content but nothing really happens
… then this is the place for you this summer.
You're going to love what we've got planned…
The summer camp starts LIVE in our special Facebook group at 7pm on July 13th as we kick off a summer of on-demand learning with seven themed weeks full of training, downloads, accountability, support, challenges, fun, bonuses and a brilliant community.
Here's what's happening:
Week 1: Brand Storytelling - "Creating stories that sell"

Week 2: Content Marketing Gold - "Digging for nuggets in your business"

Week 3: The LinkedIn Lounge - "Build, post, connect"

Week 4: The Facebook Suite - "The three-pronged attack"

Week 5: Lights, Camera, Traction! - "Building trust – fast!"

Week 6: Systemising Your Networking - "From follow-up to up-sell"

Week 7: Email Marketers - "Engaging in inboxes"
And then we'll round it all up into a simple system that you can then use.
This isn't your normal training…
This is the result of years of testing, trying, failing, learning, and succeeding.
What we teach is the parts that work and the strategies and tools that work.
The way we teach has helped over 1,000 small business owners just like you to make sense of online marketing and actually get results.
We're behind one of the most popular 4Networking meetings in the past 3 years.
We've successfully launched and sold out workshops since 2011.
Our viral videos have been mentioned in town council meetings and national media.
… and we've been in involved in successful Kickstarter campaign, and a global (and extremely viral) poster campaign that reached an estimated 20 million people!
We've done the hard work with some very interesting clients and now we're going to teach you the result of it all.
This is better than a recorded webinar. This is live and interactive and you can access the content 24/7 right through the summer.

This is far better than one-off training as you're more accountable thanks to the unique way the course is run.
It's on-demand via Facebook so you don't need any special equipment or complicated sign-up processes.
You can watch the content when you want to so it fits around you, your business, your family and your holidays.
You'll get 7 in-depth downloadable PDFs and homework for each week to keep you focused and accountable.
You'll gain access to a genuinely supportive community who are all on the same mission as you, and keen to help.
And you get the entire summer training sent to you at the end to keep forever.
We ran training over the summer last year and it was a HUGE success. It was so popular that we had people begging us to keep going!
Here's what the campers said last year:
"It's been an informative and awesome journey which I look forward to continuing in Spaghettiville. Thanks guys, Yeehaa!" - Debs
"Summer Camp was awesome hun! I learnt so much and thank you to you and everyone who helped us. I didn't want to miss out so I've hopped over to Spaghettiville. Hope to see most if not all of you guys over there yeehaa." - Sarah


"I'm sure you're pretty awesome at loads of things, Todd, but what has stood out for me (apart from the fact that you really know your stuff) is your dedication to the people you work with. If anyone could get a bottle of customer care essence, this would be the place to get it. And since there is a great woman behind every great man, a big 'thank you' to Jo, too. You guys rock!" - Beata
According to Charlie, "I cannot think of anyone who does better training, because you do this stuff day in, day out, and you're also a f***ing brilliant teacher, Todd."

Claire McTernan, a business growth specialist, told us that she's got 14 new clients recently from social media as a direct result of working with us! Here's what she said...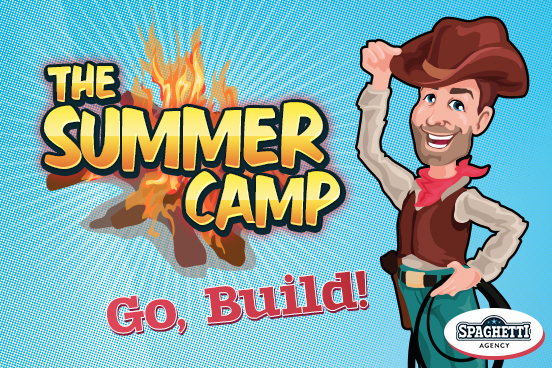 The Summer Camp is ready for you.
The campfire is burning, the saloon is open, and the cowboys are ready to help you dig for marketing gold.
Are you ready to build a solid, proven marketing system and finally get some sensible return for all the effort you put into your business?
Stop the guesswork and join us across the summer as we show you and a like-minded posse of business owners how to get serious exposure, leads and sales from social media, websites, video and more.
The Summer Camp is coming… Go, Build!