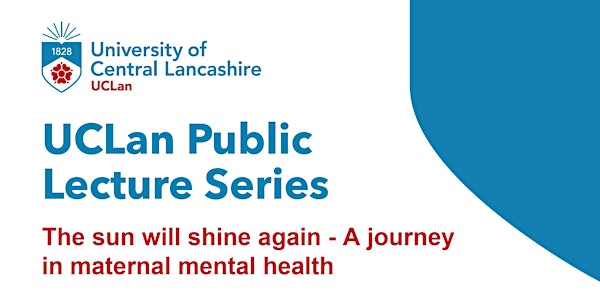 The sun will shine again – A journey in maternal mental health
Location
Mitchell & Kenyon Theatre
Foster Building
UCLan
Preston
PR1 2HE
United Kingdom
This UCLan public lecture will explore maternal mental health to raise awareness, reduce stigma and offer hope to anyone affected.
About this event
Jane Fisher is a Lecturer in Mental Health Nursing in the School of Nursing at UCLan. She has worked in mental health services for 19 years, both as a nurse and as a perinatal mental health trainer. A perinatal mental health problem is one that you experience any time from when you become pregnant to 2 years after the birth.
Her passion for perinatal mental health comes from her own personal experience of mental health problems. After the birth of her daughter, she dramatically went from a mental health nurse on maternity leave to a mental health patient, almost overnight.
She will be speaking about her own journey through perinatal mental illness in order to raise awareness of maternal mental illness. This will offer hope and inspiration to anyone struggling with perinatal mental health problems. She will also offer some tips and advice around how to ask new mums about their mental and emotional health and how children in the family can be supported. This is a vital presentation to anyone wanting to learn more about maternal mental health.
Jane's experiences have driven her to continuously work to raise awareness around maternal mental health and improve services for women and their families. She has written a children's book explaining maternal mental illness to young children and published a number of articles on the subject.
This talk will be available to attend online as well as in person. Please select the relevant ticket type, and joining instructions will be sent to you before the event.
This is the third in UCLan's brand-new series of free public lectures. UCLan experts will be delivering talks to showcase the exciting work that we do across a whole range of different topics relevant to our communities. Everyone is welcome, and no existing knowledge of the topics is necessary.
Contact engageuclan@uclan.ac.uk to find out more about our upcoming lectures.