FREE 3-HR ONLINE MASTERCLASS Avoid entrepreneurial fatigue and reclaim your vitality
About this event
**** FREE 3-HR ONLINE MASTERCLASS ****
The Superhuman Entrepreneur
Avoid entrepreneurial fatigue and reclaim your vitality
++++++++++++++++++++++++++++++++++++++++++++++++++++++++++++++++++++
REGISTER HERE: https://thethoughtgym.com/masterclass/
Discover The Four Forces Needed To Recapture Your Energy, Vitality & Longevity So You Can Expand Your Mission And Create Impact Without Burnout Or Missing Out On Life.
Learn Simple, Practical and Proven Principles to Ensure Lasting Success.
ARE YOU AN ENTREPRENEUR, BUSINESS OWNER, SPEAKER, SOLOPRENEUR OR OTHERWISE 'GAME-CHANGER'? IF SO, READ ON
++++++++++++++++++++++++++++++++++++++++++++++++++++++++++++++++++++
You'll Learn These Four Pillars in this FREE Masterclass:
The first pillar in the four part framework is the real key to boosting vitality and achieving what you want. By understanding this force and working towards mastery of it, entrepreneurs and change-makers of the world can avoid the common pitfalls that so many others allow to block their success.
The second pillar comprises five essential elements that most people simply have no idea about and miss completely. If you want to have energy, resilience and the ability to bounce back while avoiding burnout and fatigue then you must have all five elements and understand how to use them.
The third pillar contains practices that really need to be incorporated and dialled in to achieve lasting vitality, longevity and success. These practices are simple but comprehensive and are the difference that make the difference.
This vital pillar is one that is often overlooked by 'change-makers' looking to make their mark on the world. By missing it out, or only activating a small part of it (as most entrepreneurs do) you run the serious risk of jeopardising your mission, business or impact on the world.
++++++++++++++++++++++++++++++++++++++++++++++++++++++++++++++++++++
What You'll Learn on the Live Masterclass
My step-by-step framework for ensuring that you have the vitality to succeed no matter what your business, no matter your start point and why you don't need to make big changes or have it take up all your time.
The 7 deadly mistakes you MUST avoid when starting to focus on your vitality (this can cost you $$$ in wasted products, services and time if you get it wrong).
My secret test you can use throughout the day to ensure you are prepared for action, and what to do if you fail the test.
With my simple food fix formula you can rapidly start improving your diet without the need to go on any fad regimes, starve yourself or have it take up lots of time.
The unique method you can use to get almost unlimited energy in any situation you find yourself in. Use this for your own benefit to achieve maximum results!
++++++++++++++++++++++++++++++++++++++++++++++++++++++++++++++++++++
When you are on a mission often your passion to serve will carry you through. But it's not enough. Not for longevity and impact. Join me in this unique, comprehensive and interactive live masterclass, as I share with you the secrets that you must master if you are truly going to have impact and longevity in your business, mission or cause.
++++++++++++++++++++++++++++++++++++++++++++++++++++++++++++++++++++
REGISTER HERE: https://thethoughtgym.com/masterclass/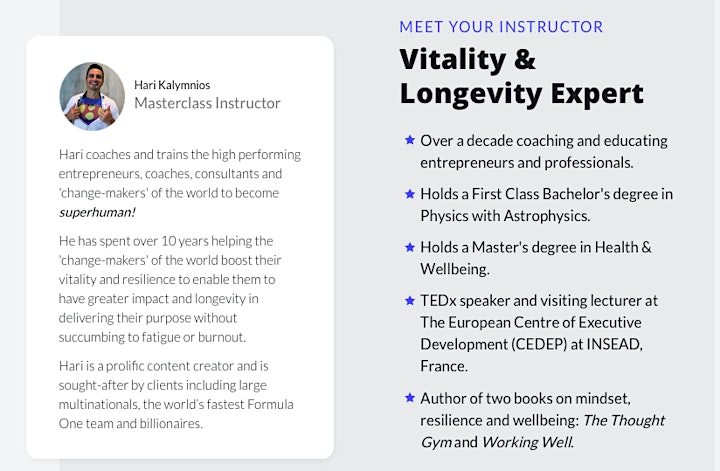 Organiser of The SUPERHUMAN Entrepreneur LIVE Zoom Masterclass
Hari Kalymnios is a coach, author, speaker and trainer. Having worked in corporate London for many years, Hari sought another path and started on a path of personal improvement studying everything from personal development, science and nutrition to spirituality, business and neuro-linguistic programming!  He found that he could integrate the learning of all these areas and more, with his other passions of health, fitness and exercise in general. Hari loves sharing his skills and knowledge with others through his book, courses, speaking and coaching and firmly believes that if you "train the mind, the rest will follow".
Hari is the author of the book 'The Thought Gym' and can be reached via his website – www.harikalymnios.com