Description
The Sustainable Transport eVent
Join us to learn more about the latest on Sustainable Transport. We have a Business Seminar with guest speakers and an outdoor Exhibition and Demo Area show-casing the latest sustanainble transport vehicles and technology available on the market today.
This eVent is free and includes:
- Business Seminar (10am to 1pm): Sustainable Transport for Future Business - Now
Speakers from: Sussex Air - Low Carbon Vehicle Partnership - GRIDSERVE - Bluecity - Gatwick Airport - Metrobus - Renault - Tesla.
Attendees will get to hear the latest on sustainable transport case studies, energy saving initiatives and cost savings for your business, be it through commuting or moving your business operations around at zero-emissions. You will hear about the latest business cases for electric vans from Low Carbon Vehicle Partnership, the roll-out of EV charging forecourts from GRIDSERVE, benefits of operating zero-emission vehicles at Gatwick Airport, electric car-clubs (Bluecity) and the latest integrated commuter app called "Nimble" from Metrobus/GTR.
- Exhibition and Demonstration Area (930am to 3pm): Sustainable Transport eVent
Exhibitors and demonstrators: Renault electric van fleet - Bluecity car club - GRIDSERVE - Metrobus - Gatwick Airport e-vehicles - Active Cycling Projects - Evans e-bikes - Tesla - EO .
We will have the latest zero emission sustainable modes of transport on show, including an Ultra Low Emission bus from Metrobus, cycles and e-bikes from Evans, electric vans for businesses from Renault, recharging points and stations from EO, plus the newest electric car club in town, Bluecity.
FREE energy and transport audits also available
We are also providing free business energy and transport (emission) audits and ECO-driver training to Sussex businesses - if your business is interested contact us or visit https://www.sussexecogrants.org.uk/
Seminar Agenda: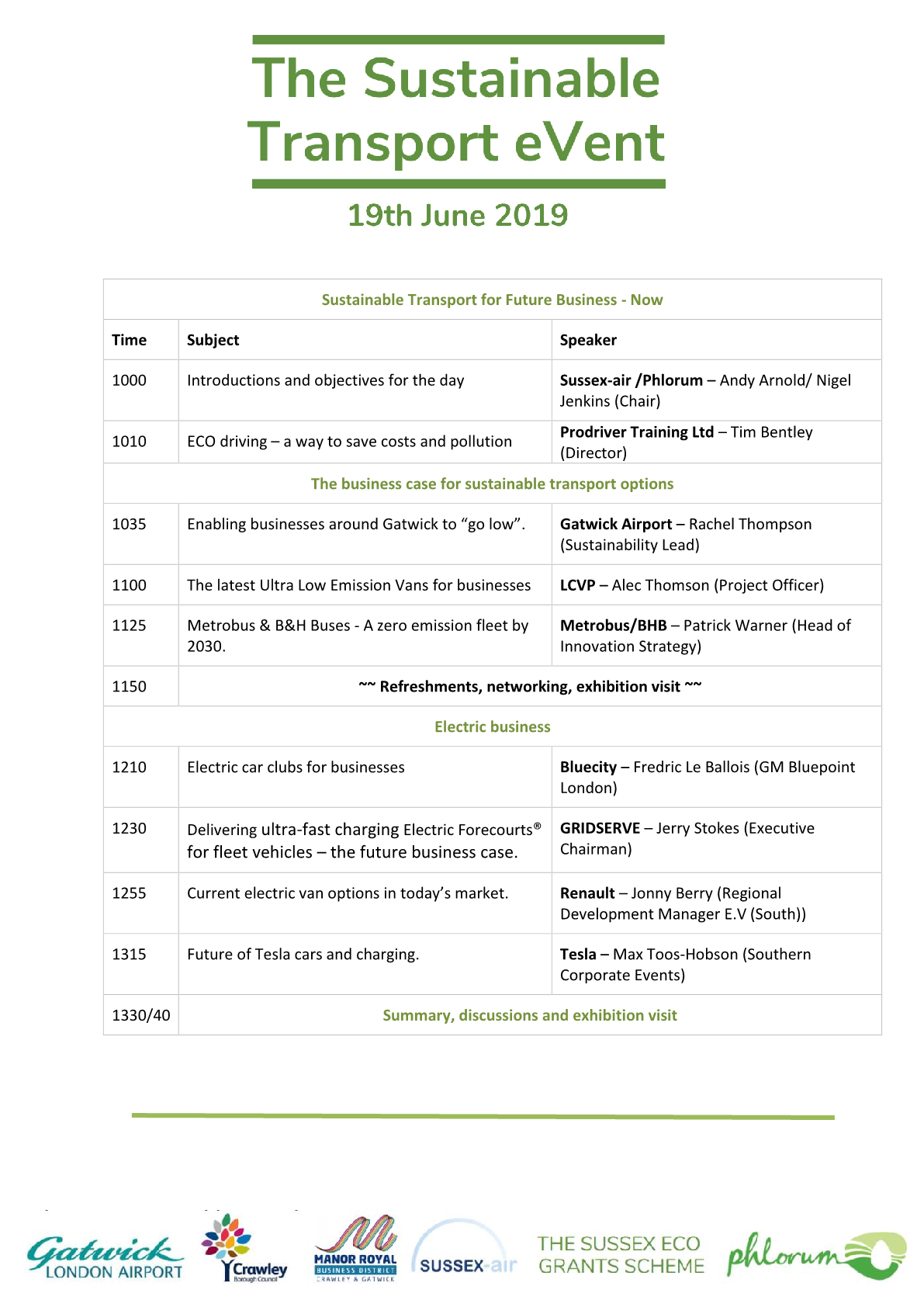 The eVent is sponsored and supported by:
* Sussex Local Authorities * Manor Royal BID * Gatwick Airport * Sussex-Air * Crawley Borough Council * Defra Air Quality Fund * Phlorum Ltd *