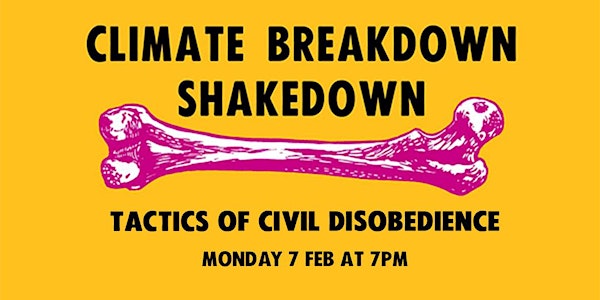 The Tactics of Civil Disobedience: Should We Be Ready To Go To Jail?
Location
Tramshed
41 Woolwich New Road
London
SE18 6ET
United Kingdom
This month's Climate Breakdown Shakedown session asks how the movement's tactics may evolve in the near future as we grow more desperate.
About this event
Climate Breakdown Shakedown is a discussion group in which we explore in depth the issues around the climate emergency and what to do about it.
This is a hybrid event - we welcome people at the Tramshed, and online.
In this month's session, we ask how tactics in the climate and environmental movement may evolve in the near future as we grow more desperate for change.
We are joined by Hubeth, an Extinction Rebellion Greenwich activist with experience of mainly arts-based action, and Cameron Ford, an Extinction Rebellion activist and Insulate Britain spokesperson involved in direct action. They will each talk about their experiences of environmental activism, the effectiveness of different tactics, and how they feel the movement should operate to best achieve its aims. Together, they hope to answer the question, "should we be ready to go to jail?"
Last year, extreme weather ravaged the world, from wildfires to hurricanes, with record temperatures recorded in the arctic. The IPCC issued a "code red" warning for the climate, and for humanity's survival on this Earth, while at the same time eighteen climate protestors were imprisoned for their direct action taken in the name of preventing further disaster. This year, the Police, Crime, Sentencing and Courts Bill could allow sentences of ten years in prison for causing serious annoyance.
After the failure of COP26 to keep fossil fuels in the ground, we discuss how different tactics of civil disobedience working together can help, and what sacrifices we should be prepared to make in order to save the beauty of life on Earth as we know it.
To ensure we can meet safely and protect one another, please take a moment to read these requirements
Abstain from visiting Tramshed if you develop any symptoms of potential COVID-19 infection; and book a COVID-19 PCR test
Wear a facemask when moving around the Tramshed; exceptions are the bathrooms and some designated meeting areas where social distancing can be maintained
Social distance to be respected at all times, where possible
Items, furniture and tools to be cleaned using a detergent disinfectant wipe (e.g. Clinell green wipes) or disinfecting solution before and after sessions
Wash hands thoroughly before commencing an activity and clean hands with hand sanitiser before and after sessions
Group activities to remain within the capacity, agreed with the Tramshed and following most recent COVID-19 guidelines
Items shared with other to be cleaned using a detergent disinfectant wipe (e.g., Clinell green wipes) or with a disinfecting solution.