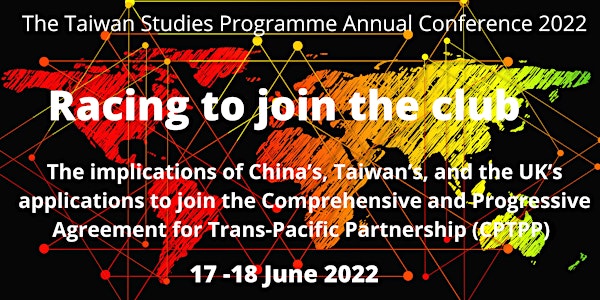 The Taiwan Studies Programme Conference 2022 : Racing to join the club
Location
Hybrid mode: Streamed online and speaker on campus in person in Room E07 Monica Partrige Building , University Park
Monica Partrige Building
University Park
Nottingham
NG7 2RD
United Kingdom
The implications of China's, Taiwan's, and the UK's applications to join the CPTPP
About this event
Racing to join the club: The implications of China's, Taiwan's, and the UK's applications to join the Comprehensive and Progressive Agreement for Trans-Pacific Partnership (CPTPP)
The Comprehensive and Progressive Agreement for Trans-Pacific Partnership (CPTPP) is a free trade agreement (FTA) signed between Australia, Brunei Darussalam, Canada, Chile, Japan, Malaysia, Mexico, Peru, New Zealand, Singapore, and Vietnam in March 2018. Originally named the Trans-Pacific Partnership and with twelve members, the Trump administration withdrew the USA from it in 2017, the remaining eleven countries reorganising and renaming the agreement. After leaving the EU, the UK applied to join in February 2021, followed by both China and Taiwan in September the same year. Countries seeking to join the bloc must negotiate tariffs and other market access conditions with each of the 11 original members.
The Taiwan Studies Program of the University of Nottingham is holding a conference on 17th-18th June 2022 to explore the issues raised by this novel dynamic of contemporaneous applications to join the CPTPP from the UK, China and Taiwan.
The conference will be held in a hybrid mode, with the speakers attending, presenting and debating in person, and online streaming of the proceedings for remote participants.
The Full Programme is below:
Day One – Friday 17 June 2022
08:30 – 09:00 – Registration and coffee
09:00- 09:15 – Welcome, Admin and 'Scene-setting'
09:15-10:45 – Session 1 Aspirants and their Motives
Maria Garcia, University of Bath 
The UK and CPTPP – Finding a place in a Post-Brexit World
Guan-yi Leu, Graduate Institute of East Asia Studies, National Chengchi University, Taiwan (Presenting via Teams)
Taiwan's Evolving Approach to the Challenges and Prospect of CPTPP Admission
George Magnus, Oxford University China Centre; SOAS University of London
China's application to join the CPTPP
10:45– 11:15 Coffee break
11:15-12:45 – Session 2 Aspirants and their Strategies
Roy Lee, Chung-Hua Institution for Economic Research (CIER), Taiwan (Presenting via Teams)
CPTPP membership for Taiwan: rationales, challenges, and outlook
Minako Morita-Jaeger, University of Sussex 
UK's strategy of acceding the CPTPP and its domestic implications 
Sohyun Zoe Lee, Queen's University Belfast 
South Korea, a hub of free trade agreements? The political economy of South Korea's application to the CPTPP
12:45 – 14:30 – Lunch and group photograph
14:30-15:45 – Session 3 The Tensions
Tian He, The Chinese University of Hong Kong, Shenzhen and Michael Magcamit, University of Leicester (Presenting via Teams)
The China-Taiwan Rivalry, Free Trade Agreement and Taiwan's Survival Under the Democratic Progressive Party: The Case of the Comprehensive and Progressive Agreement for Trans-Pacific Partnership 
Peter Chow, City University of New York (Presenting via Teams)
Perspectives of CPTPP Membership Expansion and Its Implications on a Shifting Paradigm of Economic Integration in Asia Pacific 
15:45 – 16:15 Coffee break
16:15-17:30 – Session 4 Young scholars panel
Liqiao Guo. (PhD) Xiamen University, China; Visiting PhD Fellow at European Research Centre on Contemporary Taiwan (ERCCT), Tubingen University  
The rivalry between China and Taiwan: how they view each other's application to join the CPTTP 
Yun-Chieh Wang (MA), Geneva Graduate Institute (IHEID)
Analysis of Taiwan's Application to CPTPP - How Taiwan Can Benefit from Joining the Regional Trade Agreement
Day Two– Saturday 18 June 2022
09:00-10:30 – Session 5 Inside the Club-what do the members think?
Guanie Lim, National Graduate Institute for Policy Studies, Japan and Chengwei Xu, Nanyang Technological University, Singapore (hybrid presentation)
Global Britain, Belt and Road Initiative, and New Southbound Policy: Which One Matters to Southeast Asia?  
Hugh Stephens, Asia Pacific Foundation of Canada
Canada's Approach to the CPTPP and CPTPP Expansion: From Disinterested Observer to Ardent Supporter
Richard Pomfret, University of Adelaide, Australia; The Johns Hopkins University School of Advanced International Studies, Bologna, Italy
Australia's perspective on the applications from the UK, China and Taiwan to join the CPTPP
10:30 – 10:45 – Coffee break
10:45-12:00 – Session 6 The Deal-Makers, or Deal Breakers ?
Shihoko Goto, Wilson Centre 
Divergent interests for Taiwan's CPTPP bid from Washington and Tokyo 
Gerrit van der Wees, George Mason University and George Washington University 
Moving forward with CPTPP: A perspective from Washington 
12:00– 13:30 – Lunch
13:30-14:45 – Session 7 The Dilemmas
Jacques deLisle, University of Pennsylvania 
Not Quite Déjà Vu All Over Again: CPTPP Accession and Taiwan-China-U.S. Relations 
Saori Katada, University of Southern California  (Presenting via Teams)
Gatekeeper's Dilemma: Japan facing CPTPP applications from China and Taiwan 
14:45-15:00 Coffee Break
15:00 – 16:00 Conclusion, Publication Plan