The Tayabali Tomlin Big Event "Creating Maximum Impact" - 1 Day Business Growth Conference

Thursday, 12 May 2016 from 08:00 to 20:00 (BST)
Event Details
Want to create or GROW an amazing business?
If you're an existing business or a start up join successful entrepreneurs and get the inside track on how to Create Maximum Impact:

• Increase your profits 
• Grow sustainably 
• Be more competitive in these challenging times 
• Differentiate and stand out from the crowd

All day tickets are just £95 (+ vat) and include: 
• Inspiring guest speakers
• Workshops for growth and sustainability
• All workshop materials 
• Tea, coffee, pastries and lunch 
• Sit-down buffet dinner 
• Tayabali Tomlin Entrepreneur Awards Ceremony
• Free parking

Reserve your space NOW! 
Are you are a business owner looking to grow sustainably and increase profits in these challenging times? Then join us for this jam-packed revolutionary business conference "Creating Maximum Impact" on 12 May 2016 in the brand new Princess Royal Grandstand at Cheltenham Racecourse.
The day will be full of great content, innovative business development tools and tips and you will experience the latest in business and accounting technologies. All designed with the aim of helping you grow and scale sustainably, increase your profits and enabling you to create the maximum impact for you, your family, team and the wider world.
 We have a number of amazing guest speakers covering a variety of topics and streams, including; GROWTH – showing you how to scale your business sustainably, CLOUD – making the most of cloud accounting and other business tools and PEOPLE – helping you recruit and engage stars in your business whilst creating a compelling culture. Click here for a detailed agenda for the day here TTBigEvent-Agenda and list of speakers. 
In fact there will be something for everyone (which is why we have deliberately kept the price so low)! So why not bring your entire team? Make new connections, meet select businesses to help your company and celebrate in style that evening with the winners of the Tayabali Tomlin entrepreneur awards.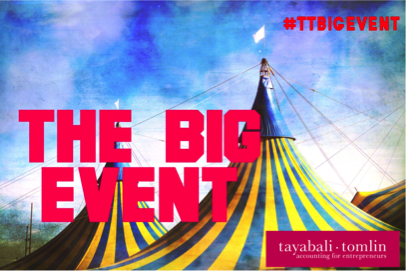 The Big Event will run from 8:30am registration for a 9:00am start and will end at approximately 5:30pm. Tea, coffee, pastries and lunch will be served during the day. The conference will be followed by a sit-down buffet dinner together with the Tayabali Tomlin Entrepreneur Awards (click to enter)! We expect to finish at approximately 8pm.
We have some amazing and well-respected business speakers lined up for the day, in addition to Aynsley Damery (CEO Tayabali Tomlin), Sophia Maynell (COO Tayabali Tomlin) and Masami Sato (founder and CEO of Buy1Give1, author and two time TEDx speaker).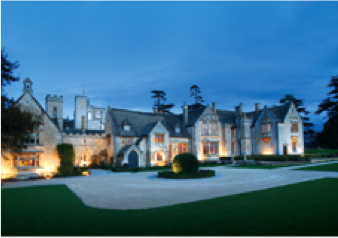 So all course materials, tea/coffee and snacks, lunch, dinner, award entry, drinks in the evening are included. You just need pay for your accomodation if required - although, based on past experience, we highly recommend it! Contact the beautiful Ellenborough Park and quote the discount code "Tayabali Tomlin" for incredible rates.
There will be a range of event sponsors - all carefully selected to help your business grow, be more profitable and of course more valuable. We have worked with all the sponsors in the past and so know how they work and know that they fit in with our culture, ethos and standards. Buy1Give1 (B1G1) Business for Good and Intuit QuickBooks Online are our headline sponsors.  The event is also supported by BPE Solicitors, the Entrepreneurs Circle, APT Marketing and PR, Circle2Success, Firestarter, Lexington Wealth Management, BizFit Studio, ReceiptBank and more.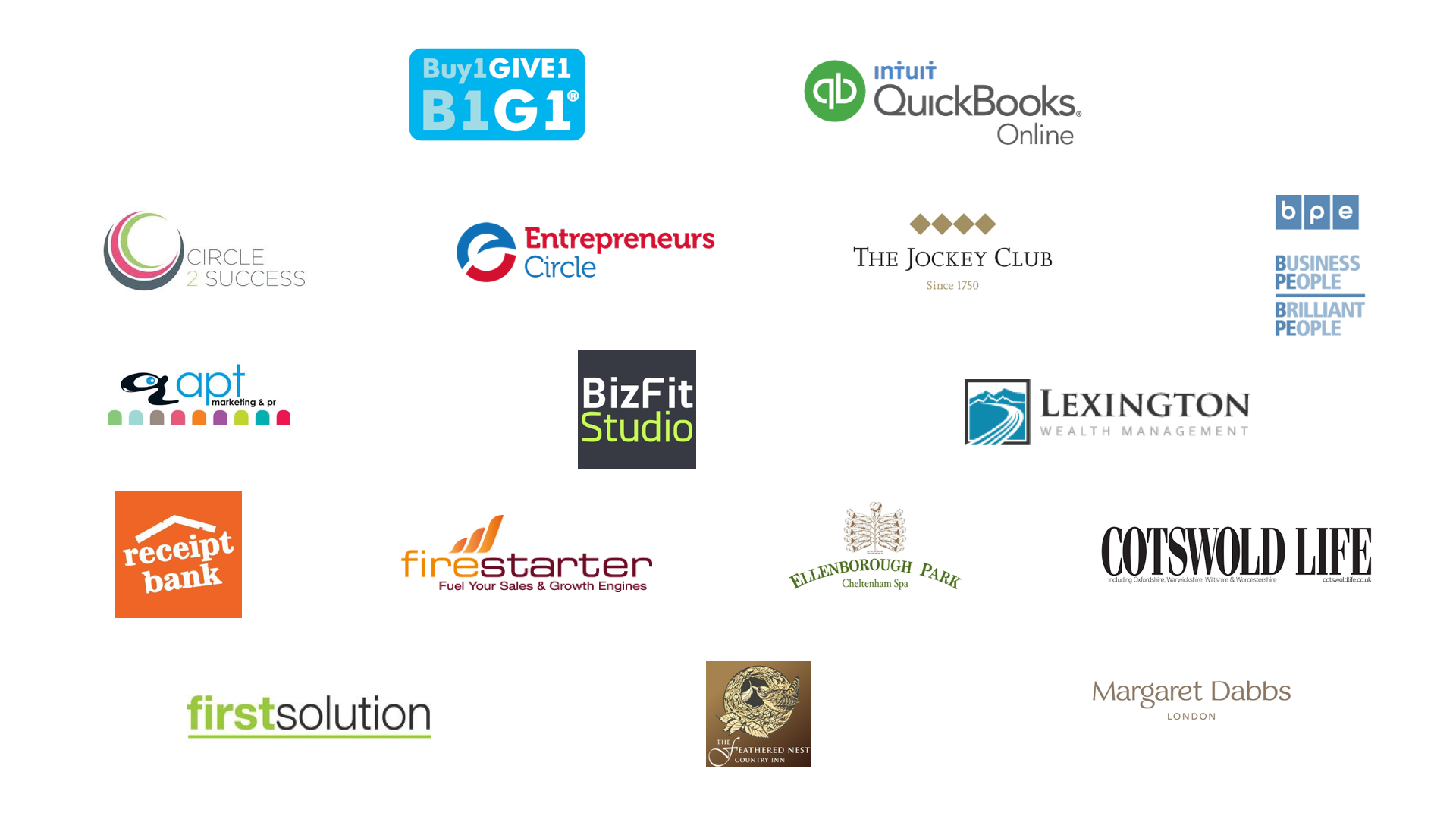 The Big Event is the culmination of years of learning, implementation, studying other businesses and creating engaging, thought provoking and effective business learning, tools and systems to help business owners grow and increase profits. As a firm, we continue to attend a huge number of events, both within the UK and abroad, to learn from the best in the world, adopt best practice and continuously improve our own business, courses and education programmes. We run a large number of seminars, workshops, events and education programmes for our clients, prospects, local and national business organisations and Gloucester Rugby and speak regularly on a range of business topics.
what attendees say about our events
I very nearly pulled out of this at the last minute to spend time on my business in the office. SO pleased I chose to come. Excellent content and very well delivered. Aynsley was bang on the money. Thank you for everything.
Simon Jones, Bonjour London
I really enjoyed yesterday.  It was interesting and inspiring.  Well done for organising such an amazing event in Gloucestershire - we need more of those....I hope you guys get recognised for the things you do.
Carol Freeman, Strategic Initiative 
Thank you so much for inviting me to this seminar, which I found really helpful and inspiring.  This is bang on the message that Adrian, Ed and I need to implement, so thank you once more for the guidance and help.It was also useful to meet like-minded business people, so all in all a most worthwhile event.  Not every day you get to ogle a gold medal either! 
Matthew Harvey, Tayler & Fletcher
Most enjoyable and useful course to date for me. Excellent presentation style and content. Really got me thinking and gave me so many ideas - a great deal of food for thought. I now feel able to get much closer to our targets.
Ken Marshall,  The Amazing Website Company
Having never studied or been introduced to business planning before, I gained a clear insight into how I should approach my own business when I finish playing.  I thoroughly enjoyed the session and it has provoked a lot of enthusiasm for my ideas.
James Hudson, Gloucester Rugby
It was a fascinating event, very enjoyable, and some great insights to bring back to the business. It was also good to meet some of your other clients and contacts, and to have an event like that locally was great.
George Smith, Walford Timber
A great learning alongside a leading business expert and surrounded by business owners. Great content and a very enthusiastic presentation style. Learnt so many business and life lessons. Very well worthwhile!
Lewis Robinson 
I really enjoyed the business start up day! It was extremely informative and was delivered with a very professional and friendly approach! I'm looking forward to a follow up session soon.
Bill Meakes, Gloucester Rugby
what our clients say about us
Tayabali Tomlin offer all the services you would expect from a first class firm, what makes them different is how they do it. They are real people, who have a genuine desire to make it happen. They listen and then provide tangible advice that supports your objective. Once agreed it feels as though they are as committed as you to making it happen. What more would you want!
Stella Barnes, mydoodah
An entrepreneur needs an entrepreneurial accountant. Tayabali Tomlin is just that – dynamic, focused and with your aims and ambition in mind, they are THE choice for ambitious businesses.
Kate Lester, Diamond Logistics
Tayabali Tomlin have all the characteristics we needed at a crucial time; creativity, reliability and expertise.
Grant Mckerron, Chorus Law Group
In the Accounting field there are those who get quite satisfied with what we might call 'reporting on history' – effectively telling the client what happened. Tayabali Tomlin is NOT one of those firms. The team is very clear that their contribution is to help selected clients actually create history. They do that by working with them applying leading-edge ideas – ideas that really do make a real difference. Equally important, the firm is itself at the leading edge in constantly exploring new ideas, new technology and new ways of doing things. And on top of that, they're what Australians like me refer to as 'bloody good blokes and sheilas' 
Paul Dunn, B1G1 Business for Good
We moved to Tayabali Tomlin in November last year.  The value that Aynsley, Paul and the team have provided to me and the business has been enormous.  Not only have they fixed our reporting, they have also tackled a lot of the operation rigour and I wish, dearly, that I'd had that level of support and service from my previous accountants. They personify all that an entrepreneur could ever want from his/her accountant.  They understand the way entrepreneurs think and operate and they are very proactive.
Nigel Botterill, Entrepreneurs Circle
Everyone in the firm seems to know what's going on in my business - in fact they know more about what's going on than I do!
Ian Ungless, Thermo Electric Devices Limited
There are accountants out there and there is Tayabali Tomlin.Thank you for being so helpful, encouraging and quite simplybrilliant  for my business. There are no limits to how awesomethe team are. Nathalie Danon-Kerr, The Vici Language Academy
Do you have questions about The Tayabali Tomlin Big Event "Creating Maximum Impact" - 1 Day Business Growth Conference?
Contact Tayabali Tomlin
When & Where

Cheltenham Racecourse
Evesham Road
GL50 4SH Cheltenham
United Kingdom


Thursday, 12 May 2016 from 08:00 to 20:00 (BST)
Add to my calendar
Organiser
Tayabali Tomlin is a multi-award winning accounting firm that believes in striving for excellence by thinking differently, challenging the status quo and transforming lives.
We transform the lives of entrepreneurs by providing clarity on their numbers, financial model and the fundamental economics of their business in order to help them achieve sustainable growth, superior profits and a plan for exit.
We transform the lives of our team by challenging each and every one of us to excel at everything we do. And, we transform the lives of those less fortunate, locally through our association with various charities and, around the world through our partnership with the ground-breaking global giving organization B1G1 Business for Good (Buy1Give1).