Description
Watch highlights from #TTBigEvent 2016
All day tickets include:
• Inspiring guest speakers
• Workshops for growth and sustainability
• All workshop materials
• Tea, coffee, pastries and lunch
• Sit-down buffet dinner
• Tayabali Tomlin Entrepreneur Awards Ceremony
• Free parking

**£107 (plus vat and booking fee) if you book before 31st May*** Normal price £197 plus vat

Reserve your space NOW!
Agenda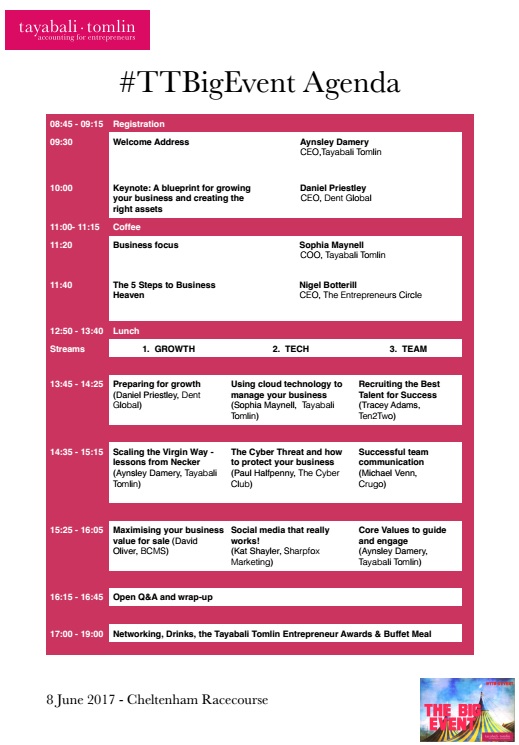 In fact there will be something for everyone (which is why we have deliberately kept the price so low)! So why not bring your entire team? Make new connections, meet select businesses to help your company and celebrate in style that evening with the winners of the Tayabali Tomlin entrepreneur awards.
The Big Event will run from 8:45am registration for a 9:30am start and will end at approximately 4:30pm. Tea, coffee, pastries and lunch will be served during the day. The conference will be followed by a sit-down buffet dinner together with the Tayabali Tomlin Entrepreneur Awards! We expect to finish at approximately 6.30pm.
So all course materials, tea/coffee and snacks, lunch, dinner, award entry, drinks in the evening are included. You just need pay for your accomodation if required - although, based on past experience, we highly recommend it! Contact the beautiful Ellenborough Park and quote the discount code "Tayabali Tomlin" for incredible rates.
There will be a range of event sponsors - all carefully selected to help your business grow, be more profitable and of course more valuable. We have worked with all the sponsors in the past and so know how they work and know that they fit in with our culture, ethos and standards.
The Big Event is the culmination of years of learning, implementation, studying other businesses and creating engaging, thought provoking and effective business learning, tools and systems to help business owners grow and increase profits. As a firm, we continue to attend a huge number of events, both within the UK and abroad, to learn from the best in the world, adopt best practice and continuously improve our own business, courses and education programmes. We run a large number of seminars, workshops, events and education programmes for our clients, prospects, local and national business organisations and Gloucester Rugby and speak regularly on a range of business topics.
Our headline speakers
Daniel Priestley
Daniel started out as entrepreneur aged 21 and built a multi-million-dollar event, marketing and management business before the age of 25. A successful entrepreneur, international speaker and best selling author, Daniel has built and sold businesses in Australia, Singapore and the UK.
Daniel is the author of three best-selling books: Key person of influence, Entrepreneur Revolution and Oversubscribed.
Nigel Botterill
Nigel Botterill is known as the most sought after business growth expert in the UK.
Nigel had a successful corporate career for many years until one day he took the big decision to step off the ladder to make it on his own.
Today Nigel is an award-winning, self-made millionaire with eight separate multi-million pound businesses built from scratch.
Since 2010, Nigel has helped thousands of business owners in founding Entrepreneurs Circle – The UK's biggest organisation for helping business owners achieve more than they ever thought possible.
what attendees say about our events
I very nearly pulled out of this at the last minute to spend time on my business in the office. SO pleased I chose to come. Excellent content and very well delivered. Aynsley was bang on the money. Thank you for everything.
Simon Jones, Bonjour London
I really enjoyed yesterday. It was interesting and inspiring. Well done for organising such an amazing event in Gloucestershire - we need more of those....I hope you guys get recognised for the things you do.
Carol Freeman, Strategic Initiative
Thank you so much for inviting me to this seminar, which I found really helpful and inspiring. This is bang on the message that Adrian, Ed and I need to implement, so thank you once more for the guidance and help.It was also useful to meet like-minded business people, so all in all a most worthwhile event. Not every day you get to ogle a gold medal either!
Matthew Harvey, Tayler & Fletcher
Most enjoyable and useful course to date for me. Excellent presentation style and content. Really got me thinking and gave me so many ideas - a great deal of food for thought. I now feel able to get much closer to our targets.
Ken Marshall, The Amazing Website Company
Having never studied or been introduced to business planning before, I gained a clear insight into how I should approach my own business when I finish playing. I thoroughly enjoyed the session and it has provoked a lot of enthusiasm for my ideas.
James Hudson, Gloucester Rugby
It was a fascinating event, very enjoyable, and some great insights to bring back to the business. It was also good to meet some of your other clients and contacts, and to have an event like that locally was great.
George Smith, Walford Timber
A great learning alongside a leading business expert and surrounded by business owners. Great content and a very enthusiastic presentation style. Learnt so many business and life lessons. Very well worthwhile!
Lewis Robinson
I really enjoyed the business start up day! It was extremely informative and was delivered with a very professional and friendly approach! I'm looking forward to a follow up session soon.
Bill Meakes, Gloucester Rugby
Cancellations and Amendments
#TTBigEvent tickets are transferrable.
Please notify the need to cancel your ticket or amend the booking name either
via Eventbrite (if ticket was sold via Eventbrite)
in the case of ticket not being sold via Eventbrite please email events@tayabalitomlin.com
For EarlyBird tickets, no refunds will be given (transfers only). For all other tickets:
Cancellation up to 30 days in advance, you will receive a full refund, minus 10% administration fee.
Cancellation of 29 days or less, you will not be refunded.
If Tayabali Tomlin cancels #TTBigEvent for whatever reason, all paid up registrants will receive a full refund within 14 days of notification of the canceled event. Refunds will be made using the original form of payment. Eg. If paid by Paypal, refund will be via paypal.
Please advise dietary requirements at the time of booking.