Location
The Belgrave Music Hall & Canteen
1-1A Cross Belgrave St
Leeds
LS2 8JP
United Kingdom
Description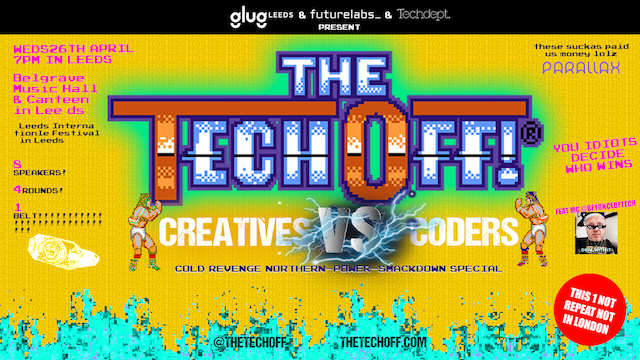 26 APRIL 2017 | LEEDS
THE TECH OFF!
Leeds International Festival presents the The Tech Off brought to you by the Techdept supported by Glug Leeds, FutureLabs and Parallax
The Tech Off: Creatives VS Coders

The 'lovechild of TED talks and WWE wrestling' attracts over 650 people at its London events. With previous battles taking place at Cannes Lions, Festival of Marketing, and DMX Dublin, the Tech Off next rolls into @SXSW and then Leeds.
Come and cheer on leading speakers from both teams as they give powerful, five minute trash talks (why they love their jobs), with the aim of winning over the gladiatorial crowd – who then chooses the winner! The champ takes away The Tech Off Wrestling Belt Of Digital Glory… (not an actual belt FYI).
Who will win the popular vote? The Creatives? Or the Coders?