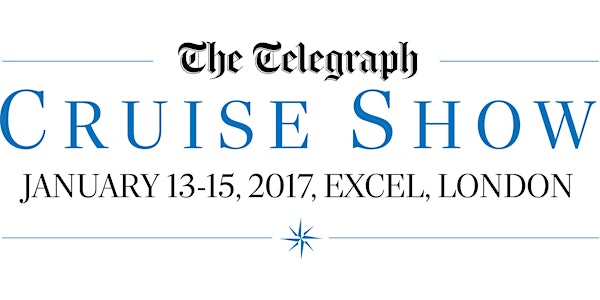 The Telegraph Cruise Show
Location
ExCeL London
1 Western Gateway
London
E16 1XL
United Kingdom
Sales Have Ended
Ticket sales have ended
Oops! Your transaction timed out. Need our help? Drop us a message and we'll get back to you asap.
Description
Join us at The Telegraph Cruise Show in ExCeL London from Friday 13 to Sunday January 15, 2017 and immerse yourself in the wonderful world of cruise.
Save and book with exclusive show only deals, speak to impartial industry experts at the Cruise Genius Bar, meet your favourite Telegraph cruise writers and listen to talks in our Cruise Lines Theatre, plus gain free entry into The Telegraph Travel Show and the London Boat Show.
Whether you prefer luxury indulgence on the high seas or exploring the meanders of a river cruise, The Telegraph Cruise Show showcases the best travel deals, holiday ideas and cultural experiences from every corner of the globe.
Opening Times
Friday January 13: 10am - 5pm
Saturday January 14: 10am - 5pm
Sunday January 15: 10am - 4pm
Privacy Policy and Terms & Conditions.
Affected by the Southern Rail Strike?
If you have tickets for Friday and are unable to make it due to the strike action, please get in touch with us at cruise.tickets@telegraph.co.uk for assistance.
FAQs
Hopefully you'll find an answer to your question below. If not, please contact cruise.tickets@telegraph.co.uk and we'll get back to you as soon as possible.
How can I find out what's on/who's exhibiting?
Head to www.telegraph.co.uk/cruiseshow to find out more about what's on and who is exhibiting.
Where's my ticket?
Your ticket has been sent to the email address you provided as an e-ticket, do check your spam folder as sometimes our emails end up in there. Can't find it or you've accidently deleted the email? Don't panic, go to www.eventbrite.co.uk/gettickets.
Do I have to bring my printed ticket to the event?
You can either print your ticket or show it on your phone/tablet.
I've already bought a ticket, but need to change the day – is that possible?
Tickets are only valid for the specified day, however, if you'd like to swap to another day this shouldn't be a problem provided that day hasn't sold out. Please email us with your request to cruise.tickets@telegraph.co.uk.
How do I get to The Telegraph Cruise Show?
ExCeL London is very accessible, find out more on our information page under Getting to the Show.
Is there a showguide available at the event?
Yes, a free showguide is available to all visitors to the show and will be available to collect on the day.
Do you offer carer tickets?
Yes, carer tickets are available for anyone accompanying a disabled guest. Please email cruise.tickets@telegraph.co.uk to request a ticket.
I'd like to attend the show as part of a group, are there any discounts available?
Group discounts are available for groups of 10 or more. Contact cruise.tickets@telegraph.co.uk for more information.
Am I able to bring my dog to The Telegraph Cruise Show?
ExCeL London welcomes assistance dogs with visually and/or hearing-impaired visitors but pet dogs are not permitted. Please find more information on accessibility.
I'm interested in taking a stand at The Telegraph Cruise Show, who should I contact?
Contact a member of our sales team who will be happy to discuss the stand and sponsorship opportunities available.