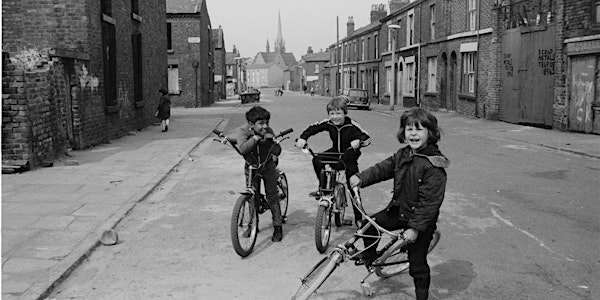 The 'Tell it like it is' club: experiment with photography and writing!
No previous expertise needed: if you live or work in L1 or L8, join Ian and Laura for six free, monthly, creative workshops from October
About this event
What?
When you look at a photograph, what do you see? What is valuable? What is present? What is missing?
Our free creative workshops will encourage you to share YOUR own stories, in YOUR own words and images, in YOUR own way.
We'll be discussing old photographs of Liverpool and taking new photographs on film, using Ilford HP5 Plus 35mm Single Use Cameras; we'll be writing short texts and developing our storytelling skills.
We'll be led by the group's experiences and desires, without any pre-formed expectations. No previous expertise in photography or writing necessary: all welcome.
Who? You!
Free to anyone who lives or works in L1 or L8
Beginners to intermediate level
This is for you if you're interested in experimenting with photography and writing
Commitment to all workshops is desirable!
Where?
Online and in person, walking Liverpool 1 and 8.
When?
Our first meet-up will be online on Saturday 17 October 2020, 11am-12.30pm, and then every third Saturday of the month until March 2021 (six workshops in total).
In our first Zoom creative workshop, we will be talking about, and starting to write about, existing images of Liverpool. No previous experience necessary – just bring an open mind.
Why?
With support from Open Eye Gallery, Writing on the Wall and Storylab, the 'Tell it like it is' club invites the residents and workers of L1 and L8 to reflect on 100 previously unseen photographs of Liverpool, and co-create new images and creative/critical writing in response. As a group, we will share our own experiences about where we live, in our own words, in our own way.
Led by artist Ian Clegg and Open Eye Critical Writer-in-residence Laura Robertson, we want to celebrate all the different ways that photography and creative/critical writing can work together to tell new stories about where we live. Writing about photographs is a great way to learn how to write; it can connect us to others, and to what's around us.
Taking inspiration from 'ethnomediaology' – whose three core values are integrity, authenticity and openness – our club will use networking, collaboration and sharing to explore the stories of communities here in Liverpool. We believe this is a generous foundation on which to share perspectives, learn from each other, and create new narratives and understanding about where we live.
How?
Our workshops will take place on Zoom and in person in Liverpool 1 and 8, in small (socially distant and accessible) walking and talking groups. 
All the workshops are free and you don't need to buy or bring anything – just an open mind
In the spirit of networking, collaboration and sharing, and to get the best out of the club, attendance to all workshops is desirable
You'll need access to Zoom
We'll provide everyone with a free single use film camera (processing and printing included)
We'll provide everyone with a free notebook and pencilWe'll provide a friendly and creative environment in which to talk, make new images and write new words.
We'll celebrate our achievements in a group-decided closing event in March 2021 (TBC), in collaboration with Open Eye Gallery.
Any questions? Get in touch with Ian and Laura: tellitlikeitisphoto[at]gmail.com.
More info on our website, tellitlikeitis.cargo.site, and on Instagram, @tellitlikeitis_photo.
See you soon!