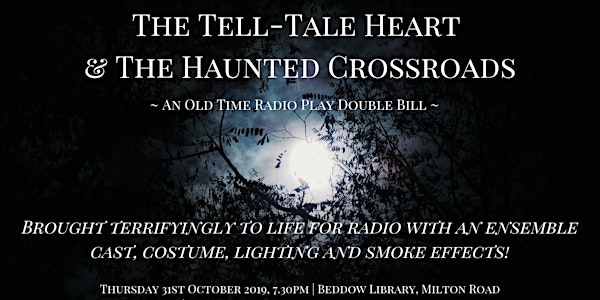 The Tell-Tale Heart & The Haunted Crossroads - A Live Radio Recording
Location
Beddow Library
Milton Road
Portsmouth
PO4 8PR
United Kingdom
A Chilling Double Bill of Old Time Radio Plays!
About this event
Join Lantern Light this Halloween for a chilling double bill of Old Time Radio plays!
Experience the horror and the madness behind Edgar Allen Poe's famous tale 'The Tell-Tale Heart'.
Brave the lone patrol with police officers Gene Hardy & Pat McGee - at the crossroads where men keep mysteriously dying in: 'The Haunted Crossroads.'
Brought terrifyingly to life for radio with an ensemble cast, costume, lighting and smoke effects....
Suitable for adults!
Tickets are free, but advance reservation is recommended.
Thursday 31st October, 7.30pm
Beddow Library, Milton Road
Brought to you in association with Portsmouth Council as part of City of Stories.
Starring: Tom Dussek, Sophie Flack, George Lewthwaite
Lighting & Sound: Dan Skelt
***** "Expertly told..." The Latest (Hansel & Gretel)
***** "Sophie Flack's superb sense of timing" View from the Gods (Flurry)
***** "Diana Atkins and Hayley Thompson are excellent" Manchester Audience Bulldog (Blu-Ray)
Arts Council Audience Feedback (Summer of Sherlock)
***** "A superb company"
**** "Excellent performances"
***** "We loved the show!"
***** "THANKS very much for a very entertaining evening!"