Description
Pictured : Barbara Chalmers atop the centerpiece of the exhibition © Chris Watt
"THE THING ABOUT FUNERALS IS…"
EXHIBITION… INSTALLATION… PROVOCATION… EXPLORATION


Gallery 1, Gallery of Modern Art,
Royal Exchange Square, Glasgow
part of Marlie Mul's May-Oct show.
Fri 7 Jul 12-4pm
Sat 8 Jul 11-4pm
BARBARA CHALMERS INVITES YOU TO ATTEND A FUNERAL
12 NOON (for 5 mins) FRI 7 & SAT 8 JULY, GALLERY OF MODERN ART
GOMA presents The Thing About Funerals Is… a provocation about funerals.
A celebrant, a ceremony, a coffin, tribute flowers, a condolence book, candles, flowers, personal artefacts, portraits, recordings and rituals. These elements – potent signals of a funeral – feature in a show entitled 'The Thing About Funerals Is…' in Glasgow's Gallery of Modern Art next weekend: for 2 days only. It is part of the phenomenon that is Marlie Mul's This Exhibition Has Been Cancelled (see more). Each day kicks off with a short ceremony.
"Accidental death, predictable trajectory, sudden death, 'in the natural order', suicide, assisted dying, murder, stillbirth, lost lives, missing in action: however we die – and however we have lived – we all end up in a box," said Barbara Chalmers, curator of the show. "Most of us make our last appearance at a funeral.
"By inviting people to engage with artefacts and rituals – to look, touch, feel, listen, engage, reflect and share without the emotion of actually being at a funeral – I am hoping to understand more from visitors about how and why we do funerals. I want to hear about our common and different cultures, rituals and traditions and explore whether 21st century funerals still serve their purpose. Ultimately I want to consider how we could do funerals better."
THE EVENT
The Thing About Funerals Is… presents a range of provocations and inspirations. All the artists will be present over the course of the two days.
Barbara Chalmers presents her own funeral. A celebrant, she will start each day with a short ceremony in front of her personalised coffin. During the course of the day she will invite visitors to engage with a range of prompts to help open discussions about death, loss, ritual, funeral choices and options. Barbara runs Final Fling – a free-to-use award-winning online community that promotes openness around death and dying and supports thousands of people to manage end of life plans. Barbara is also studying for a Masters in Design Innovation. The outcomes of the exhibition will inform her project on innovating funerals in the 21st century.
Melanie Sims presents an installation called Fragments from The Lost Sister project that honours the death of an aunt Melanie never knew, who lived and died in an institution. She also presents a work called The Ache and evocative works from The Memorandum Series. Melanie is a photography-based artist whose work tends to focus on psychological perspectives, particularly in relation to memory, loss and grief. Her project The Memorandum Series is a rich, multi-layered study of grief which considers how emotions are suppressed and find expression, of the impulse to record and create something beautiful from the fragments, and of how memory gradually becomes stronger than loss. The Lost Sister, her most recent project, explores questions of connection, broken bonds, denial and loss and attempts to express the intangibility of a lost story at the heart of a family. Inspired by an unknown relative, who was never spoken of, the project uses photography, textiles and installation to explore a lost personal history.
Joy Parker presents a 10 minute film called The Burning that captures a ritual to release the spirit of her grandmother who lived 45 years in a Bristol asylum and died there.

This film records the ritual created both to release Joy from a five year art project about her grandmother Gertrude Parker and to release Gertrude from this investigation and from the suffering she experienced in her life. Joy made a 7ft sculpture symbolising Gertrude from willow and tissue, in a dress decorated with photos of all her descendants, initially for exhibition but with the intent to set light to it and let it float burning down the river. This project owes much to many people, including MIMC, Scottish Borders. Joy

Parker is

a professional visual artist, employing a variety of mediums from mosaic and painting to film and performance, to explore issues that are usually personal, but extend in their relevance to a wider community. She gained an MFA in Contemporary Fine Art from the University of Cumbria in 2008 and has had a WASPS studio in Selkirk, Scottish Borders, since 2003.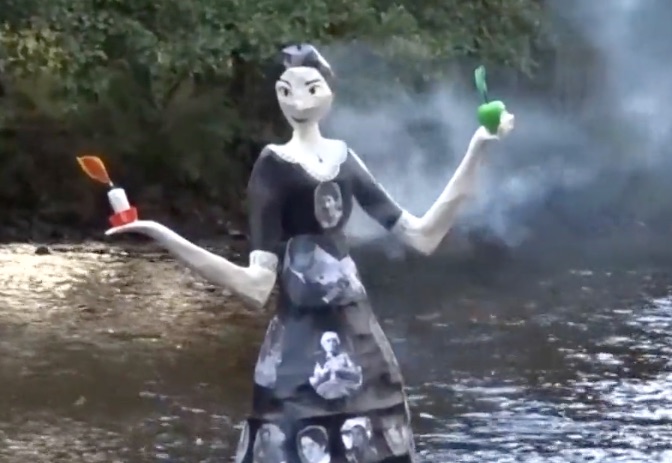 Nichola Scrutton brings back her soundscape Hearafter (a pun on 'hereafter' – life after death) – sounds of breathing and an array of vocal gestures that weave together with other abstract sounds into a contemplative, abstract collage that evokes memory and reflection – a sense of something past, gone, altered or retold, and at the same time suggest anticipation of a future that remains unknown. Nic's artistic interest lies in the voice and its potential as sonorous, expressive and sculptural material. HearAfter has previously been installed at GoMA, Glasgow, Ohrenhoch Gallery, Berlin and Auricle Gallery, Christchurch, New Zealand. Nichola is a freelance composer, sound artist and experimental vocalist based in Glasgow. Her work spans a range of self-directed projects, interdisciplinary and participatory collaborations. Some ongoing interests are at the core of her practice include: the association with place and space in abstract or fictional soundscapes; sonorous voicescapes (expression, words, extended techniques); improvisational processes in live and recorded performance. Nichola was awarded a PhD for her portfolio Hearing Voices from University of Glasgow in 2009.

Who should visit:

anyone who might die at the end of life (yup – you
anyone who is interested in understanding the meaning of life
members of the public who are curious about end of life
health and care professionals with an interest in end of life care
celebrants and funeral directors
artists, makers, writers and performers who reflect on life and death in their work
With thanks to Fosters Funeral Directors for help withtransport.
ABOUT FINAL FLING
Barbara Chalmers launched the award-winning Final Fling in 2012 – the UK's first online community for end of life planning. Final Fling won the first Good Funeral Award in 2012 for Most Outstanding Contribution to Understanding Death and Web User Magazine's award for Best New Website against giant brands like Nintendo and British Airways. Barbara is focusing on funerals for a Masters in Design Innovation at Glasgow School of Art's Institute of Design Innovation.
To promote understanding of death, Final Fling:
launched the first Death Café in Scotland in 2013 and has run quarterly Death Cafes and Death Meet-ups in in Stirling, Edinburgh, Glasgow and at the Cheltenham Literature Festival

presents at events, like the national Dying Matters health conference in Wales in 2017

launched a 7 step guide to preparing for the end, Too Busy to Die, at the prestigious Cheltenham Literature Festival 2016
produced a Day of the Dead Festival at Glasgow's Gallery of Modern Art in 2013

provided media training for NHS consultants on communication about end of life

ran a Design for Death symposium for health and social services professionals in 2012

advised government-funded Good Life Good Death Good Grief on communication

carried out a feasibility study on the need for support for bereavement in schools working with Cruse Bereavement Care in Moray.
For info contact Barbara at Final Fling | 0141 423 1618 | 07789 564 775 | www.finalfling.com