Description
The Thinkers View of BREXIT Conference – The implications on the Supply Chain
31st August 2016, Supply Chain Academy

For CEOs, CFOs, COOs, Board Directors, Senior Management, Supply Chain or Procurement Leaders:

Background
On 23rd June, the UK public voted to leave the European Union (EU) with the passing of a referendum known as Brexit—British Exit. The tidal wave of reaction and speculation which followed the announcement signals far-reaching effects from this historic change, and many supply chain professionals are asking, "how does Brexit impact our supply chains?"

Long-term contracts that presumed the UK would remain in the EU indefinitely may be null and void. Those trying to plan now can look to the past (pre-1973) when the UK was not yet part of the then European Community. The early 1970s were a time of more tariffs, trade barriers, and regulations. In theory, trade with the UK could return to this state, at least for a time, until UK-specific free trade accords develop.
Essentially, Brexit will certainly cause supply chain disruption, which will ultimately affect the customer.

Key issues will be;
• UK-related capital, currencies, and costs
• Supply Chain product and service flows
• Supply Chain relationships and behaviours
• UK import and export law
• Long - term changes in incoterms, costs, taxes, and UK-specific regulations

While we negotiate our exit from the EU Supply Chain professionals must carefully use the next12-24 months strategically for the best advantage. For example, what assets should move into or out of the UK while it remains a member? What preparations are necessary to accomplish this? What costs are involved?

We have put together this free event to attempt to answer these questions: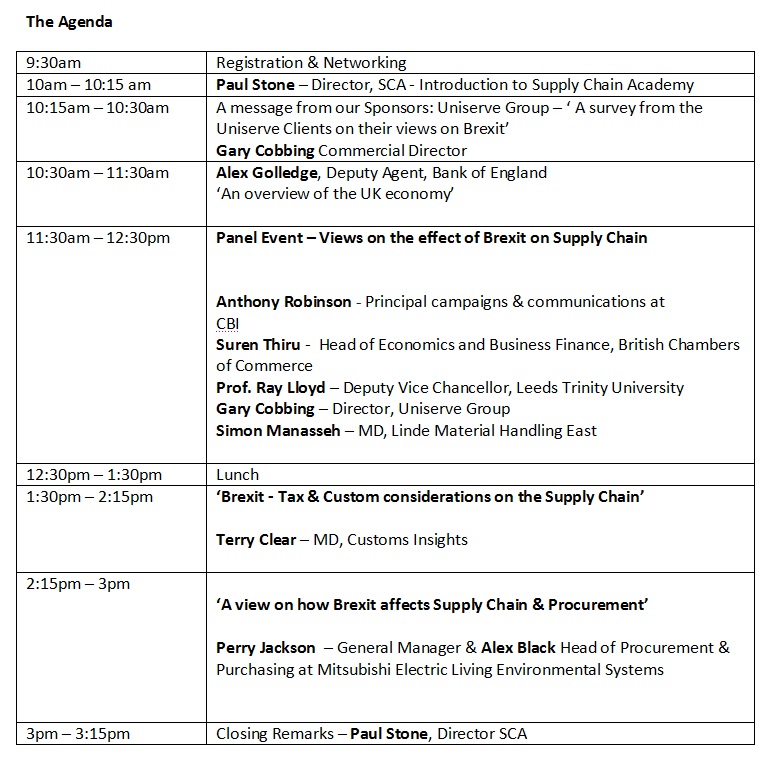 The Supply Chain Academy was established to enhance Supply Chain Capability and to enable the sharing of best practice within the sector. We are the only Executive 'business led' education facility in the UK dedicated to delivering Supply Chain Excellence, as we are part of the Uniserve Group (the largest privately owned International logistics and freight company in the UK).

This event will be held here at the Supply Chain Academy Headquarters – 133 Hall Lane, Upminster, RM14 1AL.
Please arrive for 09:30hrs for registration and networking.

We have residential rooms available for those who require accommodation. They are £75 for the night, which includes breakfast.

Please let us know if you would like to book a room. (info@supplychainacademy.org.uk)
If you would like to attend, please register.

We do hope you will be able to join us for this event. For more details about us here

Thanks,
The Supply Chain Academy team.