About this Event
The Showcase Gallery and artist Nita Newman are proud to present a selection of paintings and drawings created by community leisure class members from:
The St Francis Youth & Community Centre Bournville; St Mary's Parish Centre, Harborne; West Heath Community Centre
COVID INFORMATION:
IMPORTANT: This is a timed 1 hour ticket. Please arrive on time and wear a mask. Only 6 attendees allowed in the gallery at any one point. If numbers exceed 6 plus the host you will be kindly asked to leave the room.
Refreshments: Soft drinks, tea, coffee and limited alcohol will be served by the host only. Please do not help yourself to drinks. Please bring your own snacks, sanitiser and a drinking vessel.
Leaflets: There will be no take away leaflets. All information will be wall based- do not gather around this unless you are in a social/family 'bubble'. Thank you.
Accessibility: Wheelchair access only between 2pm and 4.30pm for toilets (which are not disability friendly) Warning -There are 2 steps to reach the Gallery (We are NOT allowed to put up makeshift ramps)
Toilets are located on the first floor. There are no disabled toilets.
Parking: Located in: Arcadian Centre; The Arcadian, 41 Bromsgrove St, Birmingham B5 6NU
By Bus: The number 45 and no 47 stop nearby.
Visit the following links for the full range of activities at all centres
http://www.stmarysparishcentre.com/
https://www.westheathcommunity.co.uk/activities-contacts
NOT ABLE TO MAKE IT/Worried about the virus? Contact Nita Newman for an on line showcase through Google tours. (Not available until the day of the opening)
This exhibition was arranged and curated by artist and lecturer Nita Newman. Nita Newman runs art classes around the Birmingham. Recently Nita has been leading on line classes from her home studio through Zoom throughout the COVID crisis.
Classes are planned to be resumed around mid September 2020 all being well.
contact: nitanewman@live.co.uk
https://www.nitanewman.com/zoom-classes (Free until early September)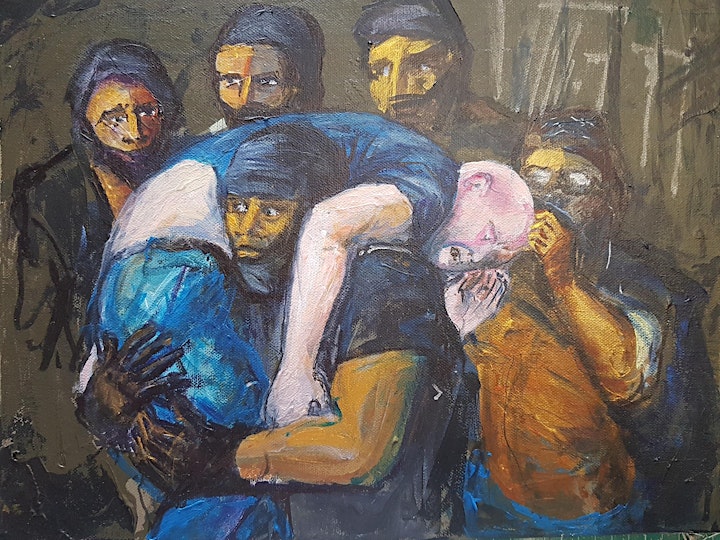 Humanity. Acrylic on canvas, by Annie Rubienska.