Give yourself a fright on Halloween with 'THE THREE MOTHERS' Trilogy by Dario Argento, all three films rarely screened together.
About this event
SUSPIRIA - 99 mins (1977)
Suzy Bannion travels to Germany to perfect her ballet skills. She arrives at the Tanz dance academy in the pouring rain and is refused admission after another woman is seen fleeing the school. She returns the next morning and this time is let in. She learns that the young woman she saw fleeing the previous evening, Pat Hingle, has been found dead. Strange things soon begin to occur. A bit of research indicates that the ballet school was once a witches' coven - and as Suzy learns, still is.
with Jessica Harper, Stefania Casini, Miguel Bosé
INFERNO - 106 mins (1980)
Riddled with secret but horrid suspicion, young American poet Rose Elliot writes to Mark, her musicology-student brother in Rome, about her startling findings in the dark, dank basement of her New York Art Deco apartment building. Pivoting around the cryptic knowledge hidden in the leather-bound book entitled "The Three Mothers", Rose is convinced that her aristocratic but damned abode is actually an ancient coven for Mater Tenebrarum, the malevolent Mother of Darkness. Little by little, as the siblings delve deeper and deeper into the occult, a mysterious disappearance and an endless string of gruesome killings will bring Mark closer and closer to a surreal nightmare. Where do the long and shadowy corridors of Rose's building lead?
with Lee McCloskey, Irene Miracle, Eleonora Giorgi
MOTHER OF TEARS - 102 mins (2007)
An ancient urn is found in a cemetery outside Rome. Once opened, it triggers a series of violent incidents: robberies, rapes, and murders increase dramatically, while several mysterious, evil-looking young women from all over the world gather in the city. All these events are caused by the return of Mater Lacrimarum, the last of 'The Three Mothers' the three powerful witches who have been spreading terror and death for centuries. Alone against an army of psychos and demons, Sarah Mandy, an art student who seems to have her own supernatural abilities, is the only person left to prevent the Mother of Tears from destroying Rome.
with Asia Argento, Cristian Solimeno, Adma James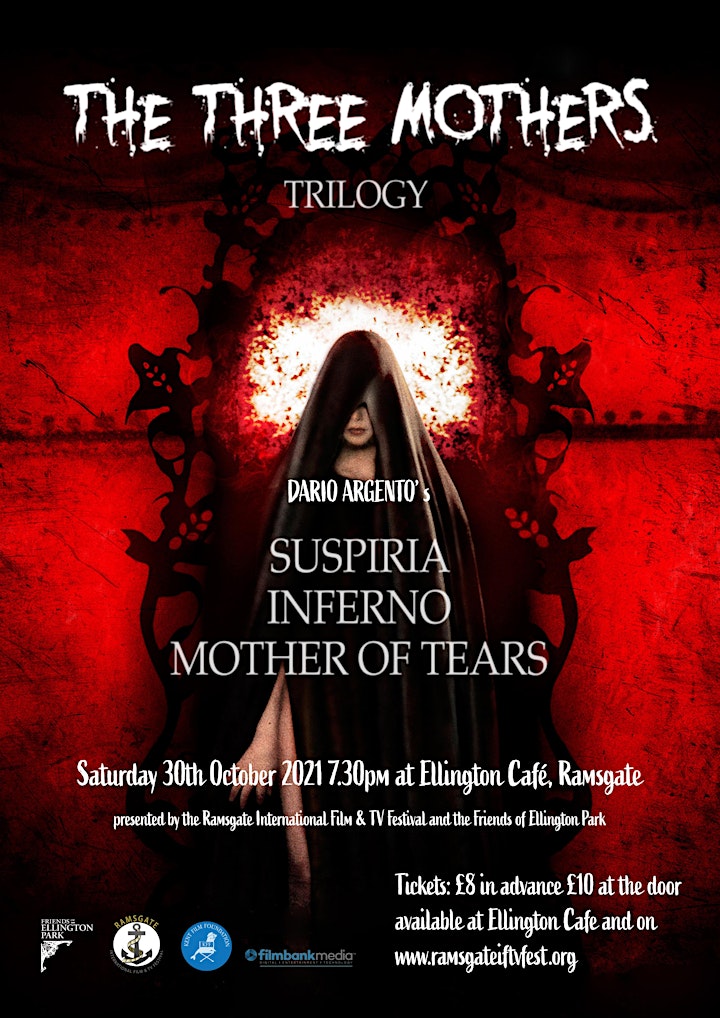 Organiser of THE THREE MOTHERS TRILOGY by Dario Argento
The Ramsgate International Film and TV Festival is held in Ramsgate with its stunning Royal Harbour, unique in England. The organisation also runs a variety of screenings throughout the year to bring more international independent cinema to local audiences as well as various events and workshops.