The Thrive Programme for Parents - 3 part, 9 hour group course - for mental health and wellbeing with Louise Moles and Kate Patterson.
About this event
Do you find it frustrating not knowing how to respond to your children's mental distress?
We'll help you to help them be happier, less anxious, and more able to manage their own mental wellbeing.
This 3 part, 9 hour course will give you all the support you need for a lifetime of great mental wellness for you and your children.
ONLY 10 PLACES AVAILABLE on this empowering group course teaching you an easy and successful way to show your children how to thrive.
Are you concerned that your child isn't thriving?
Do they seem undetermined or unexcited for their achievements?
Are they anxious about not doing their best, or not knowing how to?
Is their experience of life not as worry-free as you feel it could be?
Have previous attempts at helping felt too much like a quick fix? Or been unhelpful?
We support parents with all of the above, and we're super pleased to be able to offer 10 PARENTS ONLY this first opportunity in CAMBRIDGE, to work through The Thrive Programme in a group.
We'd love you to join us on Saturdays - only 10 spaces available in this group:
PSYCHOLOGICAL FOUNDATIONS - 9th November 10.00 - 13.00 You'll work through your personalised mental wellness assessment, be supported through the beginning chapters and challenges in your thriving workbook, and learn how to create strong psychological foundations which are essential for good mental health and wellness.
LEARNING HOW TO THRIVE - 30th November 10.00 - 13.00 You'll gain amazing new insight into why you experience life in the way that you do, and why this is one of the most fundamental ingredients of your ability to shape and influence your children's mental wellbeing, and your own.
THRIVING! - 14th December - 10.00 - 13.00 You'll receive expert advice and direction to put all your learning into practise, ensuring you're getting the most from your efforts, and that you and your children keep thriving, and stay mentally well.
We look forward to supporting you and other parents, spaces are limited to 10 PARENTS so please BOOK EARLY and secure your place by FRIDAY 8TH NOVEMBER.
YOUR INVESTMENT - single spaces can be secured at £858, or you can attend with a partner, friend, family or colleague for £1288. Each attendee needs to buy a course workbook £39.95.
YOUR COMMITMENT - you'll need to attend all sessions to complete the course, along with bringing your up to date workbook to each group session (all other course and support materials included). Your course preparation time includes 3 steps: 1.Studying the introduction of your thriving workbook. 2.Completing your personalised Thrive Quotient assessment online. 3.Watching the first support video.
OUR AGREEMENT - Full tailored support through every aspect of The Thrive Programme, two person delivery of group sessions, access to online video support and confidential Skype support between sessions with Louise or Kate. Attendees please email us to ask for more details and how we can accommodate you: louise.kate.ttpedu@hotmail.com
We believe that Thriving Parents = Thriving Children!
Louise and Kate are thriving and we love our lives! So here's who we are and why we'd love to meet you - with over 40+ years of experience working with young people and their parents, and more recently 16 years of experience as practising Licensed Thrive Programme Consultants seeing 300+ clients, our educational expertise is combined to deliver tailored group courses in mental wellness. We're best placed to support parents who are wanting to learn an easy and successful way to get themselves and their kids truly thriving.
You're welcome to refer remaining places in our group to other parents you know, please ask them to get in touch or share this eventbrite link with them.
Thank you for your support, we look forward to Thriving with you soon!
Can't make the course yourself, though know someone who can? If you know a parent who's struggling with their mental health, or who'd like to support their children with theirs, please show them our group event.
For people experiencing mental distress who'd prefer to work 1:1, we continue to tailor The Thrive Programme for individuals of all ages, the 1:1 course is £895 - contact Louise or Kate for availability - sessions offered face2face or via Skype.
FURTHER THRIVEY INFO:
The Thrive Programme is a revolution in mental wellbeing! Watch what our lovely young Thrivers and their parents have to say about how family life changed after learning to Thrive. Missed our introductory event for parents? No probs, you can hear why so many parents would recommend our course and joining the thousands of people who have already learned how to Thrive!
Can you help us to reach more parents looking for support just like you? Show others or share this event online any way you can.
Here's our email and links to social media:
louise.kate.ttpedu@hotmail.com
Twitter:
#thriveincambridge #thrivechat #learntothrive #loveyourlife #thethriveprogramme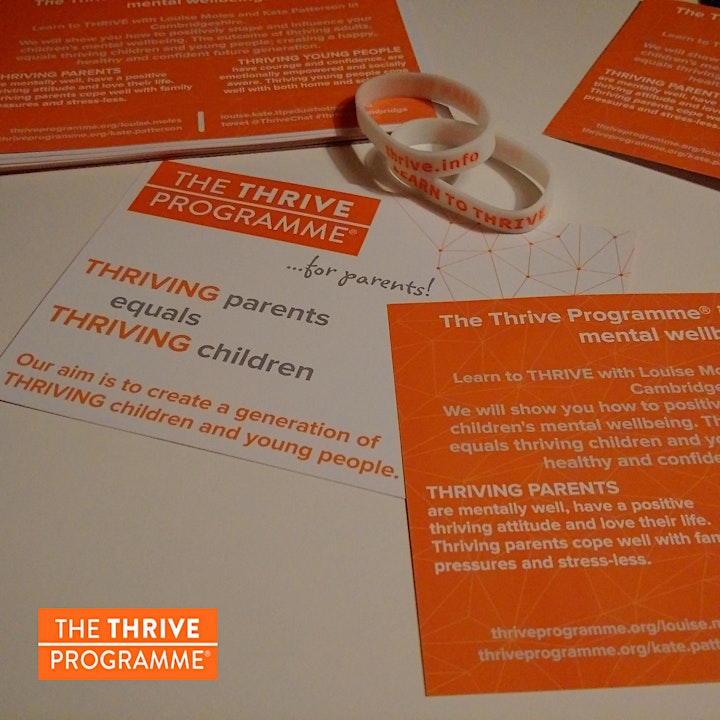 Organiser of The Thrive Programme for Parents
Louise and Kate are THRIVINGand we love our lives!
So here's who we are and why we'd love to meet you - with over 40+ years of experience working with young people and their parents, and more recently 16 years of experience as practising Licensed Thrive Programme Consultants seeing 300+ clients, our educational expertise is combined to deliver tailored group courses in mental wellness. We meet individuals from all over the world, and offer support to people of all ages, teaching them the psychological skills needed to overcome phobias, anxieties, limiting beliefs, depression and any other associated mental distress. If you'd like to hear what our clients say, you can watch videos from our Thrivers here https://www.thriveprogramme.org/thrivers/