The Time Capsule Project: 'A Pot To Wishin'
Description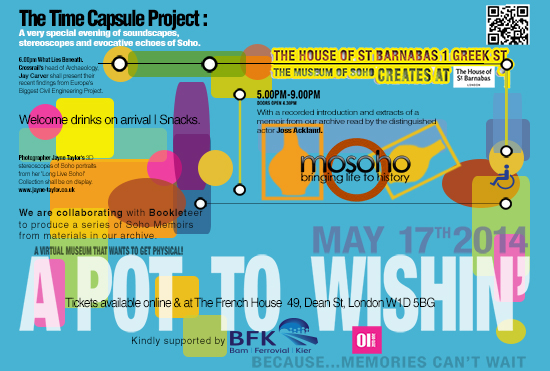 Doors Open at 16.30 Entry
1 GREEK STREET,
SOHO SQUARE
LONDON W1D 4NQ
Tickets will not be available on the door.
Welcome drinks on arrival.
Our twitter followers and newsletter subscribers can purchase tickets at the special price of £17.00 Free Subscription Save £6.00 On your ticket.
Recollections and reflections at London's finest example of The Rococo.
mosoho bringing life to history at Soho's newest members club,
You are welcome to enjoy the clubs facilities after the event including live DJ. Please print out your ticket.
---
Enquiries: events@mosoho.org.uk
---
The Museum of Soho shall be hosting their event, The Time Capsule Project: 'A Pot To Wishin'. An evening of soundscapes,
stereoscopes and evocative echoes of Soho.
6.00pm | What Lies Beneath |
Jay Carver
Head of Archaeology at
Crossrail
shall present their recent findings from Europe's Biggest
Civil
Engineering
Project.
---
7.00pm | The distinguished actor Joss Ackland has written and
recorded an original introduction and reads extracts from
the memoirs of a past resident who grew up in Soho in the
1930's inc. newsreels mixed and realised at Zero One production facilities.
---
We shall all participate in history and be part of the future with the creation of a time capsule which shall be buried in Soho at a later date.
We are collaborating with
Bookleteer
to produce a series of
Soho
Memoirs
from our archive.
As personal remembrances and stories they are steeped in the texture and fabric of the social life of old Soho – something tenuous and precious, yet at the same time hard and unremitting. What makes these accounts special is not a nostalgia for what has disappeared so much as the living connection they establish to how much continues even now within the community of people who live and work there or whose children attend the last remaining school there.
A booklet shall be produced as a physical memento of the evening and made available online after the exhibition has ended.
---
of Soho
portraits from her
'Long Live Soho!' Collection shall be on
The Bellarmine Jar
is the oldest artefact in our collection and dates back
to the mid 17th Century. It shall be on display at the HoSB for the event.
mosoho shall invite the general public to participate and contribute by sharing their stories and memories of their unique experiences of Soho.
Organiser of The Time Capsule Project: 'A Pot To Wishin'
mosoho | The Museum Of Soho
The museum was started in 1991. We are an independent, #community based group committed to creating a safe haven for artefacts, documents, etc,relating to #Soho #London .We now have a large, interactive Touch-screen in Sherwood St (Opp The Piccadilly Theatre)Where you can access Galleries, Photographs and Articles about Soho. We receive no public funding and rely entirely on the goodwill of volunteers.
Registered Charity 1003879 The Museum Of Soho Ltd  mosoho 2019.
Follow us on twitter @TheMuseumOfSoho on instagram @themuseumofsoho
The Georgian Dining Academy
The Georgian Dining Academy is hosted by Miss B and Miss Kitty Pridden. It all began by creating a quarterly historic dining experience at Simpson's Tavern in the heart of the City. An evening spent within the candlelit booths of a historic chop house, enjoying a carefully crafted three course meal, gaming with chocolate coins and regaled with tales of the 18th Century. Guests are encouraged to dress up for the evening, several of our regulars have created vibrant Georgian characters that they bring to life at each event. We have gone from strength to strength in our endeavor to create a Georgian world in the 21st Century.
http://www.georgiandiningacademy.com/