Description
When you learn Tiny Habits®, the groundbreaking behaviour change method pioneered by Stanford research scientist Prof BJ Fogg PhD, you'll effectively be introducing a Superpower into your life.
In this remarkable workshop, led by Tiny Habits® Certified Coach Mike Coulter; you'll find out how:
By implementing the Tiny Habits® method, you will see big, beautiful, full blown changes in your life.

Creating new habits doesn't need to be difficult. In fact the easier we make them to do, the more successful we'll be. And the quicker your new habits will form.

Emotions create habits. Simplicity changes behaviour. Behaviour change is a skill you can learn quickly.

You don't have to rely on willpower or motivation.

The 'Ripple Effect' often has additional, far-reaching positive impact, on other areas of your life.

You can build multiple new habits at the same time.

What you learn in the workshop, you can apply immediately.
This 3 hour, Saturday morning masterclass, in the beautiful Forge presentation workspace is limited to 12 attendee slots to ensure everyone gets customised coaching and a thorough grounding in the practice.
Learning everything you need to know about the Tiny Habits® method and principles in a fun, informative and supportive environment.
As part of the masterclass, we'll develop and you'll leave with; 3 specifically designed, life-changing Tiny Habit® recipes of your choosing, to work on at your own pace over a 5-day, Monday-Friday period.
Thus ensuring a systematic and life-long understanding of this amazing, tried & tested, behaviour design method.
Who this workshop is for:
Anybody wanting to build strong positive habits quickly and effectively in all areas of their lives. And so, helping you succeed in a huge range of applicable domains. Including, but not exclusively; exercise, diet, career, relationship, financial, meditation, parenting, health, creative, and recreational goals.
Over 50,000 people worldwide have reported that Tiny Habits®have worked for them.
You'll discover, as they did, that BJ Fogg's scientifically established system of behaviour change, as coached by Mike, will help you build extraordinarily strong habits and achieve previously unattainable results.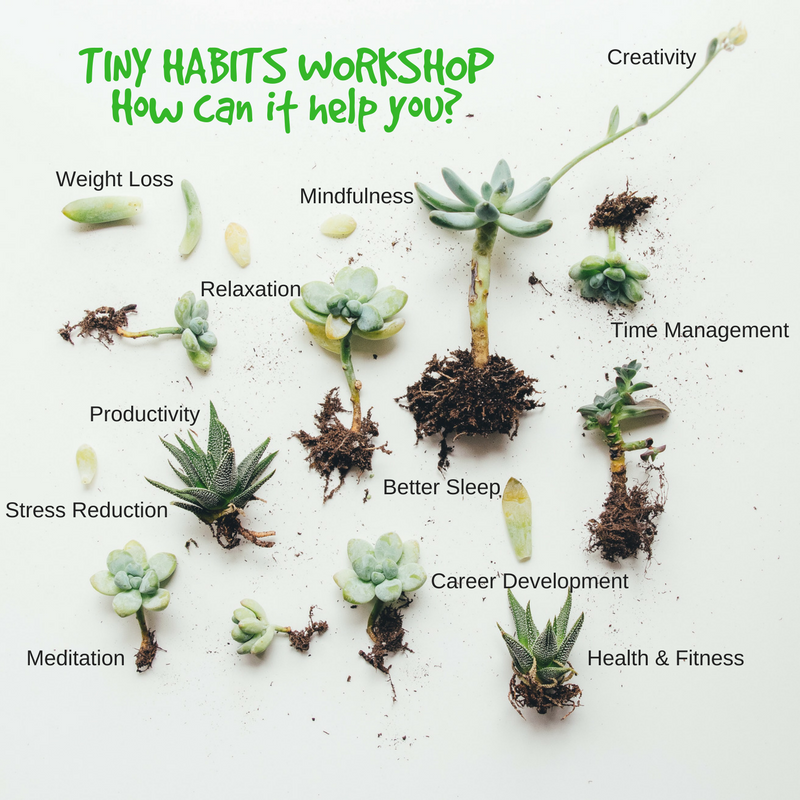 "Plant a good seed in the right spot and it will grow without further coaxing." Professor BJ Fogg.
About your coach. Mike Coulter:
After an award-winning career as an advertising copywriter, Mike was an early, very early, adopter and advocate of social media. (He was the 11,700th person to spot the potential of and sign up for Twitter in 2006.) More recently he was Creative Director on the hugely influential 'Side Projects Report' from The Do Lectures, before being inspired to train and qualify as an enthusiastic evangelist, ambassador and coach for BJ Fogg's ground-breaking Tiny Habits® method of behaviour change. (One of the few officially recognised TH coaches in the UK.)
You can find out more about Mike here; on Medium, Linkedin, Twitter and Instagram.
What people who've worked with Mike say:
"Mike is a genius at understanding human behaviour." -David Hieatt: Founder, The Do Lectures.

"Mike was the first person I knew who spotted the potential of the Internet. Later, he was first person I knew to bang on about social media. Today, he's the first person I'd recommend to help you, be you."
- Mark Waites: Co-Founder, Mother.

"Mike Coulter has more ideas in a hour than most agencies have in a week. Clever man." - Phil Adams: Planning Director, Blonde Digital.
About BJ Fogg:
Professor BJ Fogg PhD. is a behavioural scientist and researcher at Stanford University Graduate School of Education. Recognised as the world's leading expert in changing human behaviour, his Tiny Habits® skill-set is a practical and immediately actionable methodology, that has been consistently proven to achieve remarkable results.
Mike undertook extensive training with Prof Fogg and Director of the Tiny Habits Academy, Linda Fogg-Phillips before he graduated last Summer. Mike touches base with BJ Fogg on a regular basis for updates and new insights on the Tiny Habits® method. (BJ insists, quite rightly, on consistently consulting with his coaches, developing feedback and sharing with them new ideas from his Lab.)
One of Fortune magazine's '10 new Guru's you should know', BJ has spent well over two decades studying how human behaviour works. Creating the legendary 'Facebook Class' at Stanford in 2007 that fired up the careers and fortunes for many of his students, he's been dubbed the 'millionaire maker' thanks the numerous Silicon Valley start-ups his students have gone on to launch. Not least, Mike Krieger, who went on to become a co-founder of Instagram.
You can find out more about BJ here, here and on Twitter.
Checkout this TED talk from BJ too:
FAQs
How can I contact the organizer with any questions?
Call Mike directly on 0787 294 3883, Or email mikecoulter@habitualise.com

Tiny Habits.
Laughably simple. Seriously effective.