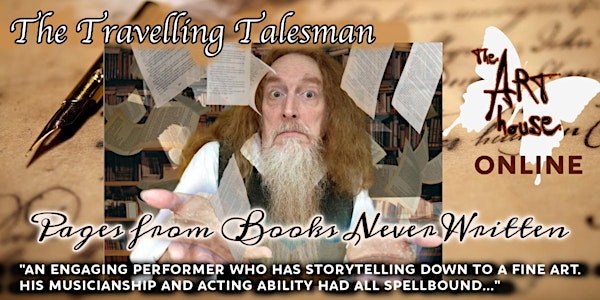 The Traveling Talesman presents - Pages from Books Never Written - online
About this event
The Travelling Talesman brings you an online show.
Cliff Eastabrook aka The Traveling Talesman presents : Pages from Books Never Written. In a departure from normality this evenings set is a selection of short fictions from the ink dipped quill of artist Robin Stevenson, with a few additions by the Talesman himself.
Inspired by folktale and myth but peeking in to strange worlds or unseen corners of this one. By turns, tragic, dislocated, insightful and amusing there's a reason the books these stories come from were never written.
Tickets by donation, you will be sent a Zoom link when you book.
Join The Travelling Talesman as he uses spoken word, lyre, drum, and live sample and loop atmospheres to create energetic, engaging and witty tellings of myths, legends and folktales.
"Cliff Eastabrook is an engaging performer who has storytelling down to a fine art. His musicianship and acting ability had all spellbound and made for a magical and enjoyable trip to the Underworld."
Jane Howard, South Hill Park Arts Centre, Bracknell.
This is a live zoom performance, which means it is actually live and the audience and performer can interact making the experience unique.
Over 16 years only
To get a reminder about this event and news of our other events, we invite you to join our mailing list here

The Art House online events are here to keep you entertained through lockdown! Tickets are by donation with a suggested amount to help give you an idea - please pay what you can, a little extra to support us during the pandemic, or less if you are a bit skint at the moment.
All events are on Zoom unless otherwise stated and you will be sent a confirmation email with a link just after you book, please reminders just before the event with the link. Please 'check in' to the Zoom event a little early so that we can help you if you have any issues getting in.
To get a reminder about this event and news of our other events, we invite you to join our mailing list here