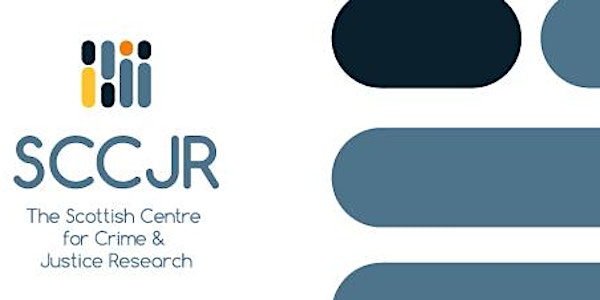 The Trouble with ACEs? Research and Reflections on Inequality
Description
The Scottish Centre for Crime and Justice Research is partnering with the ESRC project Understanding Inequalities to host a panel of experts on how ACEs (Adverse Childhood Experiences) and trauma informed approaches are an increasingly important means of guiding criminal justice practices. However, attention has been drawn to both the enlightened and regressive potential of these as lenses of understanding: do ACEs restrain or enable social control?
Adverse Childhood Experiences have become an important tool for defining and understanding trauma. In Scotland there has been strong interest in applying ACEs and trauma informed approaches to justice policy and practice. How well does this tool, and the science underpinning it, work when applied to the particular context of criminal justice? How might insights from the research on ACEs inform, complement or endanger addressing inequalities?
This event features leading researchers working in the area of ACEs, inequalities and trauma specifically in the context of crime and justice, including panellists from Scotland, Australia and the US who will provide a global perspective on this area of research:
AGENDA
Refreshments and cake
10.00 Welcome to the event, aims and overview of session format from Dr Sarah Armstrong, Director of SCCJR and Senior Research Fellow at University of Glasgow)
10.10: Susan McVie (University of Edinburgh)
Abigail Fagan (University of Florida)
10.40: Discussant response from Gary Walsh (School of Education, University of Glasgow)

10.45: Sarah Anderson (University of West of Scotland)
Tara Renae McGee (Griffith University)
11.15: Discussant response from Gary Walsh
11.20: Break: submit questions for Q&A
11.30: Q&A
12.00: Event Close
This free event is jointly hosted by SCCJR and Understanding Inequalities and all queries should be directed to enquiries@sccjr.ac.uk
Please see the University of Glasgow campus map the Western Infirmary Lecture Theatre (WILT) (B9 on campus map).
Organiser of The Trouble with ACEs? Research and Reflections on Inequality
The Scottish Centre for Crime and Justice Research is a collaboration between the Universities of Glasgow, Edinburgh, Stirling and Strathclyde that aims to produce excellent research and develop excellent researchers so as to better the development of policy, practice and public debate about crime and justice. Though based in Scotland and determined to analyse and address crime and justice in Scotland, our work is international both in its influences and in its influence. We work for, with and through fellow academics, policymakers, practitioners and others involved with justice all over the world, believing that Scottish criminology and Scottish criminal justice has much to learn from and much to teach others.