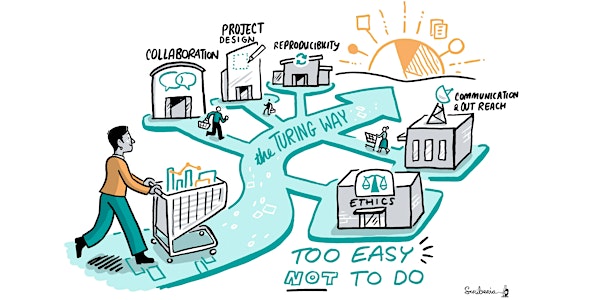 The Turing Way: Reproducibility, open science and collaboration in research
Location
Bush House (S) 2.01
30 Aldwych
London
WC2B 4BG
United Kingdom
This session will introduce participants to The Turing Way book project, its ethos and how to get involved in the community.
About this event
The Turing Way is an open-source, community-led, and collaboratively developed project on making data science and research skills accessible, comprehensible, and beneficial for a wider research community. We bring together individuals from diverse fields and expertise to develop practices and learning resources that can make data research comprehensible and useful for everyone. These resources are organised as an online book with over 250 chapters across five guides on reproducibility, project design, collaboration, communication and ethics in research. All questions, comments, recommendations, and discussions are facilitated through an online GitHub repository.
You can attend in person or online (via Microsoft Teams). Please click 'Register' and choose your preferred attendance type.
This is a seminar held by the Centre for Urban Science and Progress London, supported by the King's Institute for Artificial Intelligence, as part of the Turing Network Development Award.
Speakers
Anne Lee Steele is the Community Manager for The Turing Way project at The Alan Turing Institute, where she facilitates a collaborative resource for reproducible data science, and supports an open source community in developing practices for researchers and practitioners around the world. She has worked on a variety of projects in the open ecosystem, including at the Internet Society, Wikimedia Deutschland, and Open Knowledge Foundation, and is passionate about the capacity for open source practices to make research more accessible, collaborative, and inclusive. Previously, she worked in the data journalism and education fields. She holds a BA from Columbia University, and an MA from The Graduate Institute of International and Development Studies in Geneva, both in anthropology and sociology.
Vicky Hellon is the Community Manager for the Turing-Roche Partnership and a core member of the Turing Way. She is working closely with Turing and Roche and wider networks to build an engaged and sustainable community, with a focus on supporting researchers to embrace and embed Open Science practices. Vicky has a BSc in Biomedical Science from the University of Sheffield and previously had roles in Open Access publishing at Springer Nature and F1000Research. More recently she worked at Health Data Research UK, building a community around the newly launched Health Data Research Innovation Gateway, a portal to help researchers discover and request access to UK health datasets. She is passionate about supporting forward-thinking changes to the academic publishing system and engaging with researchers from a range of backgrounds.