The Tweed Valley Enduros 2018

Saturday, 24 March 2018 at 09:00

-

Sunday, 19 August 2018 at 19:00 (GMT)
Event Details
 
Three of the finest and most enjoyable enduro races you'll find anywhere
The TweedLove Triple Crown is back for 2018, with new courses, new stages and SI Air system timing (no dibbing) at all three rounds. The Tweed Valley is the spiritual home of enduro in the UK, and offers many of the best enduro race tracks in the UK. A limited number of earlybird entries will be available for each of the three races, with a limited number of discounted entries for the full Triple Crown.
We aim to provide the best courses, best organisation, best atmosphere and the friendliest, best value enduro events in the country. We've built up a great track record over the last seven years hosting the biggest international enduro races right through to local community races, and we'll be working harder than ever to make sure everyone has a great, safe, and rad time racing with us in 2018.
All riders can choose if they want to be seeded for each of the races or, alternatively, they can choose a start time at event registration so they can ride with their mates all the way round the course. Seeded riders have pre-set start times for every stage of the race and face penalties if they miss their start times. Being seeded means you will have much less chance of encountering traffic while on the race course, with no uncertain queuing and pre-determined stage start times.
*If you own a SPORTident Air Timing / Active Timing Card and would like to use it in any of the three TweedLove Triple Crown Enduros this year, please complete this form. If you use your own Timing Card, you will be reimbursed £3.60 - you will only receive this discount if you complete the form at least 3 weeks prior to the event you wish to use it in. 
The Events
24th and 25th March 2018
Adult £60 (£55 earlybird)
Youth £48
---
9th - 10th June 2018
Adult £75 (£70 earlybird) E1 & E2 SOLD OUT - JOIN WAITING LIST HERE
Youth £59
---
Whyte King and Queen of the Hill
18th and 19th August 2018
Adult £60 (£55 earlybird)
Youth £48
---
The Triple Crown – Ride all three enduros 
The three best quality enduro races in the UK? We think so! Riders completing all three rounds are eligible for the Triple Crown title. 
---
NEW for this year...
Enduro is an inclusive discipline, and we're keen to offer opportunities for riders of all ages and abilities. This year we have two additional race categories in our enduro series. 
14 -15 years old can take part in our E3Y category - this will mean tackling a slightly shorter version of the race courses. For those parents who want to ride there with the younger riders there are adult tickets in this category too (E3A).
We will also have a 60+ category in both the E1 and the E2 in this year's enduros.
Please note, we reserve the right to combine categories if needed.
---
Location and dates
Start and finish: Tweed Valley, Scottish Borders. Event start & HQ – TBC
Saturday 24 March: Race registration and practice
Sunday 25 March: Race Registration (morning only, times TBC) and race day!
A Tweed Valley enduro adventure. The trails used will be kept under wraps until the event, but the stages will provide an awesome day out - and something a wee bit different. 
The course will feature a variety of hand cut and natural trails. This event might be a little mellower than the other two races, but will still contain technical riding and a tough physical test. We always aim to set courses which have a lot of flow and leave you wanting to ride it all over again. The overall ethos is to provide a fun race - with adventure, challenge, good times and safety as the key factors.
We're delighted to announce that Whyte Bikes are our title sponsors for our 2018 Triple Crown enduros.
---

The British Enduro Mountain Bike Association's National Championship Race 
The headline event of Tweedlove 2018, and the crucial UK enduro race of 2018
Location and dates
Event Start & HQ: Peebles, Scottish Borders. 
Friday 8th & Saturday 9th June: Race registration and practice
Sunday 10th  June:  Race day!
Enduro is the biggest discipline in UK mountain bike racing, and is still growing. It's way more popular than downhill or cross country, and is the focus of a huge amount of bike industry investment and development.
Enduro is also top of the tree for MTB race entries, making the British Championship the most important race in UK mountain biking, so it's likely to be the hotly contested. 
We believe that one of the most important things about enduro is its inclusivity, and this holds true even in an event this big. It will be a tough race, but if you're into it you can still be part of the big British Champs Enduro family at TweedLove. We've extended the race categories to potentially include more riders than ever.
 
---
Location and dates
Start and finish: Tweed Valley, Scottish Borders. Event start & HQ – TBC
Saturday 18th August: Race registration and practice
Sunday 19th August: Race Registration (morning only, times TBC) and race day!
This event has become something of a UK enduro classic, and one of the most popular events of the year. The course will make the most of the massive variety of trail riding here, with the sweetest descents on the valley's finest dirt, roots and rock.
We're using SI Air system timing* (no dibbing) at all three enduro rounds. We are delighted to announce that Whyte Bikes are our title partners for this enduro adventure.
---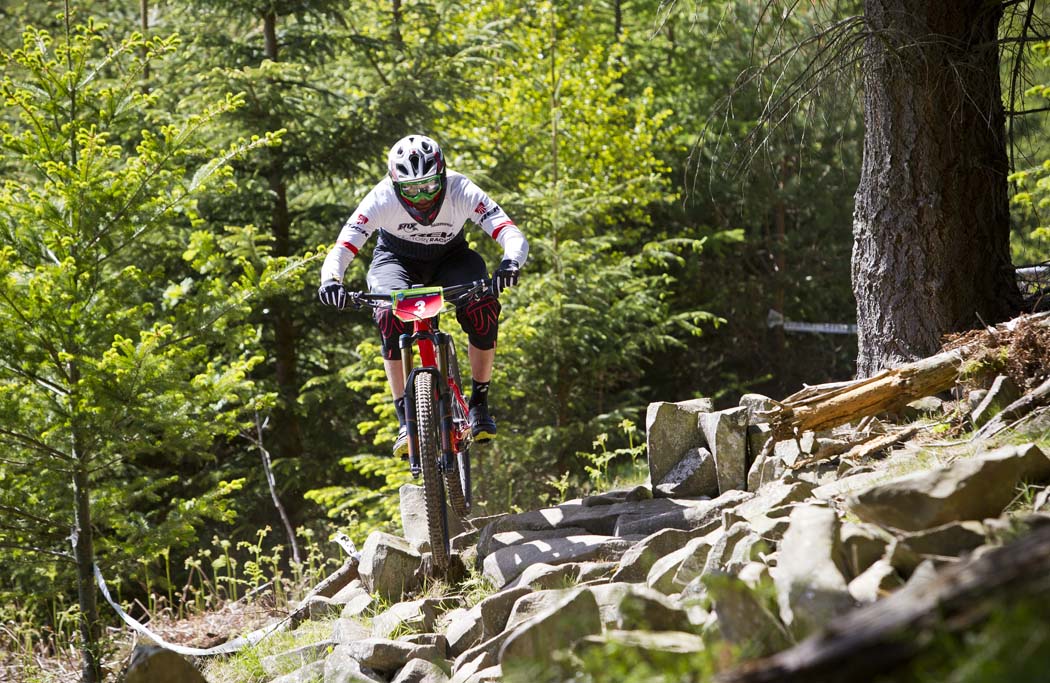 Race Categories and Rider Groups
Depending on how you want to enjoy your race day, you can choose to be seeded or not...
Rider Group E1 
All riders are seeded, and given start times for every stage of the race. Some might find transition times between stages a bit challenging. You must complete all the race stages, and stick to the stage start schedule you're given at registration. There are time penalties if you're late for your start slot.
Choose this if you're fast and if you want to minimise the chances of running into slower riders but be aware you might not be able to spend race day riding with your mates.
Rider Group E2
Riders are not seeded, so you can ride with your buddies as long as you register together at event HQ and so get the same start waves. You are still given guide times to start each stage, and there's an overall course completion time – penalties apply if you don't make it. There's more chance of being before or after a rider who is considerably faster or slower than you, but with less stress on the transition times, it's a more sociable choice for many. There are combined E1 & E2 podium prizes for the top three male and top three female riders in each category.
Rider Group E3
This rider group means tackling a slightly shorter version of the course - at least one stage less than the full version. It's aimed at riders concerned about the fitness challenge of the entire Championship course, and for the 14-15 age group riders. 
E3Y is the rider group for 14-15 year olds. All 14-15 year old riders will automatically be entered into this group. (Age on 31st December 2018)
E3A is an adult group for the shorter course, with no preset start times. Riders are not elegible for the overall podium places as they have completed a shorter course. This group also allows a parent or other adult to ride with an E3Y rider should they choose to.
Please note - we reserve the right to combine categories. Age on 31st December 2018
---
Please note: your ticket will show the start time of the first enduro (in March) and the end time of the last enduro (in August) - this is the way that Eventbrite shows it as the three events are all under 'The Tweed Valley Enduros 2018' on their system. The dates of the events are as stated on the website www.tweedlove.com and on Eventbrite. We will send out detailed rider notes a few weeks before each event to confirm the exact times and locations. 
FAQs
Are there ID or minimum age requirements to enter the event?
The minimum age for participants of the Tweed Valley Enduros is 14 2018. This means that provided riders are 14 on 31st December 2018 they are eligible to take part. 
How can I contact the organiser with any questions?
You can contact the organiser by emailing info@tweedlove.com.
Do I have to bring my printed ticket to the event?
We suggest that you bring printed copy of your ticket as this acts as proof of purchase. In the event of any issues at registration it is helpful if we can see the ticket. You may not however be asked to should your ticket if there are no issues. 
What's the refund policy?
Refund Policy
If for any reason you are unable to attend the event refunds will be available on request (info@tweedlove.com) as follows:
•Up to 3 weeks before the event - refund available, subject to an admin fee of £10.00 which will be deducted from the refund (Vallelujah - 3/03/2018, British Champs – 18/05/2018, King and Queen – 28/07/2018 )
•Less than 3 weeks before the event – no refunds available.
•For safety reasons, NO rider may use another's rider's event number without the permission of the event organiser. The organisers must to contacted at least a week prior to the event to process rider changes. There will be a £10 admin fee for this.
• Deferral of entries is not possible.

When & Where
Tweed Valley, Scotland



Saturday, 24 March 2018 at 09:00

-

Sunday, 19 August 2018 at 19:00 (GMT)
Add to my calendar
Organiser
Event organising company based in Peebles, in the Scottish Borders.  
Events include TweedLove Bike Festival and Tour O The Borders