The Tyndall Lecture 2019 - The Physics of Waves
Event Information
Location
Larmor Lecture Theatre
Physics Department
Queen's University Belfast
Belfast
BT7 1NN
United Kingdom
Description
In association with the Institute of Physics in Ireland, QUB is proud to host the 2019 Tyndall Lecture for Schools.
Ever wondered how Shazam works? Or Autotunes? Or perhaps wondered why we believe the universe started with a Big Bang? Surprisingly the answer to these questions have a common thread - music.
Music and physics have always been close cousins. From Kepler's description of the planets using musical harmonies to modern string theory, where all the world is a vibration.
We will see how simple concepts in waves and music help us understand everyday world around us and also help us peer into the distance corners of the universe.
Along the way there will be plenty of interactive demonstrations and audience participation.
Tom McCormack has a PhD in atomic physics and is a lecturer in physics in UCD whose research interests range from the interaction of lasers with atoms to novel semiconductor light sources to innovative teaching and learning methods. Tom is actively interested in the promotion of science and is actively involved in many physics outreach projects at UCD: from transition year events and workshop to school visits. His outreach activities have brought him as far as the Arctic where he spent two weeks on a sailing ship performing a series of experiments to help illuminate his lectures.
FAQs
What are my transport/parking options for getting to and from the event?
Unfortunately we cannot offer parking on campus due to limited space and ongoing building work. School Buses can park alongside the front of Queen's for drop-off/pick-up.
How can I contact the organiser with any questions?
Please email mp.outreach@qub.ac.uk
Where is the Larmor Lecture Theatre?
The theatre is on the central Queen's campus, within the Main Physics Department. the entrance to the theatre is shown below.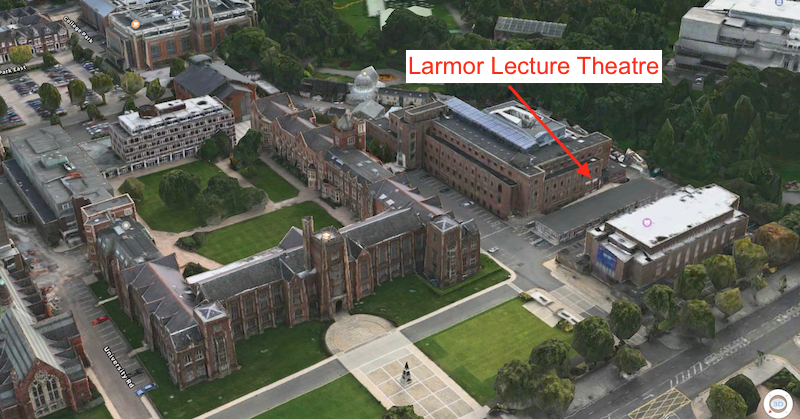 Date and Time
Location
Larmor Lecture Theatre
Physics Department
Queen's University Belfast
Belfast
BT7 1NN
United Kingdom